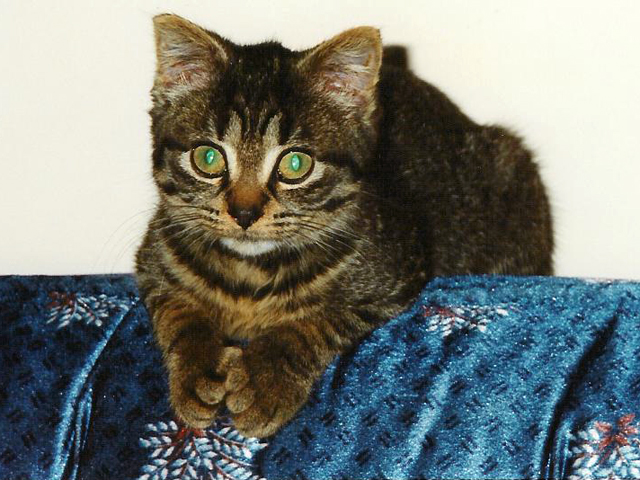 Muffy on the back of the sofa
Name: Muffy AKA: Lucky

Muffy was rescued from a litter of barn cats in the summer of 1992. She was about 10 weeks old and was a mess. She had ear mites, infected eyes, diarhea, and was quite dehydrated. We took her to the vet and she was given shots, pills and ointments. It was amazing, because she visibly improved and within a couple of weeks was as good as new. However, her malnurished kittenhood left her stunted, and she never grew past 5 pounds.
After we had her for a couple of weeks, we headed off on a camping trip through Quebec, Vermont and New York. Muffy visited Ben and Jerry's head office in Vermont and tried their ice cream. She tried a bit of roast turkey at Plainville farms in New York. I think this all helped her with her recovery.
When we relocated to Calgary, she flew out with us from Ottawa on Air Canada. Another pet with frequent flyer points!
Muffy passed away in May, 2007 due to complications from a respiratory disease.