---
Travel
Cruises
Past Cruises (Diaries)
Future Cruises
Rogues Galleries
Land Trips
Diaries (Land Trips)
Hawai'i - Big Island - 04'01
Hawai'i - Maui - 05'02
Hawai'i - Big Island - 04'03
Hawai'i - Kaua'i - 09'04
Hawai'i - Big Island - 04'06
Hawai'i - Maui - 04'06
Mainland China - 05'07
Phoenix, Arizona - 12'07
Greek Isles - 05'08
Hawai'i - Kaua'i - 09'08
Hawai'i - Big Island - 09'09
Hawai'i - Maui - 05'12
Hawai'i - Big Island - 04'13
Ireland - 08'13
Mexico - Cancun 11'13
France/Belgium/Lux 07'15
Hawai'i - Big Island - 05'17
England / Wales - 06'17
Hawai'i - Big Island - 09'19

---
Photography
Cameras
Underwater
---
Pets
Tara
Blackie
Whitey
Muffy
Ollie
Rusty
Fluffy
Rufus&Dufus
---
Games
---
Rowing
---
Physics
---
Marjorie had ambitiously booked us for a 37 night asian cruise for April, but then we realized that 37 days was too long, and Marjorie's work schedule interferred as well. So we ended up cancelling the cruise. As a consolation (and a good one at that!) we booked a one week Kona vacation through WestJet Vacations. We got a good price at the Sheraton Kona Resort, where we had stayed in 2001 when it was known as the Kona Surf Hotel. Our rental car was a Chevy Cruze, and was only $215 for the week.
It was strange not having the kids with us after doing 6 previous trips with them. Just the two of us this time. We really lucked out with the weather and the snorkeling conditions. It was perfect!
Because this was a snorkeling trip and we didn't do too much touring around the island, most of our pictures are fish pictures. If you like fish you're in luck. Otherwise I hope the few scenic pictures are sufficient!

Day 1 (Apr 16) - Flight to Kona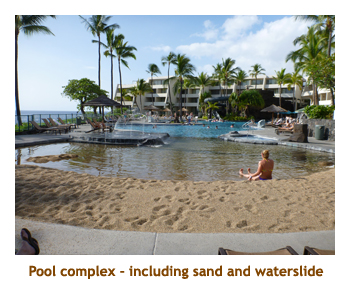 Our flight (WestJet) was a mid afternoon flight so we did not have to rush to the airport. We left the house around 11:30 AM and parked at the airport. Our flight took us to Vancouver and then on to Kona. We had time in Vancouver to pick up some sushi for lunch. We arrived in Kona about 8:30 PM (after dark) which was 12:30 AM Calgary time, so we were kind of tired. We grabbed our rental car (from Budget) and then headed down the highway to Keauhou Bay to check into our hotel. It was nice that we knew where the hotel was and we found it no problem even in the dark. We did a quick tour around the hotel grounds and I noticed that the salt water pool had been filled in and grassed over. And, there was a new fresh water pool that spanned the inner atrium and the area between the hotel and the ocean. We were pretty bagged by then so went straight to bed.

Day 2 (Apr 17) - A shopping day in Kona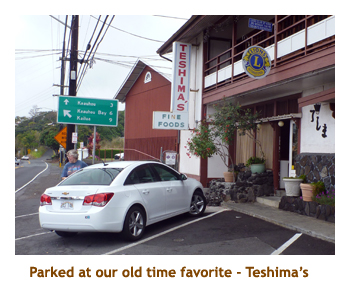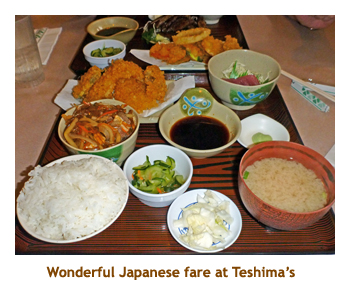 Today was cloudy for most of the day, but 28 C. It was a most unusual day for us, too, as we did not go snorkeling. We spent the morning shopping for supplies for the week - groceries, drinks, cooler bag, etc. We also drove all around Kona refreshing our memory as to where stuff was. We managed to do Wal-Mart, Target, KTA (groceries), Safeway, Long's Drugs and a nearby farmer's market. At the market we bought a couple of huge avocados that required "3 or 4" days to ripen. They never did! But we did get our favourite Punalu'u guava and taro sweet buns and Hawaiian Sun fruit drinks, as well as milk, cereal, bread, etc. And, Marjorie stocked up on Mac nuts. On the way back to the hotel I toured Marjorie through the Kona Coast Resort complex where I had stayed with the kids in 2009. We went to Teshima's (in Kealakekua) for lunch. I asked our waiter if Mrs. Teshima was still around and yes, she is fine and turns 106 in June! We spent the remainder of the afternoon back at the hotel, relaxing by the pool. We had sandwiches in our room for dinner. Afterwards we spent some time at the manta ray deck and listened to a girl who was lecturing about the manta rays. Early to bed!

Day 3 (Apr 18) - Guava buns and the Black Sand Beach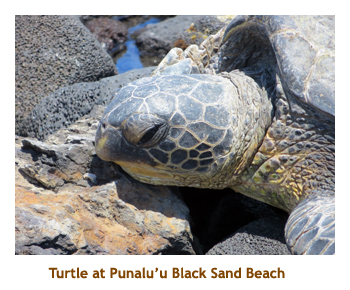 Today we did our first snorkel at Kahalu'u Beach Park. We were up very early, had breakfast in our room and were at the beach by 7:30. KBP has been a favorite snorkel site for us since we discovered it in 2001. There is a breakwater across the mouth of the bay so the waters are always calm and the visibility is very good. Also, being a very shallow bay (3 to 6 feet in depth), the fish are very close. Great for photographs. As always, we really enjoyed our snorkel. After popping back to our hotel and removing the salt, we packed our drinks and headed off to the Punalu'u Bakery on the south tip of the island (in the village of Na'alehu). This is where they bake our favourite guava and taro sweetbread rolls. Marjorie hadn't been there before. It took us about 1.5 hours to drive to the bakery. We had lunch at the bakery. Then we drove a bit further to the Black Sand Beach where we saw 12 or so turtles sunning themselves on the rocks. On the way back we picked up some papayas at an "honour system" roadside fruit stand. No one there - just put your money in a box and take what you want. We were back by 4:00 and Marjorie headed off to get a haircut while I read. For dinner we went to the nearby Keauhou Shopping Center and ate at the L&L Hawaiian BBQ fast food place. The food wasn't the best. We returned to the hotel to relax at the manta ray deck. We never did see any rays though.

Day 4 (Apr 19) - Sam Choy's is back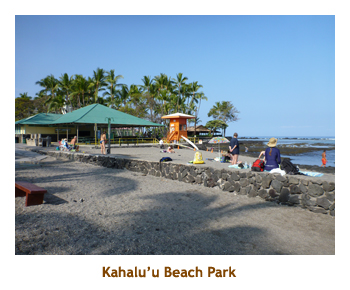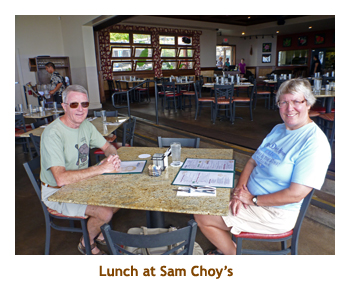 Today was another mixed cloud / sun day reaching 32 C.We started the day with breakfast in our room. Marjorie wanted to buy a bathing suit, so we tried the stores but struck out. Along the way we stopped at Costco for some cheap gas. The price there was $0.25 less per gallon than elsewhere ($4.25 vs $4.50). Good deal! We returned to the hotel for our snorkel gear and headed to KBP (about a 5 minute drive). We had another wonderful snorkel. There was quite a swell in the ocean which caused some currents in the bay. After communing with the fish we cleaned up and then went to the new Sam Choy's in the remodeled Wendy's building at the Keauhou Shopping Center. We had done Sam's in 2001 at the Costco park, but it had closed for several years and had just reopened in it's new location. Following lunch we continued with the bathing suit search at Target in Kona. Then it was across the street to the Dairy Queen for an afternoon treat. Back at the hotel it was our typical late afternoon ritual of reading by the pool, dinner in our room, and (after dark) watching the waves roll in from the manta ray deck. There were always a couple of snorkel boats and kayaks with bright lights parked in the bay to watch the rays from close up.

Day 5 (Apr 20) - Snorkelling at Pauoa Bay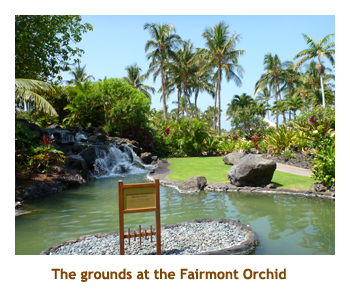 We woke up this morning to another warm and sunny day. Marjorie was interested in checking out the Fairmont Orchid Hotel north of Kona. She had tried to get reasonable TA rates there for a three night stay, but even with the 50% discount, it was still $200 per night. It was about an hour drive from our hotel and up the Kohala coast. The bare lava rock with the white stone writings always amazes me. What a dry area! We parked at the Holoholokai Beach parking lot, a short walk from the Fairmont complex. This is where Mike, Stacy and I got locked in during a tsunami watch on a previous trip. We settled on beach lounge chairs and then did a snorkel of the small Pauoa Bay. The water was murky (as usual!) but we did see 4 turtles. After our snorkel we showered off and then wandered through the Fairmont grounds and buildings. It really is a beautiful place. We then continued our drive notrh, then east to the village of Waimea (Kamuela). We had lunch at Huli Sue's (I had short ribs). Then we drove the Belt Road back to Kona, cutting across to Costco for a very, berry sundae. Man, those are huge.We arrived back at our hotel mid-afternoon, so did our read by the pool thing. We had Punalu'u buns for dinner and then spent the evening wandering around the grounds of the hotel.

Day 6 (Apr 21) - A walk around downtown Kona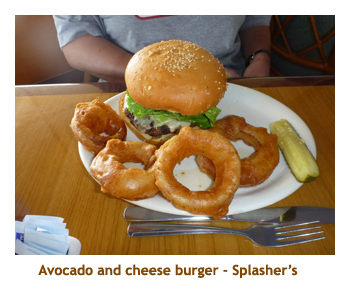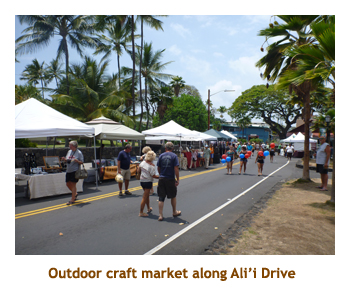 Well, another day in paradise! Right after breakfast we snorkeled at our favourite KBP beach. There were loads of fish there and lots of varieties. The water has been quite cold so I wore my shortie each time we snorkeled. Afterwards we returned to the hotel for a while. Just before lunch time we drove in to Kona and parked so we could walk around the town. We looked for Splashers Grill (again, we'd looked on our first day too but couldn't find it) and found it in a new location on Palani Street. It had moved about a block away from Ali'i Drive to the second floor of a 2 story building, with a wrap around veranda. It was much nicer than the previous site, very roomy and all shaded. Marjorie had an avocado and gruyere cheese burger (with gigantic onion rings) and I had a pineapple teryaki burger. Very good! As we wandered back along the main street, a huge market had been erected with booths jammed in along the street for at least 1/2 mile or so. The booths were not there when we had first arrived!They must have been set up in the space of an hour. On the way back to the hotel we stopped at Target and Wal-Mart so that Marjorie could take a third stab at buying a bathing suit. She actually found something she liked so I told her she should buy two of them (which she did). Then we returned to the hotel. We sat around the pool and read for a couple of hours and then had bun-wiches in our room. Once again we enjoyed the soft evening at the manta ray deck.

Day 7 (Apr 22) - Hilo Hattie's and Tropical Dreams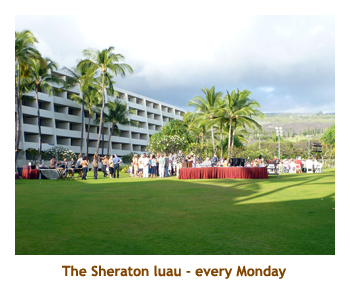 Today we had breakfast in the room and then headed out to do our usual morning snorkel at Kahalu'u Beac Park. Once again there were lots of fish and it was very sunny. We always seem to see at least one turtle there too. Afterwards we sat on the beach and enjoyed the warm sun. Then it was back to the hotel to change. I am glad that our hotel was so convenient to our favorite snorkel spot! We had enjoyed Sam Choy's so much for lunch the other day we went to Sam's again for lunch today. It was excellent! Surprisingly Marjorie had the "Loco Moco" (burger pattie and fried egg on mashed potatoes, smothered in gravy). Finally it was my turn to shop so we visited Hilo Hatties in Kona for a couple of t-shirts. Then we drove south to Island Antiques (in Kealakekua) and had some Tropical Dreams ice cream. Delicious! We were back to the hotel by 4:00 for our usual read beside the pool. We finished up most of our groceries for dinner. The weeklyhotel luau was on in the evening so we walked through the event grounds. Lots of people were enjoying themselves on the beautiful evening. Sadly, this was our last evening at the hotel.

Day 8 (Apr 23) - Final day in Hawai'i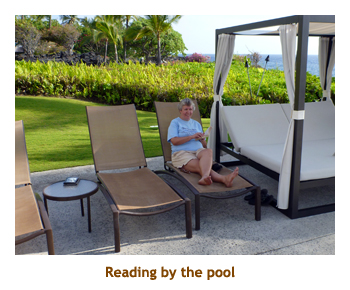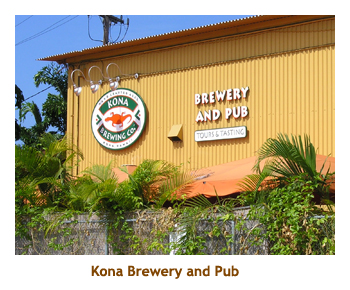 Today was our final day in Hawai'i. It had been a wonderful vacation. Our flight was at 9:45 PM, so we had the whole day to fill in with activities. Unfortunately, snorkeling wasn't an option. I find the water too cold to swim without my shortie (wetsuit) and I could not dry the suit in time for our flight home. So, we had breakfast and then just relaxed around the hotel. Our check-out time wasn't until 12:00 noon. We packed our bags, with a 4-pack of Maui Brewing Coconut Porter for the kids placed gingerly in one of our checked bags.I wasn't sure the cans would make it home without exploding. We left about 11:45 and headed into Kona to visit the Kona Brewing Company's restaurant / pub. I had done the brewery tour in 2009 with the kids, so we just went directly to the restaurant. We spent the afternoon shopping and dropped in on the local Humane Society to buy a t-shirt. We ended up at Wendy's for dinner. We made a stop at Costco on the way to the airport to fill up with cheap gas. Our overnight flight out was ontime and we arrived in Vancouver about 6:30 AM. We claimed our bags (no exploded cans) cleared customs and boarded for Calgary. Would the beer cans survive another flight? We made it to Calgary by 11:30 and our luggage arrived dry - no exploded beer! We located our vehicle in the long term parking and headed home. The cats were happy to see us back home again.