---
Travel
Cruises
Past Cruises (Diaries)
Future Cruises
Rogues Galleries
Land Trips
Diaries (Land Trips)
Hawai'i - Big Island - 04'01
Hawai'i - Maui - 05'02
Hawai'i - Big Island - 04'03
Hawai'i - Kaua'i - 09'04
Hawai'i - Big Island - 04'06
Hawai'i - Maui - 04'06
Mainland China - 05'07
Phoenix, Arizona - 12'07
Greek Isles - 05'08
Hawai'i - Kaua'i - 09'08
Hawai'i - Big Island - 09'09
Hawai'i - Maui - 05'12
Hawai'i - Big Island - 04'13
Ireland - 08'13
Mexico - Cancun 11'13
France/Belgium/Lux 07'15
Hawai'i - Big Island - 05'17
England / Wales - 06'17

---
Photography
Cameras
Underwater
---
Pets
Tara
Blackie
Whitey
Muffy
Ollie
Rusty
Fluffy
Rufus&Dufus
---
Games
---
Rowing
---
Physics
---
Rating (out of 5): Ship

Food

Service

Itinerary

This was the third year in a row that we had booked this cruise. Twice before we had cancelled it due to conflicting cruises or other time constraints. However, this year was the year! The Atlantic islands had always appealed to me and in the past we had visited Madeira and two of the Canary islands. This trip added the Azores and 3 more Canary islands to our "completed" list.
We were anxious to try out the Eclipse as we had done the sister ships Solstice and Equinox on prior cruises and had really enjoyed them. We were also interested in the glass blowing shows. We were not disappointed and really loved the ship. The ship was basically full (2845 passengers, 2880 capacity). Due to sailing from Southampton to essentially British getaway islands, there were some 2300 Brits aboard. We heard rumours of about 100 Americans and 30 Canadians onboard. We met very few Americans, but we always seemed to be running into Canadians. Maybe the numbers were stated incorrectly! Of course many of the Brits were Scottish, so were concerned about the outcome of the independence vote during the cruise. All the ones we talked to were against separation (maybe a white collar crowd).
As a special bonus, we were traveling with two good friends from Calgary - Ian & Shirley - whom we had met on a transpacific cruise several years ago. I will refer to them below as I&S. The weather had been wonderful up to a week or so of sailing, but changed to a more seasonal normal of cool and rainy. Luckily, we brought umbrellas! (or bumbershoots or brollies or whatever the English call them).
Note: We have been hearing a lot recently about the clamping down on liquor brought onboard. The alcohol policies have been around for a long time, but have only been enforced sporadically. On this cruise we bought 3 bottles of wine and 6 cans of beer at 5 different ports. We did not attempt to hide or disguise the containers. Security had no interest in taking our stuff. Just saying ...
Pre-cruise (Oct 3 - 4) - Travel to Southampton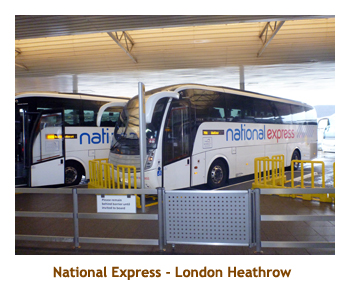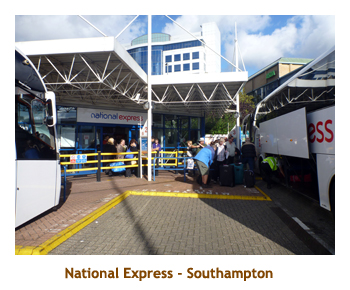 We started our journey with a 3:30 PM pickup from the house , with our usual shuttle service. We had no traffic issues and arrived at the airport about 4:00 for our 5:30 flight to Edmonton. Yes, Edmonton! The direct flight from Calgary to LHR was much more expensive, so we were connecting through YEG. We had about a 1.5 hour layover in Edmonton and then we were off to Heathrow - a 9 hour flight. As usual we didn't sleep on board and arrived at London rather sleepy at 11:30 AM London time. We went through customs and then stood at the carousel for our bags. After all the other passengers had left with their bags, we were still standing their looking at an empty carousel. Gaaahhh! We went to see the lost baggage guy and he told us that our bags were on a later flight and they would be delivered the next day to our hotel in Southampton. Gaaahhh! However, his boss overode his suggestion and guessed that our bags had merely been delivered to the wrong terminal building. As this was happening, we realized we were in a time crunch as we had tickets for the 1:15 bus to Southampton. However, the lads at the other terminal had quickly determined that our bags had been misdirected and had sent them over to our terminal. We ran back to the carousel and there were our two lonely bags doing laps. Phew!!! We hustled to the bus station and actually had plenty of time to wait for and then board the National Express bus.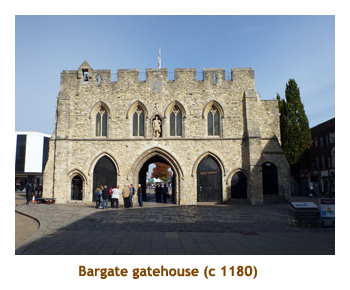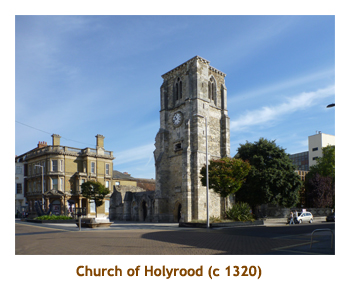 It was a nice drive to Southampton and we made the Premier Inn hotel by about 3:30, an easy walk from the bus station. After checking in we dumped our stuff in our room and headed out to do the town. It was warm and sunny. Our first stop was across the street at Marks & Spencer to get some snacks and drinks for the cruise. They didn't have any Coke. We then walked through Bargate to the Tesco Express where they had very little Coke. Back at the hotel we noticed a special dinner / breakfast package for BP 23 each, so signed up for that. It allowed us to order anthing on the menu for dinner including drinks. I had a prawn appetizer, a rack of ribs and a half pint of draft beer. Marjorie had a huge hamburger. The menu cost of my meal was BP 22, so the package was a good deal. We headed out after dinner to the nearby ASDA grocery store to get some Coke. It was dark by the time we returned to the hotel. We were really zonked by this time and appreciated crawling into bed. It was nice to have all that flying and airport nonsense behind us and be safe and sound in Southampton.

Day 1 (Oct 5) - Boarding at Southampton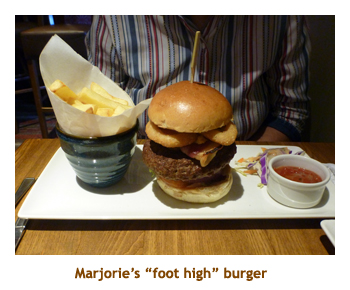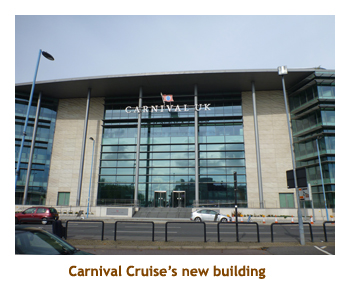 We took sleeping pills and had a good sleep . We were up at 9:30, but still didn't feel that we were on the new time zone yet. It was a cloudy, cool day. We did the buffet breakfast (part of the meal package) and it was really good. Then we headed outside and did another walk around the quay-side shopping area. The previous time we were here there were several painted rhinos around. Now they had all disappeared. We were back to the hotel and checked out by 11:30. It was a short 10 minute walk to the cruise terminal where we dropped off our main luggage. Checkin was quite quick (even though we had forgotten to print off our boarding info). We were on the ship by 12:30 and headed to the buffet for lunch. We were in our cabin just after 1:00 PM and unpacked our carry-on stuff. Our big bags arrived about 2:00. We unpacked our bags and then did a walk around the ship. Muster drill was at 4:15. We sailed about 45 minutes late as one group's flight was delayed and they were late getting to the ship. We met I&S at our 6:00 PM dinner seating. We would be seated together for the duration of the cruise. For dinner I had prime rib. We skipped the entertainment and went to bed early.

Days 2 & 3 (Oct 6, 7) - Two days at sea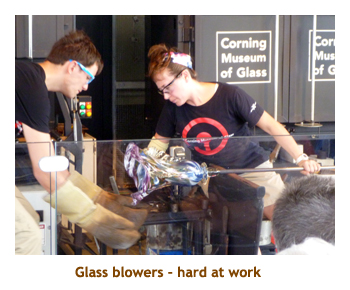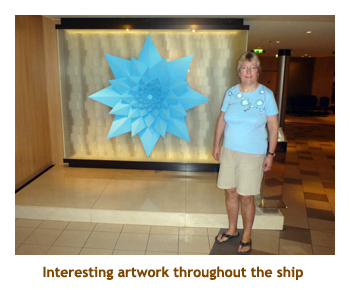 Day 2 - We were up at 9:30, so skipped breakfast. It was cloudy outside with a high of 9 degrees. The seas were really rolling, so we bumped around a bit. Trivia was at 10:15 on sea days, and this was the start of a progressive trivia covering our 7 sea days. We joined up with two other British couples and stayed as a team for the cruise. We had lunch with I&S and then played "Up The River" with them. We went up above to see the hot glass show. The windy, cold weather was wreaking havoc with the glass temperature and an almost completed vase broke apart. We were back to the cabin to read for a bit. Just before dinner we grabbed free drinks from the Elite lounge and then headed to dinner. I had lamb in phylo pastry. Very good. The entertainment was a woman singer who was very good.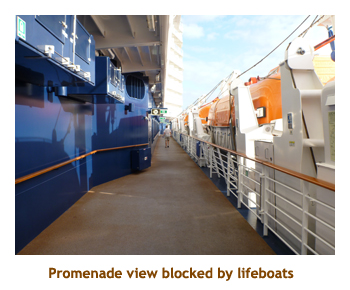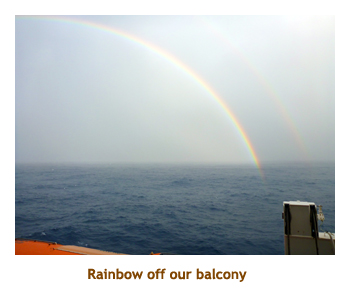 Day3 - Today we were up at 8:00. It was still cloudy, cool and bumpy, but with a high of 16 degrees. It was warming up as we sailed south. We had breakfast in the Elite lounge - great smoothies! It was very quiet there. The Cruise Critic get together was at 10:15, so we missed trivia. At 11:00 there was a future cruises presentation on Europe. We had lunch at the buffet. General trivia was at 2:00 and then we played dice and cards with I&S. It was formal night. So we dressed up and then grabbed our usual free drinks from the Elite lounge (beer for me, rose wine for Marjorie). I had rack of lamb. Excellent! At 8:00 there was a port lecture on Ponta Delgada (Azores). The fellow doing the port lectures was very good and knew the ports well, but his lectures were short and to the point, averaging 10 to 15 minutes long. We skipped the entertainment. Clocks went back 1 hour tonight as the Azores are well out into the Atlantic.

Day 4 (Oct 8) - Ponta Delgada, Sao Miquel, Azores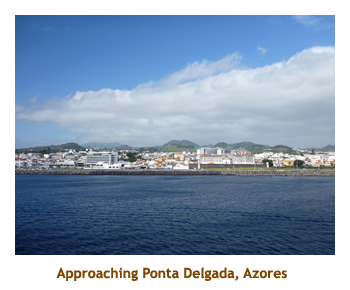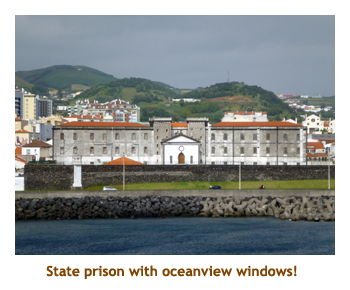 Today we woke up at 7:30. We were not scheduled to arrive at Ponta Delgada until 2:00 PM. This morning would be a "day at sea". We had lovely morning sunshine, but in the afternoon it turned cool and cloudy. The Azores are a group of 9 islands that are a province of Portugal. Ponta Delgada is the capital and is on the island of Sao Miguel. We were on a private tour taking us around a good chunk of the island. (Organized by our trivia partners Michael and Carrie). We had breakfast in the Elite lounge, sneaking in I&S as well. We read for a while and then it was progressive trivia at 10:15. Having done three legs of the trivia, we were solidly in the middle of the pack. Afterwards Marjorie went to the glass blowing and I went up to the gym. We had lunch in the MDR (Main Dining Room). At 2:00 PM we docked in Ponta Delgada. We met with our small tour group (8 of us) and headed off the ship to find our driver, Ricardo.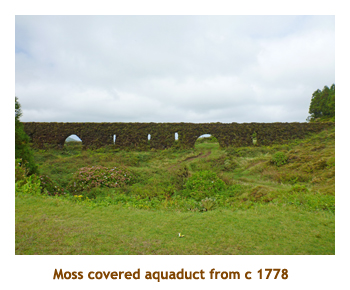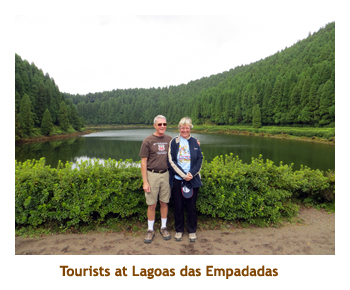 We started off with a drive through the city and then headed west. Our first stop was at a pair of small lakes called Lagoas das Empadadas. The lakes were surrounded by hedges of azaleas that had long finished blooming. Apparently June and July are the times to see them in blossom. Then we drove up the side of a crater to a lookout (Vista do Rei). From here we could see the crater lake and the village of Sete Cidades (seven cities). The view point was in the middle of an active clearcut operation - the fast growing pines have to be cut on a regular basis. Then we headed to another viewpoint of the same caldera (Miradouro Cerrado das Freiras). After snapping a few shots we headed down into the crater to the village of Sete Cidades. Brave people to build in a volcano crater! We had a brief stop in the village and then headed back towards Ponta Delgada, but on a different road. Along the way we stopped at another crater lake called Lagoa de Santiago. After reaching Ponta Delgada, we headed northeast across the island to the town of Ribeira Grande.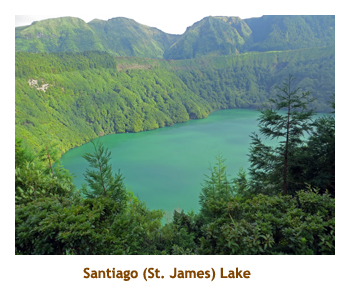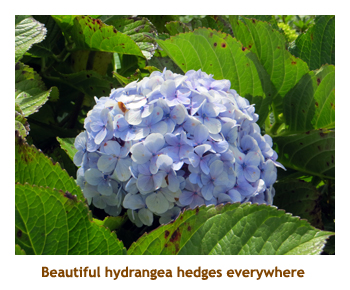 Just before reaching the town we stopped at an ocean view point overlooking the seaside village of Miradouro do Escalvado - a vacation mecca for rich Europeans. In Ribeira Grande we drove through narrow windy streets and had a chance to get out and walk at the town center .We were going to use the ATM to get some Euros, but a lady from our group tried first and the machine ate her card. Thinking it might still be hungry, we decided not to try it. After reboarding the van we headed up another crater to Lagoa do Fogo (fire lake). We stopped at an excellent view point to take photos of the crater lake. Heading back towards the main port, we had our last stop at a national park (Caldeira Velha) that had interesting forest walks, a waterfall and a hot srping pool. There were some huge fern plants that reminded us of Australia and New Zealand. We arrived back at the ship about 7:00 PM, so headed to the buffet for dinner. The entertainment was a lady violinist who was very good. Tonight we turned our clacks 1 hour forward.


Days 5, 6 (Oct 9, 10) - A day at sea then Madeira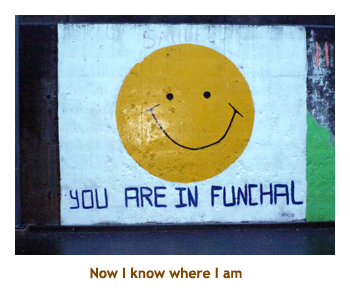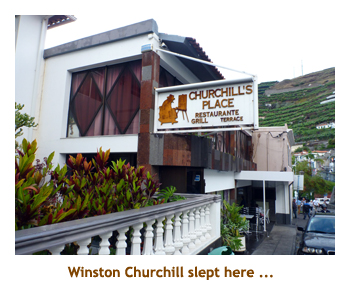 Day 5 - Today was a typical sea day. We were up at 8:00 to a cool, cloudy day. We had breakfast in the MDR and then attended trivia at 10:15. I went up to the gym at 11:00. We were back to the MDR for lunch. We played general trivia at 2:15 and won. We were given tickets (like the Big O Points on Oceania) to accumulate for the cruise. Then it was a visit to the glass blowing show followed by a bit of reading on the balcony. We grabbed our usual free drinks from the Elite lounge and headed for the MDR and roast turkey. We skipped the entertainment and played cards with I&S instead.

Day 6 - We were up at 7:00 as we were docking in Funchal.This was our second time in Madeira. Funchal is the capital of Madeira which, in turn, is a province of Portugal. It was pouring with rain, but this tapered off to occasional showers for the rest of the day. We had breakfast at 7:30 in the buffet and then grabbed our stuff and joined our small tour group (7 of us) for the morning. I mentioned to the driver that we wanted to stop somewhere to get some madeira wine for the boys, so our first stop was at Henriques & Henriques - one of the oldest wineries on the island. They had bottles there dating back to 1854! After a tasting we got a couple of bottles of 15 year stuff. Then it was on to the small village of Camara de Lobos.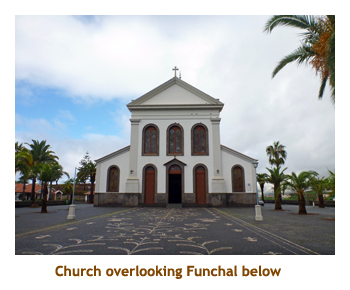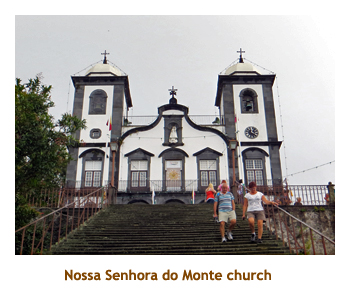 We stopped in the village and were given time to walk around the waterfront. There were lots of nicely coloured fishing boats, and we saw the place where Winston Churchhill hung out and painted. The mountain slopes were very green with plantations of bananas. Back in the van we drove up to the top of some huge sea cliffs - second in height only to the cliffs of Molokai (Hawai'i). It was very misty, so we could not see down to the ocean. (Luckily we had done this same tour a few years ago with more success). Then we stopped at a high lookout that gave a splendid view of the city of Funchal and surrounding area. Afterwards we drove up to the top of the hill where the famous toboggan run is. We didn't try it, but one couple from our group did. Instead we wandered around the hilltop and visited an old cathedral. After a thrilling ride down the hillside in twisty one way streets, we stopped at the main vegetable and fish market where we bought some local beer (Coral). We were back to the ship by 2:00. The security people ignored our two bottles of wine and beer. We had a late lunch in the buffet and then read for a while in the sun on our balcony. We won again at 4:15 trivia (more tickets!), although we didn't have Marjorie as she had gone to a special captain's sailaway on the helicopter pad. For dinner I had lamb kabobs. Yumm! Marjorie and Shirley went to the glass blowing while Ian and I played crib. Later the ladies joined us for a game of cards (we skipped the entertainment). We drank up the local beer I had bought and generally enjoyed ourselves.


Day 7 (Oct 11) - Tenerife, Canary Islands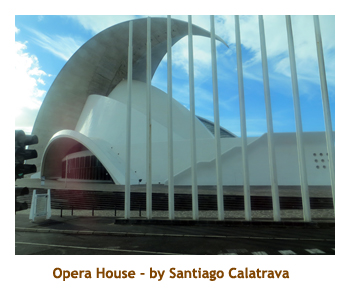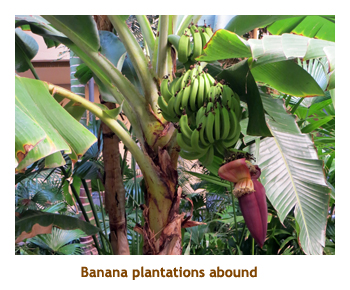 We woke up at 7:00 as we were docking in Tenerife. Actually, Tenerife is the name of the island, and the port is called Santa Cruz de la Tenerife. Santa Cruz is the island capital, and the largest city on the island. We had been here before on a previous cruise and were looking forward to visiting again. The weather was not forecast to be very good - cloudy and rain, although we had some nice sunny breaks as well. We had breakfast in the Elite lounge. and then grabbed our stuff and headed off on our 8:15 bus tour of Santa Cruz and La Laguna (with I&S). This was to be a city tour; the previous time we had done a countryside tour up the volcanic landscape to Mt Teide. Our first stop was at the wonderful natural history museum, the Tenerife Espacio de Las Arts. It was a huge museum, and we spent most of the time in a small part of the museum listening to the guide explain the geology and early history of the islands. We were too big a group (40 odd people) to squeeze into the small rooms so it was hard to hear the guide. After the talk, which was a bit long, we were given a short time (maybe 15 minutes) to view the remaining 90% of the museum! Phew! I left the main group and stumbled upon an excellent marine life exhibit. There were full scale models of whales, porpoises, dolphins, sea turtles and even a giant squid. The diversity of local sea life was amazing. This exhibit was the most interesting of all the other areas of the museum (that I saw). Then we reboarded the bus and headed upwards to the old town of La Laguna.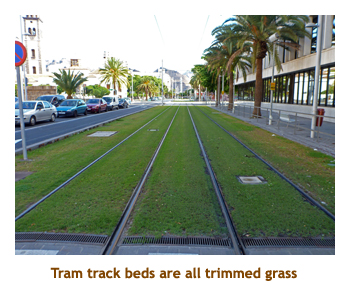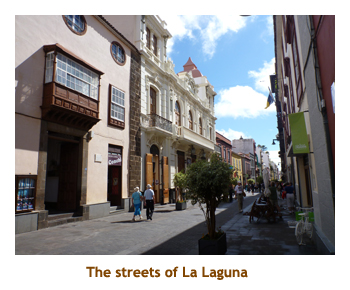 We parked at the edge of the "old town" of La Laguna. This town is the second largest city on the island, and was the original capital city. It was mostly sunny, but the occasional light rain passed through. We walked some fairly deserted streets into the heart of the town. There we were given time to wonder around and check things out. At one end of the main street was the cathedral (Iglesia de Nuestra Senora de la Concepcion ), while the other end was the Plaza del Adelantado. We slowly cruised the street from one end to the other, popping in and out of the interesting shops along the way. One shop was a grocery store where I bought a couple of cans of local Reina beer. We met the group at the plaza and reboarded the bus. We were back to the ship about 1:00. We had no problem with security for the two cans of beer. We had lunch with I&S. In the afternoon we just read and wandered, and spent some time in the gym. It was formal night. I had a lamb shank. Very good. The entertainment was the Cirque de Soleil type show that they have on all of the Solstice class ships. Silks, slack wire, floor gymnastics, trapeze, etc. It was excellent. A good day in Tenerife!


Day 8 (Oct 12) - Exploring Gran Canaria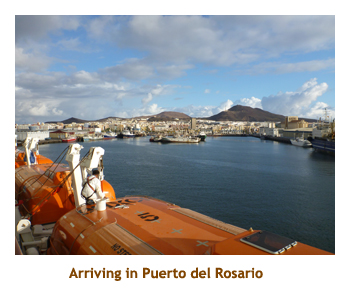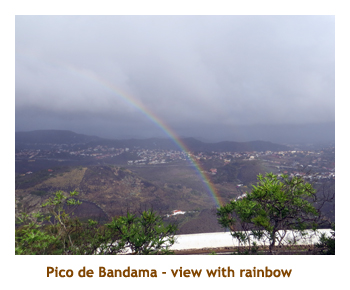 We were up at 7:00 as we docked at a "new to us" island - Gran Canaria. The port is called Las Palmas. The day started off beautiful and sunny, but worsened to cloud and rain during the morning. We had breakfast in the Elite lounge and then headed to our 9:15 ship's tour with I&S.We started with a drive through Las Palmas, heading up the hillside to a lookout point at Pico de Bandama, 569 meters high. From here you got a 360 degree view of the island, but it had really socked in and we even got some rain. We had 15 minutes or so to enjoy the view and then we reboarded and headed south, through some craters, to the village of Teror. We stopped at Teror to visit the Basilica de la Virgen del Pino. The interior was quite spectacular. Nearby the church we wandered through an outdoor market place. The stalls were filled with vegetables, baking and handicrafts. Near one edge of the plaza was a drumming group with some costumed dancers. Interesting, but rather noisy!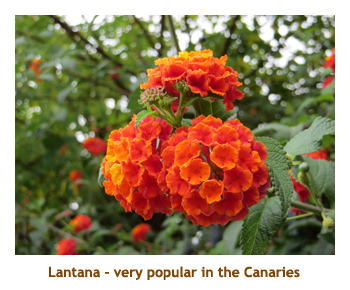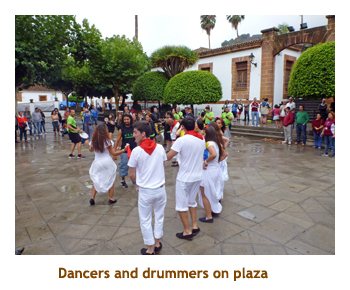 Our next stop was in the suburb of Arucas to visit the large Cathedral of Arucas, also called the Church of San Juan Bautista. Our final stop was a lookout point as we entered Las Palmas. We had a good view of the city and the cruise ship, but it was somewhat cloudy. We were back to the ship by 2:00. We had a very late lunch in the buffet and then headed back ashore to do some shopping at the multi-level mall right at the end of the dock. We bought some choco milk and local Tropical beer at the HiperDino. When we came out of the mall, it was hot and sunny! Woohoo! It was nice to stroll along the dock in the sun. Two other cruise ships were in port - the Aida Stella and the Fred Olsen Braemar. Once again the security people ignored the beer. We were back on the ship in time for afternoon trivia. For dinner I had lobster ravioli. Yummy! We went to the port talk at 8:00 and then to the evening glass blowing show at 9:00. We skipped the entertainment.


Day 9 (Oct 13) - The moonscape of Fuerteventura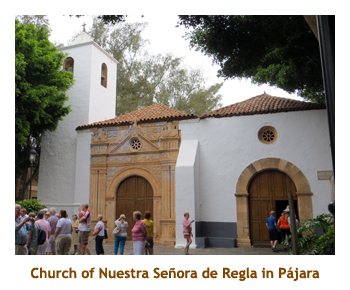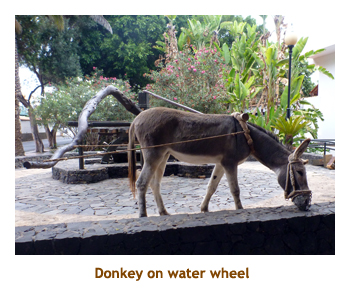 We were up at 7:00 as the ship docked in Puerto del Rosario. Finally it was a day with sun / cloud, but no rain. We ate in the buffet and headed away on our 8:30 island ship's tour with I&S. Our drive took us through the town of Puerto del Rosario then south to Pajara. The landscape was very bleak as very little rain falls on this island. Even the cacti looked parched. At Pajara, we visited the "Aztec" church (Church of Nuestra Senora de Regla). This church has a carved motif very similar to Aztec artwork. Very strange! Then we were given time to walk around the town. The white buildings and parched yards made it look like a town in a "spaghetti western". Then we loaded up and drove north to a hilltop lookout called Mirador Morro Velosa. From there you get a 360 degree view of the island. Volcanos and cinder cones dot the parched landscape. The lookout building had a small but interesting museum of the natural history of the island.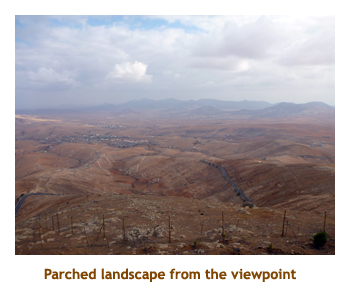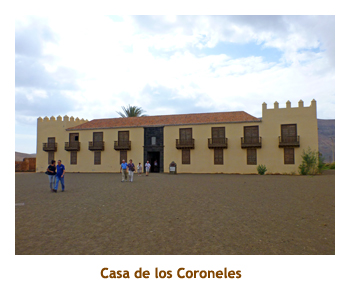 Then we drove further north to La Oliva where we toured a fortress looking building that housed Spanish troops during the 18th century. The main house (where the Colonel and family lived) has been restored and is an interesting museum. Then it was back in the bus to the north tip of the island to see the famous seaside resort and fancy hotels of the Corralejo Beach area. We stopped at the sand dunes and had a walk in the warm sun. From there we drove back to the port and were at the ship by 1:30. We had lunch in the buffet. Afterwards we read for a while and then decided to head off the ship and walk around the town. The town isn't that big (25,000 people), but there were wonderful sculptures at every major intersection or plaza. I don't think I've ever seen a town or city this densely populated with sculpture. We found a HiperDino where Marjorie bought some Chinese peanuts. We were back on the ship again by 4:00. I skipped trivia and instead went to the gym. For dinner I had prime rib. Very good. We went to the port talk at 8:00 and then skipped the entertainment to play cards with I&S. I think that Ian provided the beer tonight (Hollandia).


Day 10 (Oct 14) - Volcanos galore in Lanzarote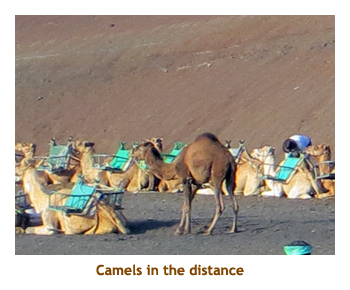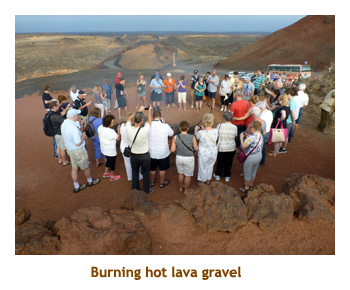 We got up at our usual time of 7:00 as we docked in the port of Arrecife on the island Lanzarote. It was a bit cloudy, but very warm (28, I think). We had our breakfast in the Elite lounge and then headed to our 8:30 ship's tour of the island. After driving through the town of Arrecife, we turned south and drove to the center of the island - Timanfaya National Park. If I remember correctly, there were 25 volcanoes, and the most recent eruption was about 250 years ago. Just as we entered the park we passed the camel riding center and saw the awaiting camels in the distance. There were about 300 of them, so it must be a popular activity. Our friends I&S did the camel ride, but our tour did not include that. We drove on and stopped at the visitor's center. About 100 feet from the center an employee dug some lava pellets for us to hold that were burning hot. Then he placed some tumbleweed-like stuff into a shallow hole which burst into flames after a few seconds. He also poured some water down a small pipe in the ground that exploded with steam. Nearby there was a BBQ pit heated from a hole in the ground. Amazing. We had time to wander around the site and take photos. Then we did a 1 hour bus ride around a ring road that took us through the lava fields and up closer to the volcanoes. We ended up back at the visitor center and headed out of the park.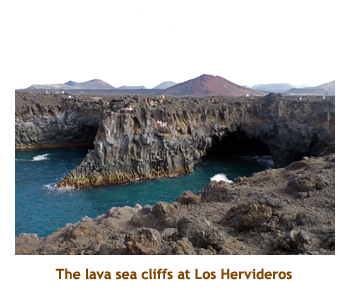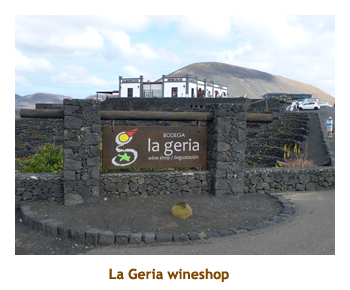 We traveled south to the villages of El Golfo and Los Hervideros, on the sea coast. Then we headed inland to the town of Yaiza. All the while we were driving through lava flows and scorched valleys. The village houses were white, one or two story buildings, with yards of black lava sand and the occasional cactus. From Yaiza we headed north to La Geria where we stopped at a winery (and bought a bottle!). The vinyards were amazing. The sparse vines were planted in lava gravel with rock barriers to impede the constant trade winds. I don't know how the farmers would get enough yield to make a go of it. We drove north to Mazaga and then back to Puerto del Rosario. We were back to the ship by 1:00 and cleared security fine with our bottle of wine. We had lunch in the Bistro on 5 (crepes). We read for a while and at 3:00 I did the gym. Trivia was at 4:15. For dinner I had a lamb shank. Very good. We skipped the entertainment and instead did the hot glass show. A very interesting island!


Days 11, 12 (Oct 15, 16) - Two days at sea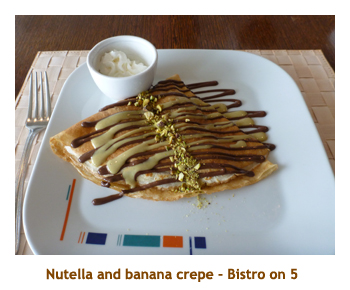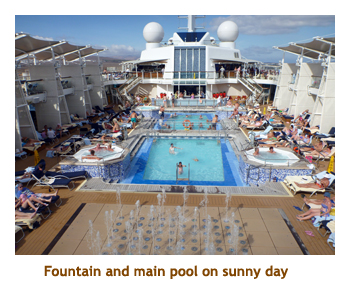 Day 11 - Up at 7:30. Noticeably cooler but sunny. Hot for a while in the afternoon. Breakfast in MDR. Trivia at 10:15 then to gym. Lunch in MDR then hot glass show. More trivia at 2:15. Read for rest of afternoon. Pork schnitzel for dinner. During dinner the captain came on the speakers and announced that due to a nasty storm, we would not be able to dock at Lisbon tomorrow. So, the itinerary was changed. Tomorrow would be a sea day followed by a day in Vigo. We had been to Lisbon twice before, but Vigo only once. Hence, we were OK with the change. We played cards with I&S for the evening and then had a rocky, rolly night.

Day 12 - Up at 7:30 for another day at sea. It was cold and windy out on deck, and rocky, rolly all day. It was sunny in the morning and rainy by the afternoon. We had breakfast in the Elite lounge, then trivia at 10:15. I did the gym at 11:00 followed by lunch in the MDR. There was an interesting "engine room" talk at 1:15 and more trivia at 2:30. We saw a bit of the hot glass show then met with I&S at 3:15 to play Mahjong. Shirley had mentioned wanting to learn how to play Mahjong, but I think that after an afternoon of it she has been cured. For dinner I had fish & chips. There was a port talk at 8:00 then we went to see our favourite (classical) pianist, Brooks Aehron. We have seen him several times over the years and really enjoy his playing (and stories). Clocks went ahead an hour tonight.



Day 13 (Oct 17) - Return to Vigo, Spain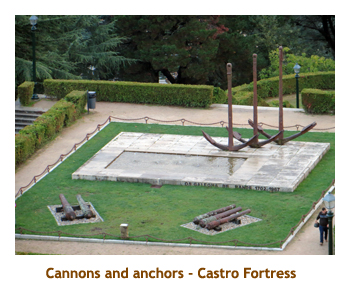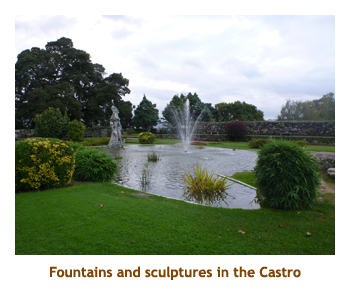 We woke up at 7:00 to a warm, but rainy day. We had our breakfast in the buffet and headed off for our 8:45 tour with I&S. We drove through the city and up a hill to the Castro Fortress (c 1655). We did a walking tour of the fortress and took in the great views of the city. The sky was really grey for pictures, but fortunately the previous time we were here it was hot and sunny. Then we drove south along the coast to the town of Baiona. There, we parked at the Monterreal Fortress and did another walking tour. The first part of the walk was through the "old town" part of the town, including a lovely cathedral. The second part of the walk was the fortress itself. This fortress was much larger than the Castro and encircled several buildings (now hotels, etc.). Once again the skies were grey, but that's life! We were back to the ship by 1:00. We had lunch in the buffet and then headed across the dock to a shopping mall to look for free wireless. We were back aboard in time for 4:15 trivia. It was formal night and we decided to try the buffet for dinner. I had a ribeye steak. We played cards with I&S for the evening. Clocks were put back an hour tonight.


Days 14, 15 (Oct 18, 19) - A day at sea, then back home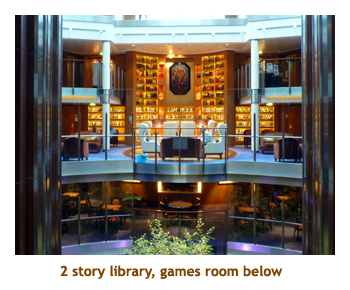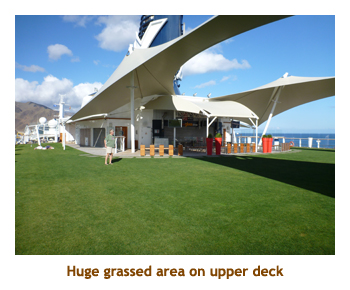 Day 14 - We were up at 7:00 to a cold, windy, rainy day (15 degrees). We had breakfast in the Elite lounge and then attended the final progressive Trivia. We ended up 9th out of 20 or so teams. Not bad. Marjorie went to a navigation lecture, I went to the gym. We did the Bistro on 5 again for lunch. Love those crepes! At 2:00 we went to a concert with Brooks Aehron (Piano) and a young lady (cello). The concert was wonderful. Then we played cards with I&S and finished up the beer. At 4:30 they had a "redeem your points" sale. We had 10 points from winning at trivia several times and a gift of 2 more tickets from our trivia team mates Michael and Carrie, so we were able to afford a t-shirt. Woohoo! For dinner I had Mac&Cheese from the kids menu. Delicious! We said goodbyes to our dinner mates and others we had met through other activities. We skipped the entertainment in order to pack our bags and put them out in the hall.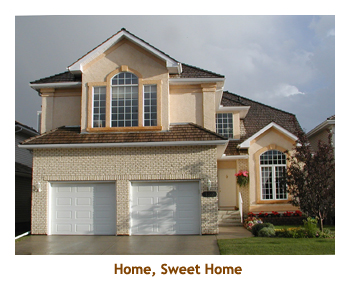 Day 15 - We were up at 6:30 to see that we had already docked at Southampton. We had breakfast in the buffet. Our exit time was 8:20. We dragged our carry-ons off the ship and found our luggage in the terminal. Then it was British Customs and then a short walk to the National Express station. The bus was on time and we were at Heathrow by about 12:30. Our flight (Heathrow to Vancouver) was at least an hour delayed in taking off due to baggage loading issues, so were arrived late into Vancouver and missed our 6:30 PM connecting flight to Calgary. We were rescheduled to a 9:30 flight, arriving at midnight in YYC. So, we emailed Chrissy to cancel them picking us up and instead used a cab. We were home by about 1:00 AM. All was well and the kitties were glad to see us. Nice to be home after a great cruise.