---
Travel
Cruises
Past Cruises (Diaries)
Future Cruises
Rogues Galleries
Land Trips
Diaries (Land Trips)
Hawai'i - Big Island - 04'01
Hawai'i - Maui - 05'02
Hawai'i - Big Island - 04'03
Hawai'i - Kaua'i - 09'04
Hawai'i - Big Island - 04'06
Hawai'i - Maui - 04'06
Mainland China - 05'07
Phoenix, Arizona - 12'07
Greek Isles - 05'08
Hawai'i - Kaua'i - 09'08
Hawai'i - Big Island - 09'09
Hawai'i - Maui - 05'12
Hawai'i - Big Island - 04'13
Ireland - 08'13
Mexico - Cancun 11'13
France/Belgium/Lux 07'15
Hawai'i - Big Island - 05'17
England / Wales - 06'17

---
Photography
Cameras
Underwater
---
Pets
Tara
Blackie
Whitey
Muffy
Ollie
Rusty
Fluffy
Rufus&Dufus
---
Games
---
Rowing
---
Physics
---
Rating (out of 5): Ship

Food

Service

Itinerary

This is the second part of our trip to Southeast Asia. The earlier (first) part of the trip can be found in the SE Asia Part I diary. I had mentioned that there was a large turnover of people today as we continued on with the second leg, but 900 of us stayed on. Things will be different in 10 days when this leg finishes when everyone must debark. The Sapphire is doing a 14 day dry dock in Singapore with lots of changes planned.

Day 1 (Feb 28) - (Re)Boarding in Singapore
This was a turn-around day where most passengers were just boarding. Not for us, though, as we had sailed the previous 5 days as well. We had the same cabin for the second leg so had a free day ahead of us. We did a morning bus tour of Singapore which I have described in the previous diary. We returned in the early afternoon as almost 2,000 people were checking in. We had to surrender our passport as we boarded. When we got to our cabin, room service had dropped off another 20 cans of Coke. I think we still had 13 cans in the fridge from the previous leg of the cruise. Now we were set for life! For the afternoon we relaxed around the ship and even got to skip the muster drill. At dinner we got our new table assignment as we had changed our dining option from anytime to early fixed seating. We were assigned a table for eight, but only two others showed up (sisters). Not much better than our sharing table from last cruise. However we still had a nice dinner. I had prime rib. We went to evening trivia and formed a new team, with Dave, Dave, Connie and Lal. We stuck with this team for the rest of the cruise. We did well, coming in second. (That was to be a familiar theme!). We wandered the decks for a bit and then headed to bed.

Days 2, 3 (Mar 1, 2) - A day at sea then Brunei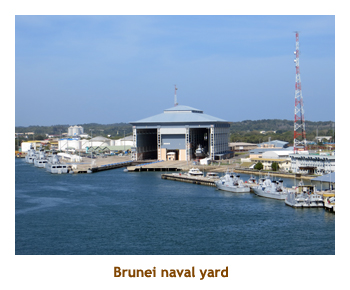 Mar 1: Up at 6:30 for our day at sea. We had breakfast in the MDR, read in our cabin and then attended a lecture on Brunei. I went up to the gym. After cooling down we did lunch in the MDR. We read until 3:30, did "where am I?" trivia, followed by 4:15 regular trivia. For dinner I had sweet and sour pork. There were 6 of us at the table as another couple joined us (from another table). Our group was growing. We had a great time together. We walked around the upper deck and headed to bed.

Mar 2: We were up at 6:30. We had breakfast in the buffet even though we weren't docking at Brunei (port town of Muara) until 10:00 AM. Our tour was at 10:15. After boarding the bus we drove from Muara to Bandar Seri Begawan, the capital of Brunei. Brunei is a tiny country, and everything is really about the Sultan (Haji Hassanal Bolkiah).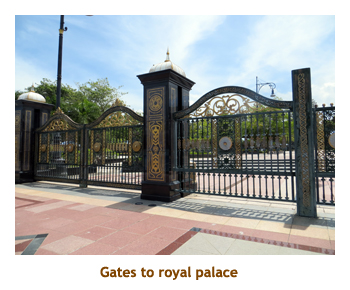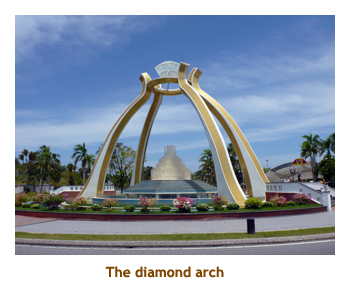 Our first drive by photo op was the Royal Palace, the largest residential palace at 2.2 million (!!) square feet of floor space. It was mostly hidden in the trees. Then we drove by a subdivision with homes for the relatives of the royal family. Pretty nice! A short distance away were the polo grounds and stables for a hundred or so ponies. Then we visited a huge mosque (the Jame'Asr Hassanal Bolkiah mosque) followed by another mosque (the Omar Ali Saifuddien mosque) and the famous diamond arch. Our final stop was at the Royal Regalia Museum which housed civil and military uniforms, carriages, royal dress and various gifts from many foreign countries. It was a really interesting museum. Nearby we stopped to see a floating village (Kampong Ayer). Some of the tours included walking through the village, but we just had time for a photo op from across the bay. We were back to the ship about 4:00 PM. For dinner I had lamb shank. Because of the late sailing time (8:00 PM) our regular 4 dinner mates were off on shore. We would have been all alone, but, lo and behold, 2 more tablemates showed up - a mother and daughter. They loved the specialty restaurants so we only saw them twice. We read, walked the decks and then headed to bed.


Days 4, 5 (Mar 3, 4) - A day at sea and Nha Trang, Vietnam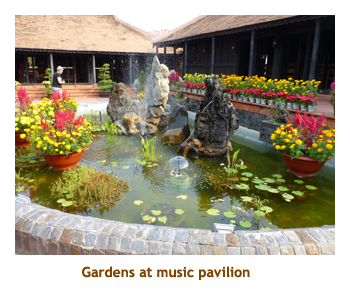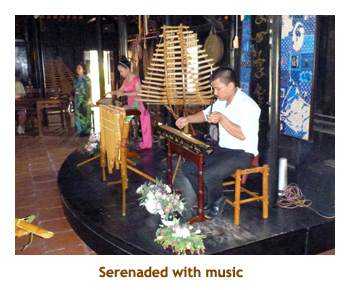 Mar 3: Up at 6:30 for another day at sea. We had breakfast in the MDR. We did morning trivia at 9:30 and won some passport wallets. Then Marjorie went to a lecture on Vietnam while I went to the gym. We had lunch in the MDR. In the afternoon we sat on our balcony and read. Another trivia session was at 4:30. For dinner I had roast beef and yorkshire pudding. We did our usual read and wander and then went to bed. Clocks were set back one hour tonight.

Mar 4: We were up at 6:30. We had breakfast in the buffet as we anchored in Nha Trang Bay. It was another hot day - 25 degrees and humid. We had a tour at 8:00. As we left the ship we were given a Vietnamese landing card. We tendered ashore and climbed on the bus where we had a short drive from the dock to the town. Our first stop was at a shrine overlooking the bay. Inside the small building were several native musical instruments which a man and lady played for us. It was very nice. Then we had some time to walk around the gardens and visit the rocky beach.




Our next stop was a short distance away at the Cham Towers, the best preserved relic of the Champa dynasty. These are religious temples built between the 7th and 12th centuries. We were given about half an hour to wander around the site. Our next stop was at the Tran Phu bridge crossing the harbour inlet. We were let out of the bus with the understanding that we were walking partway out onto the bridge for a photo op of some fishing boats, so one older passenger decided to wait at the start of the bridge while we walked there and back. Well, it turned out that we walked all the way across the bridge (about one kilometer) and there was the bus waiting for us. So we were one short! Right at that instant, some police motorcyclists shut down the bridge for a bicycle race (tour de somewhere) to pass, so we couldn't drive back to get the guy. We had to drive further to another bridge and finally arrived back at the start of the bridge. By this time the fellow had figured it out and walked across the bridge, so we had to wait for the bikes to pass and then drive over the bridge again. We rescued the lost guy and continued to our next stop at the Long Son pagoda. This was a Buddhist temple complete with lots of gold and a huge white Buddha in the distance.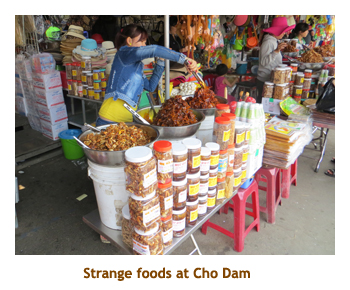 Our next stop was a snack break, served in a huge open air restaurant. There were some musicians playing on stage, and the restaurant was surrounded with souvenier kisoks. After a half hour break we reboarded the bus and drove to the Cho Dam Market. We were given about half an hour to stroll through the market stalls. Our final stop was at an embroidery factory and showroom. These are the beautiful embroidered pictures on a translucent screen so that the picture can be seen from either side. Amazing! One large picture was done on almost completely transparent silk and portrayed several beautifully coloured butterfiles. I really enjoyed seeing through the display. After all that, we were still back to the ship at 1:30. We did Alfredo's Pizzaria for lunch. We read for a while and then attended 3:30 trivia. One point shy again. For dinner I had diver scallops. Yummy! We walked the upper deck in the dark for a while and then retired to bed. It had been a busy, but wonderful day.


Day 6 (Mar 5) - Ho Chi Minh City (Saigon)
I was really looking forward to today. As a child of the 60's, Vietnam (and Saigon) was a pretty scary place. So far, we had found it to be a beautiful country with friendly people and a fairly healthy economy. We were up at 6:00 and had breakfast in the buffet, as the ship docked in Phu My Harbour. Our tour of Ho Chi Minh City was a 9 hour tour, mainly because of a two hour drive each way. Our tour met at 7:45 and we were away on the bus by 8:00. We reached Saigon by about 10:00. Most of the way we passed through one village after another. Closer to the city there were rice paddys with grass shacks and flocks of ducks. Very quaint! Our first stop was at a national museum. We browsed through the exhibits and eventually were led into an area with gardens and a large pool. It turned out to be a water puppet show. The puppets were controlled by long poles under the water, with the puppeteers hidden behind a bamboo screen. It was an excellent show. Our next stop was at the Minh Phuong lacquer factory. We were given a talk on the process of making lacquer-wear then toured the showroom. It was really beautiful stuff, but very pricey. As usual, we saw the same stuff in souvenir stores for much less.


Leaving the factory, we drove through the city to the famous old post office. What a brilliant colour! Inside it was more like a small train station than a post office. Across the street was a Catholic church (Notre Dame), an unusual sight in this land of Buddhist temples. Speaking of temples, our next stop was at the Jade Emperor Pagoda. At this point it was lunch time so we drove to a large hotel for a buffet lunch. Once again we had live entertainment, but the music was unbearably loud. The dancers were good though. The buffet was good, too. After lunch we drove to the Reunification Palace. This was the headquarters of the South Vietnamese government during the war. From there we walked a few blocks to see some other famous buildings - the City Hall, the Rex Hotel and the Opera House. Then it was time to hop in our bus and drive back to Phu My and the ship. We were back to the ship by about 5:00 PM, wherein we surrendered our Vietnamese landing cards. For dinner I had a "trilogy" - pork, chicken and lamb. I usually really enjoy the food, but the pork was just a lump of fat, the chicken was really dry and the lamb chop was grisly and tough. Crappy! We did our usual read and wander, then to bed.


Days 7, 8 (Mar 6, 7) - A day at sea and Pattaya, Thailand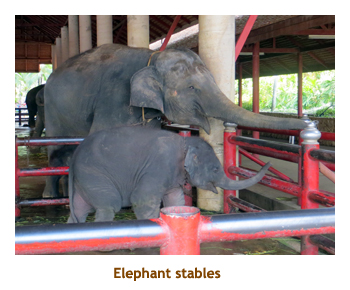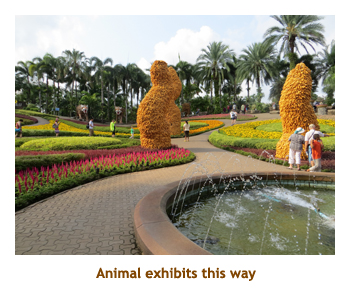 Mar 6: Today was a sea day as we transited from Vietnam to Malaysia. It was a typical day onboard - up at 6:00, breakfast in the MDR, morning trivia, up to the gym (Marjorie to port lecture), British pub lunch, bingo (free cards), afternoon trivia, and lots of reading and wandering. For dinner I had surf and turf. Very good.

Mar 7:Today we were docking in Port Laem Chabang, the entry point to Bangkok. It was a two hour drive to Bangkok and we had had enough of long tours, so we booked a local tour to a famous garden just out of Pattaya, about a 45 minute drive. We were up at 6:30 and had breakfast in the buffet. Leaving the ship we were given Malaysian landing cards. We met the bus at 7:45 and headed off to Pattaya City and the Nong Nooch Gardens. The gardens turned out to be wonderful. The only negative was that we didn't have nearly enough time to do the 600 acre park justice. By comparison, Butchart Gardens in Victoria is 55 acres. We were given one hour to walk around the grounds on our own. We managed to hustle around a small portion of the garden before the hour was up. The gardens consisted of groupings of flowers and shrubs into lovely gardens, and hundreds of fake animals. On the one hand this could be considered tacky, but it was actually very well done. We took many photos of the animals, which I have published on a separate animal page.




After the hour had elapsed we met at a huge indoor stadium where they put on a song and dance "cultural" show. It was very good and even included a couple of elephants! It was very hot and humid inside the venue, and they had huge fans and misters blowing damp air. It just made it even more humid! Phew!! After the cultural show we all marched to the next building for an elephant show. It was excellent with elephants dancing, throwing darts at ballons, shooting baskets and playing soccer. After the show we all piled onto the bus and were driven to another part of the park that featured an orchid garden and a flowerport sculture display. There were literally thousands of flower pots. Some were huge pots either by themselves or with flowers in them. Others were sculptures of arches, elephants, etc made from stacking small flower pots. Then it was back on the bus for the trip back to the ship. Along the way we stopped at a jewelry / souvenir shop, which advertised itself as the largest jewelry store in the world. It was huge. We arrived back in Port Laem Chabang about 1:30. We did Alfredo's Pizzaria for lunch. We read for a bit and then played 4:00 trivia (we won). Marjorie went to a Smart Phone lecture, while I just read. For dinner I had Chinese noodle soup. What brought that on? Then it was time to read, wander the upper deck and then to bed.


Day 9 (Mar 8) - Ko Samui, Thailand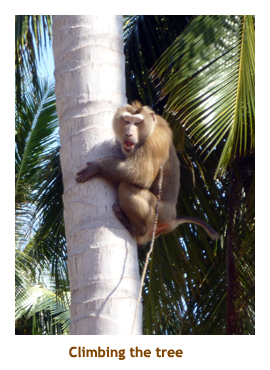 Today we were arriving at our final port of call - Ko Samui Island. The ship was anchoring in Nathon Bay. We were up at 6:30 and had breakfast in the buffet. We had booked an 8:00 tour of the island. We tendered to shore in Nathon Town using local tenders (a bit rickety) rather than the ship's lifeboats, and then boarded our bus. We drove north, through the town and then through countryside. The first stop was at a coconut farm that used trained monkeys to pick and drop ripe coconuts from the tall palm trees. The monkey (actually a pig-tailed macaque) is attached to the human worker by a long leash, so the monkey can't just run away. A good monkey can pick about 300 coconuts a day, and all that for just a couple of bananas. It takes about 3 months to properly train a monkey to recognize ripe coconuts and then detatch them from the tree (ie. twist the stem). After watching a monkey do just that, we were treated to a sample of freshly shredded coconut meat. Our guide lady sliced into a coconut, saved the milk and then shredded the coconut inside on a special tool stuck into the ground. The coconut meat was very good. We wandered around the farm for a bit looking at the monkeys and some tethered water buffalo. Then we reboarded the bus and headed off to our next attraction.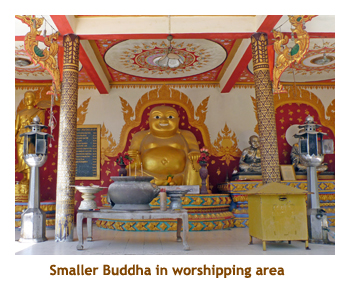 Driving along the north end of the island we passed over a small bridge to Fan Island and stopped at the Wat Phrayai (Big Buddha) temple. This temple was built in 1972. We were given some time to walk around the area and then we continued our bus tour. Our next stop was a small village with several brightly coloured temples. We toured through two of them and learned a bit about the Buddhist philosophy. There was a huge statue of a smiling Buddha and one of Guanjin, the 18-armed Buddhist avatar of Mercy. After the guided tour we were given some time to walk around the temples and the village. There seemed to be Buddhas everywhere. Continuing on, our next stop was a buffet lunch at a resort hotel (The Imperial Boat House Beach Resort). It was very good. After lunch we wandered around the grounds of the hotel until it was time to board the bus.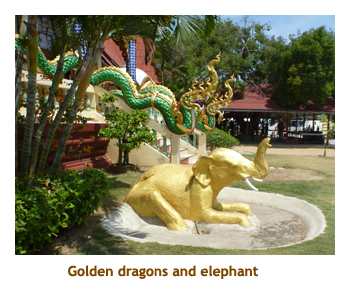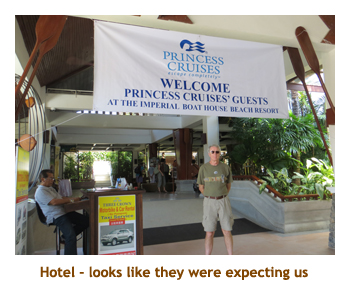 Our final stop was at Chaweng Beach.It was really hot and humid and the beach was unshaded, so we opted to walk a few blocks to an air conditioned mall. We found a grocery store there and bought some choco milk and a couple beer to take onboard. Walking back to the assembly point, I got ahead of Marjorie, so looked alone. I passed a group of young women sitting outside a store. One of them leaped up and grabbed my arm. With my thick black hair, chisled looks and super-toned body, I'm used to that reaction from women. Then I saw the store sign - "Exotic Massage" and realized they were just doing their job. Very deflating! We were back to the bus early so walked down the dirt access road to check out the beach. It really was a beautiful large sandy beach. We were finally back to the tender dock by 3:00. We had quite a wait to get onto a tender, and arrived back at the ship about 4:00 - a long day! We showered and changed and managed to make 4:15 trivia.. Afterwards we relaxed and read on the balcony. For dinner I had lobster and shrimp. Yummy. Read, wandered and to bed. Clocks forward 1 hour tonight.


Day 10 (Mar 9) - A final day at sea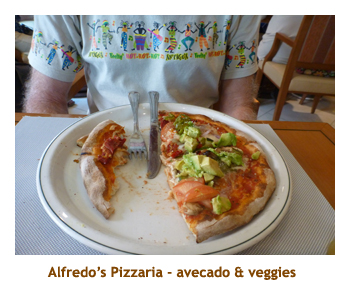 Today was our final day at sea as we sailed towards Singapore (again). It had been a wonderful cruise, despite the heat and humidity. Somehow we survived the heat! We were up at 7:00 and had breakfast in the MDR. We really enjoyed the MDR on sea days for breakfast and lunch, as we met so many interesting people. It was never crowded and we often remained talking well after finishing our meal. We did 9:30 trivia, then Marjorie headed to a boutiques sale and I to the gym. We had a quick lunch in the buffet and then spent some time on our balcony reading. A special trivia was held at 3:30 followed by afternoon trivia at 4:15. With the diversion of ships to the Orient (including the Sapphire) they have added oriental features, including many chinese staff. The girls that did our trivia sessions were giggly 20 somethings who had no clue about the trivia questions or how to pronounce them. That made it interesting. We got along so well with our regular dinner mates that tonight we had organized a "crab shack" dinner together. The menu was very limited and very spicy (ie. hot!). Marjorie and I, and some of the others, didn't really enjoy the food. We had a fun time though. Then it was back to our room to pack our bags and put them out in the hall. We wandered the decks and then headed to bed.

Days 11 (Mar 10) - Disembarking in Singapore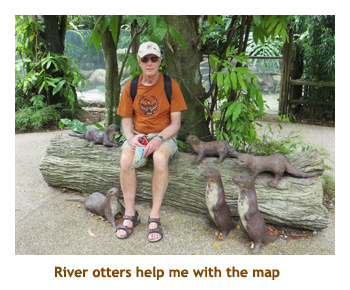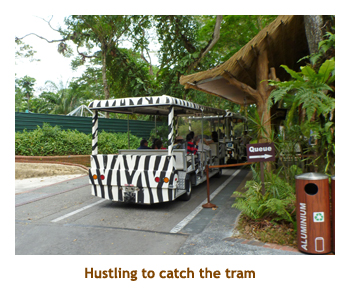 We were up at 6:30 and dined in the buffet. What a zoo! We vacated our cabin about 8:30 and then went to wait in the lounge for our group number to be called. About 9:00 we headed off the ship, picked up our luggage and went through Singapore customs. Then it was out into the meeting area to locate our bus to the airport (where our hotel was). We were staying at the Crowne Plaza, the same hotel we had stayed in 2 weeks prior. Somehow the Princess guy coordinating the transfer got things screwed up and hadn't ordered enough transportation for all of us. As we waited for him to resolve it, I guess his shift ended and he abandoned us. Eventually someone else helped us obtain a van to the airport. We were at the hotel by about 11:30. We checked in and then gathered some info about getting to the Singapore zoo. It was quite cloudy out and the forecast was for some rain, but it was warm enough for the zoo. The concierge recomended taking a cab, but someone decided we would take public transportation. So, after 3 trains and a bus, and 1:45 of our time, we arrived at the zoo about 2:00.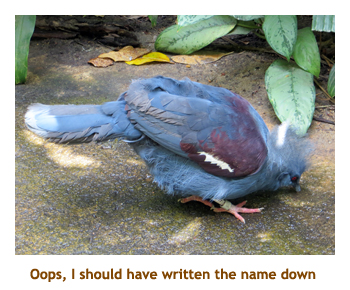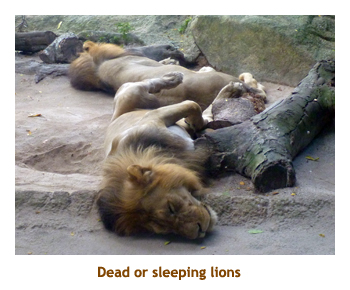 The zoo was quite large, so we started off by by taking the passenger tram right around the grounds to orient ourselves. Then we hit the restaurant to have a combo lunch / dinner. Just as we were going in to the restaurant, there were a few spits of rain. However, by the time we finished lunch, the rain had stopped and everything looked dry again. Fortified, we walked around the entire park checking out the exhibits. The amazing thing was that there were no fences. Instead, the animals were isolated from the spectators by waterways, or almost invisible ditches. It made you feel part of the exhibit. There were also several screened in buildings where you could walk right through birds and smaller animals. Overall it was an excellent zoo. The only disappointment was that the Australia section was under reconstruction. By about 5:00 we had seen most of the zoo and were ready to call it quits. We did the bus and three trains thingy (taking 1:45) and arrived back at our hotel about 7:00. We wandered through the airport food court for a snack (shared a bento box) and then returned to the hotel for a read and to bed.


Day 12 (Mar 11) - Leaving Singapore for home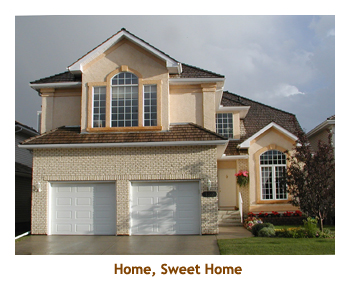 We requested a wakeup call for 4:30. We woke up just after 4:00, so didn't really need the call. We snacked on some muffins and juice. Then we headed down to the lobby to check out. Our flight was leaving from Terminal 2, and that's exactly where our hotel was. We did our baggage checkin, then went through customs and security. Our flight to Narita (Tokyo) was ontime at 7:00 AM and we had a 6.5 hour flight to Tokyo. We had about an hour to kill at Narita so had an ice cream cone. The flight staff took our carry on bags and checked them into regular baggage. Haven't had that before! We left Tokyo at 16:10 for our 9 hour flight to Calgary. We landed ontime, got our bags OK, cleared customs and exited into the meeting area by about 11:00. Ian and Shirley (bless them!) were there to pick us up and take us home. Everything was fine at home and the kitties were glad to see us. Another great cruise!!

If you wish to see the other part of our trip, please visit the SE Asia Part I trip diary.