---
Travel
Cruises
Past Cruises (Diaries)
Future Cruises
Rogues Galleries
Land Trips
Diaries (Land Trips)
Hawai'i - Big Island - 04'01
Hawai'i - Maui - 05'02
Hawai'i - Big Island - 04'03
Hawai'i - Kaua'i - 09'04
Hawai'i - Big Island - 04'06
Hawai'i - Maui - 04'06
Mainland China - 05'07
Phoenix, Arizona - 12'07
Greek Isles - 05'08
Hawai'i - Kaua'i - 09'08
Hawai'i - Big Island - 09'09
Hawai'i - Maui - 05'12
Hawai'i - Big Island - 04'13
Ireland - 08'13
Mexico - Cancun 11'13
France/Belgium/Lux 07'15
Hawai'i - Big Island - 05'17
England / Wales - 06'17

---
Photography
Cameras
Underwater
---
Pets
Tara
Blackie
Whitey
Muffy
Ollie
Rusty
Fluffy
Rufus&Dufus
---
Games
---
Rowing
---
Physics
---
Rating (out of 5): Ship

Food

Service

Itinerary

This cruise plus the subsequent B2B cruise made up a wonderful 15 day trip around SE Asia. Every port (and country) was new to us. Another first for us was the routing of our flights. We cashed in Aeroplan points for free flights and could only get eastern bound flights. So, our total flight package took us from Calgary to London to Singapore to Tokyo and back to Calgary. The flight distance was about 20,000 miles, taking some 36 hours in the air and wrapping right around the globe. On our first leg the time zone change plus the distance travelled meant that we left Calgary on Feb 20 and landed in Singapore on Feb 22!
The ship was full, with about 2,800 passengers. The first 5 day leg of the trip consisted of mainly of Chinese and Australians. There was a sharp contrast as the Aussies are very outgoing, while the Chinese kept to themselves. As a result, we met quite a number of Aussies, while we never actually met any Chinese. We got the usual Elite perks which were great. We had 250 internet minutes each (didn't use it all!), a free mini-bar setup and free laundry (which we didn't use as Marjorie likes to do her own).

Pre-cruise (Feb 20, 22) - Travelling to Singapore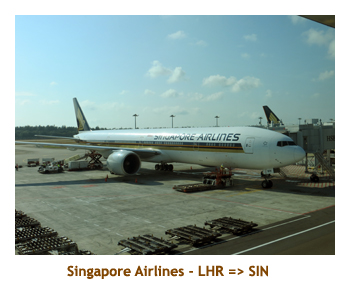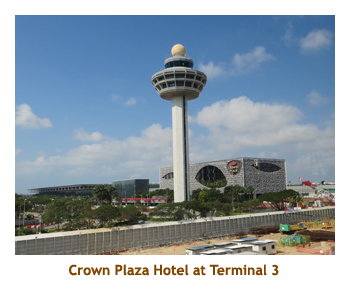 We were picked up from the house by Ian about 3:00 PM and were to the airport by 3:30 (kudos again to Ian and Shirley!!). It was just starting to snow so we were glad that Ian didn't have to fight the weather. Our flight to London was at 6:15. We were de-iced and then headed to London, arriving ontime about 10:00 AM. At Heathrow we went through security and on to the next gate, ready for our 1:05 flight to Singapore (a 12.5 hour flight). I watched 3 movies during the flight. The plane arrived on time in Singapore (terminal 2) at 9:45 AM. We went through customs, grabbed our luggage from the carousel and met the Princess rep. He accompanied us to terminal 3 and the Crown Plaza hotel. The hotel was located within the terminal building so was very convenient. We checked in at 11:00 AM and fortunately they had a room all ready for us. We had a 4 hour nap and then headed out to explore the airport. It was huge with loads of stores and restaurants, and even a grocery store. It could compete with any shopping mall I've been in. There were several huge Disney displays, advertising the new Disneyland complex on Sentosa Island. We had dinner at a Japanese restaurant - tempura and California roll. We went back to our hotel room and watched a soccer match for a while. Then it was sleeping pill time and to bed.

Day 1 (Feb 23) - Boarding in Singapore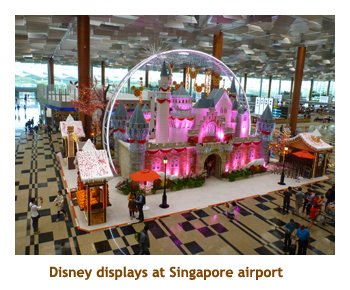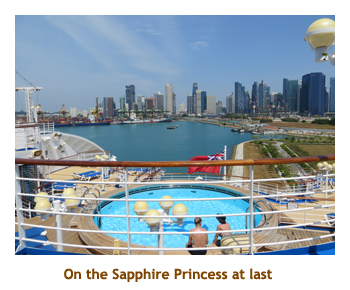 We woke up about 4:30. We repacked our suitcases and then headed out for a wander of terminals 2 and 3. We stopped at a Burger King for breakfast. Then it was back to our room to have our bags out in the hallway by 8:30 (we were on a Princess transfer). We checked out about 9:30 and sat in the lobby with the others on the transfer. We were on to the bus about 10:30 for a 1/2 hour drive through the city to the cruise terminal. We travelled mostly on a beautiful highway / boulevard with miles of flowering trees and shrubs (bouganvilla). We were to the dock by 11:00. Checkin was fairly quick and we were onboard by 11:30. As we boarded we had to hand over our passports. We dumped our carry-on stuff in our cabin and headed up to the zoo, er, i mean buffet for some lemonade while we waited for the main dining room to open at 12:00. When we were seated in the MDR, we were the only ones there! We were joined by 2 Aussies about 12:30 and enjoyed a very quiet lunch together in an empty dining room, far from the zoo above. Afterwards we went back to the cabin to unpack our bags. I called room service to replace our mini-bar setup with 20 Cokes. It turned out that someone had removed (or not restocked) all the small liquor bottles in our fridge, so that had to be resolved first. Several levels of staff were involved and we eventually got our cans of Coke. Muster drill was at 3:15 and we sailed soon after. We did a port lecture (Kuala Lumpur) at 5:00 and then headed for dinner. I had the veal scalopini. We skipped the entertainment and went to bed early.

Day 2 (Feb 24) - A day in Kuala Lumpur, Malaysia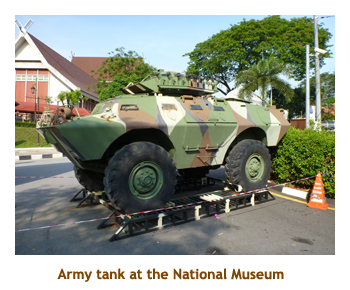 We were up at 6:30 all ready for our first port of call . We were docking in Port Kelang where it was forecast to be humid and 32 degrees. We had breakfast in the buffet and then headed to our 8:00 AM tour to Kuala Lumpur. The bus drive was about 1.25 hours to get to the capital city of Kuala Lumpur. Our first stop in the city was a photo stop at the Blue Mosque, the largest mosque in SE Asia, holding up tp 24,000 worshippers. We viewed it from a lovely garden across a small lake from the mosque. Our second stop was at the national museum where we were given 30 minutes to wander through the exhibits. At our third stop (the KL train station) we did a walking tour, seeing the station, the Jamek Mosque (1907) and the confluence of two famous rivers - the Gombak and the Klang.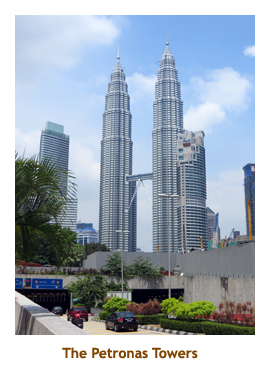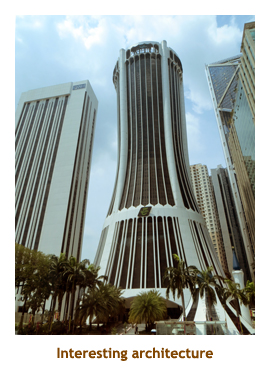 Our next stop was at Merdeka (Independence) Square and the Royal Selangor Polo Club. The square hosts what was once the tallest flagpole in the world (so they say). After some time to walk around the square and onto the green at the polo club, we reboarded the bus and drove to a war memorial commemorating WWI, WWII and the Malaysian war of independence. The gardens and memorials were all very nice. Finally we drove to a photo spot from which to see the Petronas Towers. On some of the tours they included a hike up the towers for the view, but ours was only a photo spot from afar. We did the hour plus drive back to the port and were on the ship by 1:30 for lunch in the buffet. There was no MDR lunch on port days. We went back to our cabin to read on our balcony. Trivia was at 4:15 and was almost empty as most people were still off of the ship or tired from excursions. Marjorie and I played as a team of 2 and scored 18/20. Woohoo! It was formal night but Marjorie and I weren't too hungry (late lunch) and headed up to the buffet. The buffet was packed - I've never seen it so busy at dinner time. A lot of Chinese were there, probably because the "Caucasian" MDR menu did not appeal to them. A "where am I?" trivia was at 7:00 and again Marjorie and I did the twosome thing. We won a bottle of champagne. I wish we liked champagne! We were still a bit grogged from the time difference, so did the early bed thing again.


Day 3 (Feb 25) - The Island of Penang, Malaysia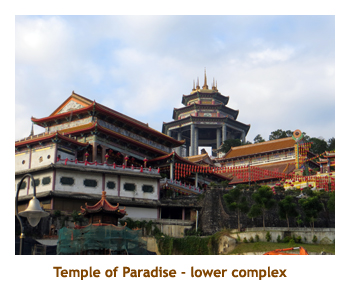 We were up at 6:00 to another very warm (32 deg) and humid day. Today we would be on the island of Penang. We had breakfast in the buffet as we docked in George Town, and then packed for our 7:45 tour. On the bus, we drove through George Town and headed south along the coast of the island. Our stop was at the Temple of Paradise, the largest Buddhist in SE Asia. It is a multi-temple complex built up the side of a hill. There were many stairs to get right up to the pagoda. The guide claimed that there were more than 10,000 paper lanterns decorating the site. I believe him! We spent about an hour at the temple which was quite crowded with locals. After descending the many stairs, we hopped in the bus and headed north to a batik factory. In the work area many ladies were busy waxing and painting the cloth material. It is quite intricate work. Attached was a much bigger showroom with clothing, table cloths and even bolts of cloth for sale. It was all quite lovely, but we didn't buy anything. The prices were higher than I expected - the same stuff is much cheaper in the souvenir stores.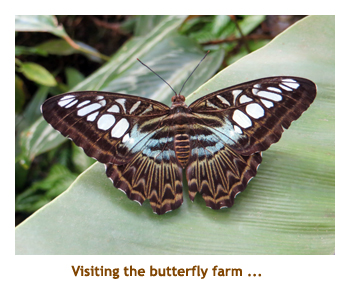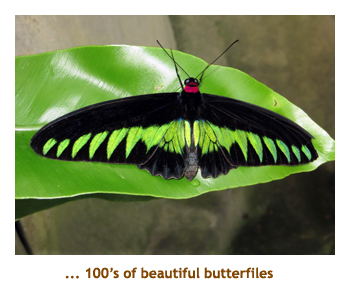 The next stop on the tour was at a butterfly farm. We walked through an enclosed garden with hundreds of butterflies. It was amazing. In this climate they didn't need any heating or humidification. I presume that a number of the butterflies were local varieties. Then it was lunch time. We were taken to a hotel with an excellent buffet. They had wi-fi so we did our email thing on the tablet. Afterwards we were driven to a village that had two adjacent Buddhist temples - one a Thai temple and the other a Burmese temple. The Thai temple enclosed the world's fourth largest reclining Buddha. The Burmese temple complex included a four story pagoda which offered great views of the surrounding area. Both temples were very ornate with lots of gold. Our final stop was back in George Town at a house (mansion) owned by a Chinese Kapitan - Baba Nyonya. It was a two story square building with an inner courtyard. The house was part of a group of several mansions, most of which were museums now. After a drive through George Town, we were back to the ship by 4:00 PM. We showered and read until dinner. For dinner I had beef fillets. They were very good. We shared our champagne with our table mates and sent the rest to the cooler for another night. We wandered the ship for a while and then headed to bed. The clocks were set back one hour tonight.


Day 4 (Feb 26) - Around Phuket, Thailand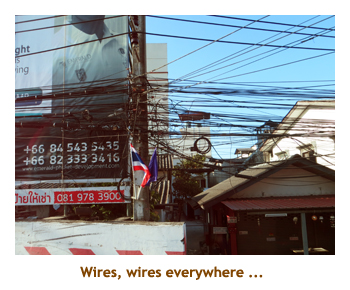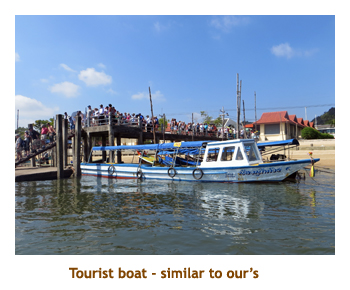 We were up at 5:30 as we were anchoring at that place that I'm always afraid of pronouncing incorrectly - Phuket (poo-kette) Town on Phuket Island. Fortunately we had gained an hour overnight, so it didn't really seem so early. We had breakfast in the buffet and headed off to our 6:30 tour. For some reason the tours were delayed, plus we had to tender to shore, so we weren't aboard our bus until 8:00 AM. We drove through the town. What intrigued me was the mass (rats nest?) of telephone wires running both sides of the streets. We would see this in many of the SE Asian towns. We motored north for 1.5 hours, crossing a bridge from the island onto the mainland province of Phang-nga. There we boarded a small covered boat and sailed out into Phang Nga Bay. The scenery was awesome with rocky islands reaching straight up from the water. After about an hour we finally circled James Bond Island (where some of "Man With the Golden Gun" was filmed).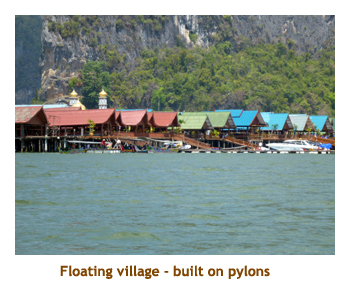 On the way back, we stopped at a Muslim floating village (Koh Panyee) and spent about an hour to walk around the village. It was much larger than it looked from the water and housed about 1,700 people. We walked through the commercial area (restaurants, shops, etc.) and even visited an elementary school. It was very interesting. Then it was time for the 1.5 hour drive back to Phuket Town. As we left on the bus about 1:30 we were given Subway sandwiches and a drink to eat along the way. Just outside of Phuket Town we stopped at a huge jewelry and souvenir store (Wang Talang). We were very warm from the heat and humidity, and not really interested in gems, so we whizzed through the displays to the cafeteria where they were giving out free drinks. It was air conditioned and felt heavenly. We were back to the ship by 4:00 PM. There was a grocery store just across the street from the tender dock, so we popped over and got a 4 pack of Chang beer. We didn't have any Thai money, so used a money exchange right next door to the grocery store. We had a bit of a wait for the tender and then motored back to the ship. We showered and read for a while. For dinner I had diver scallops - yummy - and the rest of our champagne. I thought it would lose its fizz overnight, but not so. We sat at a table for 6 hoping to share, but no sharing folks came in. Big table for two of us! We used the internet for a while, wandered the ship and then went to bed.


Day 5 (Feb 27) - A day at sea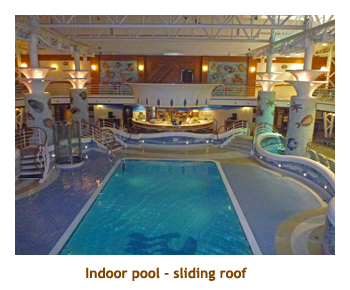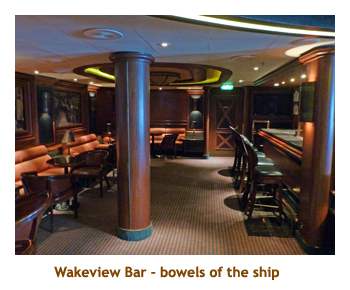 Today was a day at sea as we steamed towards Singapore. We were up at 7:00 and had breakfast in the MDR. We always enjoyed eating there and met so many nice people. Trivia was at 9:30. The young fellow hosting the session was sadistic and did a really hard trivia on inventions and inventors. The winners had 5/20. Everyone was pretty upset with him. Afterwards I headed up to the gym while Marjorie went to a big miscellany sale in one of the restaurants. We had lunch in the buffet and then sat on our balcony and read our books. At 3:30 there was a "where am I?" trivia and our group of 3 won passport holders! Woohoo! Regular trivia was at 4:15 where we came second. For dinner I had meat loaf which was better than it sounds. Once again we sat at a table for 6 with no one to share with us. It seemed like everyone was up in the buffet. At this point we decided to change our dinner seating to "fixed" 5:45 seating for the next leg of the cruise. That way we would have company. Marjorie talked to the maitre'd and changed our dining option to the 5:45 fixed seating. The entertainment was a "rock violinist". He was very good. His violin was amplified, but not too loud. We enjoyed him. As we wandered back to our cabin there were many suitcases out in the halls. Not ours though - we had another 10 days to go. Clocks went forward again tonight.

Day 6 (Feb 28) - Back to Singapore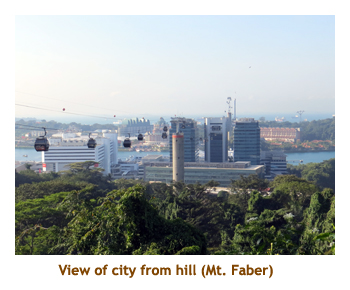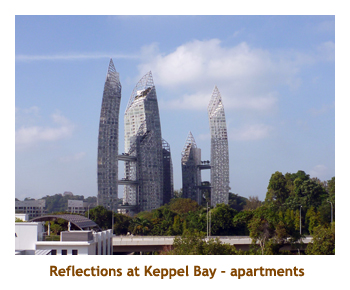 Today was a turn-around day as 1,850 passengers were leaving the ship and another 1,900 got on. We were up at 6:30 AM to witness this event. We had breakfast in the buffet and then at 8:15 we headed off on a city tour that was put together for the 900 of us staying aboard for the next cruise. "Transiting passengers" they called us. I've been called worse! As we left the ship our passports were returned to us as well as a special landing card for the day. Our first photo stop was a city overview at the top of Mt. Faber. In Calgary we'd call it a hill, or even a mound. We were barely over the treetops. You can see from the photo that the chairlift to the top was almost horizontal. Leaving the hill we passed the Keppel Bay "curved" towers. These are apartment buildings that appear to have sagged in the heat. Our next stop was at the botanical gardens. The gardens are huge and we wished there was time to see it all, but we only had time to do the National Orchid Garden, a small section of the gardens. It was beautiful. We spent about an hour there and the flowers were amazing. At the entrance to the garden a bride was having photos taken.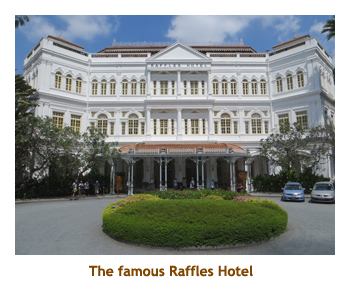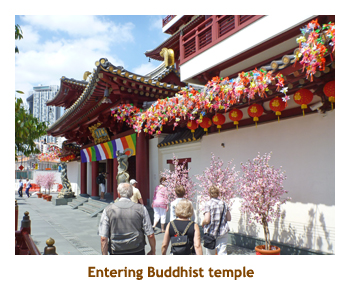 Our next part of the tour was a drive through China town. Along the way we drove past the famous Raffles Hotel. We were a bit behind schedule, so we didn't get as long in China town as we had hoped. We did one stop where we walked a block or so to a Buddhist temple. There were lots of traces of the recent Chinese New Years celebrations, including "lucky money" strung across the streets. We entered the huge temple which was very ornate inside. Lots of statues and orchids. We were back to the ship about 1:30. As we reboarded, we had to hand in our passports (again) and our landing cards. We had lunch in Alfredo's Pizzaria - best pizza afloat!

Note: I've always enjoyed the pizzaria restaurant found on many Princess ships but this is being replaced (at least on the Sapphire) to a sushi bar as they continue to address the Asian market.

Walking back to our cabin, it was a ship full of strangers that we saw. This leg it was mostly Aussies that joined us. Maybe we should have kept our anytime dining option? We sat on our balcony and read for a while. I slipped away to the gym for a workout and was back before supper time. We headed to our new MDR table for eight and discovered two ladies (sisters) there. No one else showed up. Shades of the previous cruise? Speaking of the previous cruise, it's time to make a break here and end the tale of our first 5 days.


For the continuation of our SE Asian cruise, please visit the SE Asia Part II trip diary.