---
Travel
Cruises
Past Cruises (Diaries)
Future Cruises
Rogues Galleries
Land Trips
Diaries (Land Trips)
Hawai'i - Big Island - 04'01
Hawai'i - Maui - 05'02
Hawai'i - Big Island - 04'03
Hawai'i - Kaua'i - 09'04
Hawai'i - Big Island - 04'06
Hawai'i - Maui - 04'06
Mainland China - 05'07
Phoenix, Arizona - 12'07
Greek Isles - 05'08
Hawai'i - Kaua'i - 09'08
Hawai'i - Big Island - 09'09
Hawai'i - Maui - 05'12
Hawai'i - Big Island - 04'13
Ireland - 08'13
Mexico - Cancun 11'13
France/Belgium/Lux 07'15
Hawai'i - Big Island - 05'17
England / Wales - 06'17

---
Photography
Cameras
Underwater
---
Pets
Tara
Blackie
Whitey
Muffy
Ollie
Rusty
Fluffy
Rufus&Dufus
---
Games
---
Rowing
---
Physics
---
Rating (out of 5): Ship

Food

Service

Itinerary

Marjorie booked this cruise last minute, as we were attracted by very generous travel agent rates. A plus for this cruise was a new country - Tunisia. However, the day after we booked, 20 cruise pax were gunned down in Tunis, so the next day the Tunesian port was pulled and replaced with Trapani. Several days before sailing, the ports of Alexandria and Port Said were pulled due to unrest in Egypt. These were replaced with Alanya (in Turkey) and Limassol (in Cyprus). We were finally getting a chance to see Cyprus. A lot of passengers were upset at losing Egypt and felt that Oceania was being nefarious in using Egypt as a carrot to get people to book the cruise. However, there had been terrorist attacks in Cairo the week before and a suicide bomber in Luxor the day after our cancelled Alexandria stop. I'm glad that Oceania played it safe.
The ship was not full, with about 1,095 passengers out of a capacity of 1,250. Up to sailing they were trying to get people to upgrade to more expensive cabins. We resisted! The timing of events on the ship did not coincide with our preference. Dinner started at 6:30 (a bit late for us) and the entertainment was at 9:45 PM every night - definitely too late for us. As a result we skipped the entertainment each evening.
One thing we really noticed this cruise was the timing of the lunch venues (buffet and main dining room (MDR)). Both closed at 2:00 PM. We did morning excursions at 10 of the 11 ports and often arrived back to the ship between 2:00 and 3:00. This meant that only Waves (the burger / milkshake bar) was available for all those passengers on half day tours. Keeping the other venues open to 2:30 or 3:00 would have been much better. Speaking of food, on Oceania I am in a rut for breakfast and lunch. For breakfast it's an omelet with "everything", a mix of fresh fruit and a smoothie (of the day), while for lunch it's a surf (lobster) & turf (fillet) "burger" with a milkshake normally made from the ice cream of the day. Heaven couldn't be any sweeter!

Pre-cruise (May 30,31) - Travel to Rome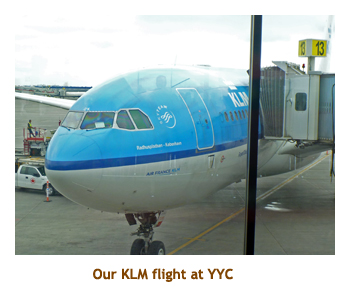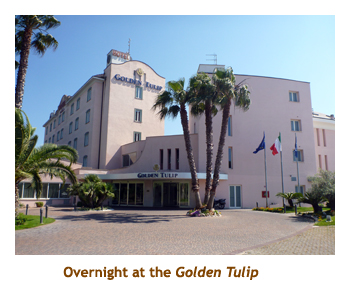 Our good friend Ian picked us up from the house at 11:15 AM. We were at the airport in plenty of time for our 3:15 flight to Amsterdam on KLM. The flight was smooth, but long (9 hours). We had a 3 hour layover at Schiphol and then did Alitalia to Rome (FCO - another 2 hours). There, we went through passport control, picked up our luggage and did the hotel shuttle to the Golden Tulip Hotel. The hotel was only a short drive from the airport, but in an area with not much to see. It was a warm and sunny mid-afternoon, so we did a long walk along the access road to a local grocery store. We bought a couple of Moretti beer and some snacks for the cruise. Back in our room, exhausted from the long flights, Marjorie turned in at 6:00 and I read for a while and then followed at 8:00 with a sleeping pill.

Day 1 (Jun 1) - Boarding in Rome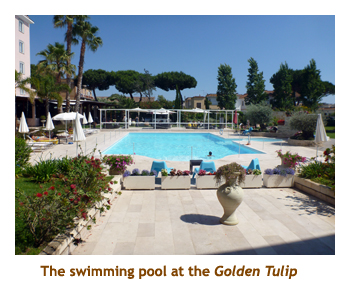 We woke up at 5:00 AM or so and read until breakfast time. The included breakfast was quite good. We had pre-booked a shuttle service for our transfer to Civitavecchia and the ship for 10:30. We walked around the hotel grounds waiting for the shuttle. After picking us up, the van stopped at the Hotel Tiber to pick up another couple. This hotel was about the same distance from the airport, but in the midst of a bustling harbour town. Many restaurants and shops around. Much more interesting than where we stayed. Along the way we were stuck on the freeway due to an accident, and arrived at the dock by 12:00. Check-in was quick and we had to surrender our passports. We hustled up to Waves for my favorite Oceania lunch - surf & turf burger (no bun) and a milkshake. There were lots of ships in the harbour. Cruise ships included HAL Nieuw Amsterdam, Island Princess, Star Breeze, Costa Fascinosa, and a Regent ship (and us, of course). There were also several large ferries at dock. We sat poolside and read until our room was ready at 2:00.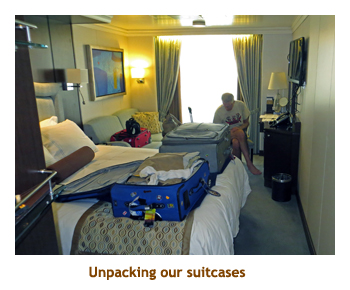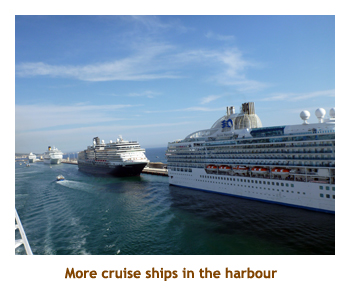 By the way, I was reading "I Am Zlatan" - a very interesting book about a skilled, but troubled football player. Our bags were already at the room so we unpacked and put stuff away. Lots of storage space on this ship! Then we visited the excursions desk to book tours for the two new ports that replaced Alexandria and Port Said. One of our Haifa tours was cancelled for the day we had booked it, but was still available on the second day. So we had to "flip" our Haifa tours to do them both. Muster was at 4:15. We were supposed to sail at 5:00; but were delayed by a medical emergency where they had to bring an ambulance for a passenger who had just boarded. We were able to get an "unbooked" seat in Red Ginger for dinner as embarkation day is always sparse in the specialty restaurants. I finally tried the famous sea bass dinner that Marjorie had raved about for our past 8 Oceania cruises. Very good! We wandered around the ship for a while and then went to bed about 8:30 with a sleeping pill.

Day 2 (Jun 2) - Visiting the Godfather in Milazzo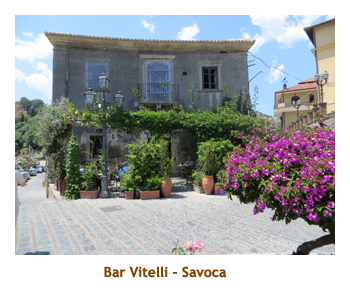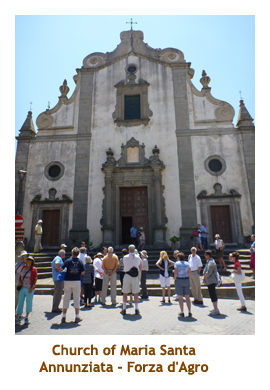 We were up at our usual time of 6:30 giving us time to watch our arrival in Milazzo where we would be anchoring. The original itinerary had us docking in Messina, but some docking mix-up caused the location to change a few miles up the coast to Milazzo. Breakfast was in the buffet as we were off on a 9:30 tour. We tendered ashore and then bused south along the east coast of Sicily, passing through the town of Messina. Our destinations were the two little villages of Forza d'Agri and Savoca, where a lot of the Godfather II movie was filmed. We stopped and wandered through each of the villages with particular interest in two sites that movie goers would remember. These were the Bar Vitelli where we were served some "granita" (iced lemon) and the Chiesa di Santa Lucia church. Not having seen the movie, they were still interesting buildings in their own right. It was a warm sunny day and the villages were wonderful to walk through. At the church we visited the neighbouring catacombs where a number of "mummies" from the 17th and 18th century were on display. Hmmmm ... wierd! We drove back to the harbour and arrived at the ship about 4:00 after tendering. We were just in time for 4:30 trivia where we formed our team for the duration of the cruise. We did the buffet for dinner where I had lobster and lamb chops. We sailed at 7:00 PM and transited the Strait of Messina at 8:25. It was still light out as we hit the narrowest point at 3 km wide. We did well at 8:30 trivia and won our first stash of BIG-O Points. We set our clocks ahead one hour and headed to bed.

Day 3 (Jun 3) - Caving in Argostoli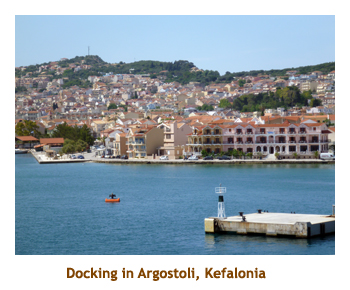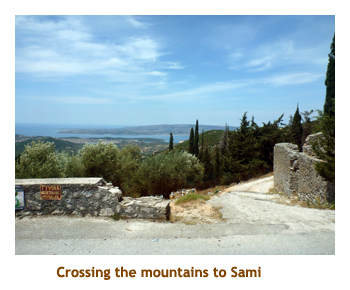 We were up at 6:30 but there was no rush as we wouldn't be arriving in Argostoli (on Kefalonia) until noon and our shore tour was at 12:30. So, the morning was like a sea day. We had breakfast in the buffet. Minigolf was at 9:30 and we won some BIG-O Points. Then Marjorie headed off to the shuffleboard tourney while I went to the gym. Afterwards I watched some tennis on the TV while Marjorie popped into town (we arrived a bit early). She returned with some Greek beer for me. What a girl! We had our usual lunch at Waves and then headed off on our 12:30 tour. We did about an hour drive across the mountains to the village of Sami on the opposite shore of the island. Our first stop was at the Drogarati Cave. This is a dry cave with huge interior caverns that we walked through. There were lots of stalgtites and stalagmites. Very interesting. There were 172 steps down to the floor of the cave and it was so nice and cool down there! Of course we had to navigate back up 172 steps to get out again.


We bused a bit further to a cave grotto called Melissani Lake. This is a huge cavern where part of the roof had collaped and had filled with water. It was like an underground lake with part of it open to the sky. We walked down quite a few steps to the water level and then climbed into small row boats to be toured around the cavern. It was much like being in a Venitian gondola, and the "gondolier" even sang a bit for us (to demonstrate the amazing echos of the cavern). We left the boats and climbed back up to the cave entrance where we were given time to browse the tourist shops and restaurant. It was very hot out. We drove back over the mountains to Argostoli. We were back by 4:30, so missed afternoon trivia. I watched tennis for a while and then it was off to dinner in the MDR. I had bacon wrapped shrimp. We played evening trivia and then headed to bed.


Day 4 (Jun 4) - More Caving in Gythion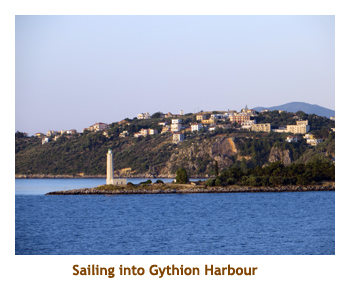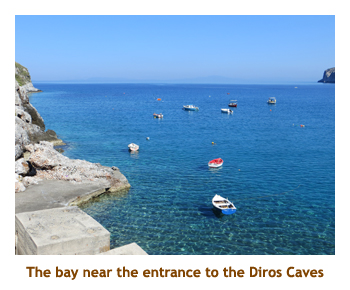 We were up once again at 6:30. Today we were in mainland Greece, in Gythion. We had breakfast in the buffet with a really good smoothie from Waves. We watched us anchor in the harbour, then hustled off to our 8:30 tour. It was about an hour's drive to the site of the Diros Caves. This cave was different than either of the two from the previous day. This set of caves consisted of small caverns separated by narrow tunnels. We hiked down some stairs and then boarded a row boat for our trip through the caves. It was about an hour of twisting through caves and passages. We really enjoyed it. Then there was about half an hour of walking through dry caves until we broke forth into the daylight again. The only negative abut this tour was for whatever reason, there weren't enough rower/guides to keep up with the bus loads of people. We had to wait an hour either side of our boat adventure for others to preceed us or follow us. We drove back to the ship, tendered and were back aboard by 1:45. We tried looking for internet ashore before boarding the ship, but gave up. We did lunch in Waves. We played some shuffleboard, read for a while and then did afternoon trivia. We had dinner at Red Ginger (again) and really enjoyed it. I had rack of lamb. We played evening trivia and then headed off to bed.


Days 5 & 6 (Jun 5 & 6) - A day at sea; Day 1 in Haifa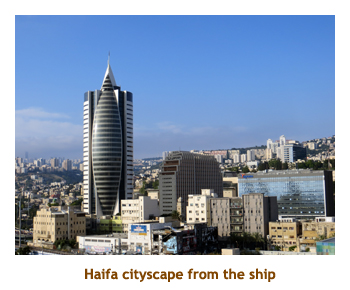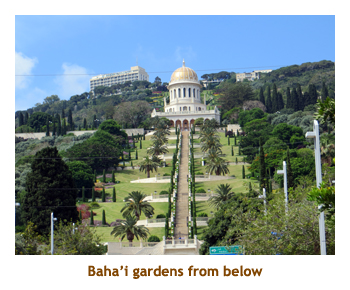 Day 5 - We were up at 6:30 for our first sea day. We had breakfast in the MDR and Marjorie visited the laundry room aftwerwards.The golf tourney was at 9:30 and shuffleboard was at 10:30. Then it was time for the gym. We had lunch in the buffet and then read for a while on our balcony. At 3:00 I listened to a lecture on Biblical geography. Very interesting. We did well at afternoon trivia (won). Dinner was at Jacques where I had lobster thermador. We did evening trivia and then to bed.

Day 6 - We were up at 6:30 to watch our entrance to Haifa Harbour. We had breakfast in the buffet and then hustled to our face-to-face meeting with the Israeli customs people (on the ship) at 8:30. We got our passports back plus a special landing card. That done, we left the ship to join our 9:20 tour to Acre. We had tried to do this same tour back in November, but it had been cancelled. "All things come to those who wait".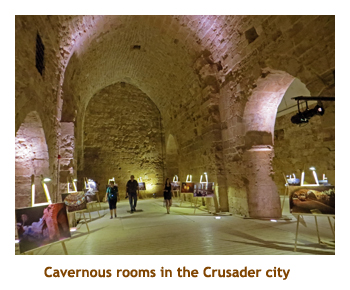 We started with a tour through Haifa with a stop at the bottom of the Baha'i Gardens. Then it was about a 45 minute drive north to Acre, across the bay from Haifa. We did a walking tour of the old part of the city. Our first stop was at the beach with huge defensive walls. Then we went atop a local hotel for a view of the city. We were supposed to visit a caravanserai but it was closed for the Sabbath. The market place was partly open, so we had a walk through that. The most interesting part of the walk was through the "underground city" - a huge fortification built by the crusaders during the 12th and 13th centuries. The hallways and rooms were enormous. We walked along the city walls bordering the ocean and then met the bus for the ride back. Once in Haifa, we drove up Mt. Carmel for a view of the Baha'i Gardens from above. We were back to the ship by 2:30. We had a late lunch at Waves. The ship was still very empty (overnight docking!), so only a few showed up for trivia. We formed a single team and were able to discuss the answers out loud. Lots of fun. And, we all won! We read for a bit and then had dinner at Toscanna's. The restaurant was empty due to all of the folks still ashore. I had veal picatta al limon. Delicious. There were several teams that showed up for evening trivia. We were awesome, fluking a 15/15 score, with the next highest team only being 9/15. All in all a wonderful day.


Day 7 (Jun 7) - A Second Day in Haifa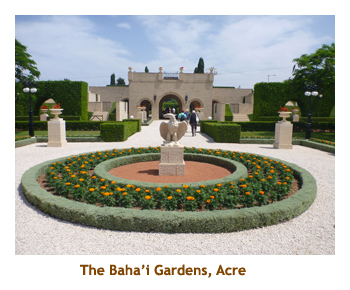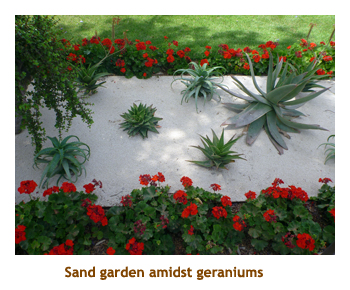 This was an overnight stop so that first timers to Israel could do the Galilee / Meggido area, and the Jerusalem / Dead Sea areas on separate days. We had already done a lot of that on previous cruises so this time booked two half day tours not far from Haifa. Today's tour would take us north through Acre right to the Lebanese border. We were up at 6:30 for a hot sunny day, and had breakfast in the buffet. Our tour left at 8:15. We kind of duplicated the previous day's tour, driving to Acre and visiting the large market. Yesterday was a holiday (Sabbath) and the market was crowded. Today was a workday, and the market was almost empty. Then we reboarded the bus and headed a bit north of Acre to the main gardens and headquarters of the Baha'i faith. We wandered the beautiful gardens and went inside the mausoleum of the originator of the Baha'i faith (the Shrine of Baha'u'llah). It was situated in an arid area but the garden was very lush.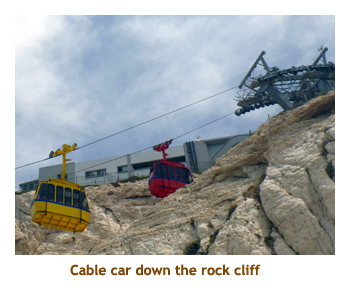 Next we continued north to the village of Rosh Hanikra, an Israeli village that butts right against the Lebanese border. The village sits high upon a rocky cliff overlooking the ocean, and we took a cable car down to sea level. There was the remains of a train tunnel that once connected Turkey through Lebanon to Israel. The tunnel was destroyed by the Israeli army during one of the Middle East wars. We took the cable car back up and then walked to the Lebanon border crossing - lots of barb wire and soldiers. Each time the gate was opened to allow a vehicle through, we could see into Lebanon. Then it was time to return to Haifa. We got back early, so the bus driver took us to Mt. Carmel for the top and bottom views of the cascading Baha'i gardens. We were back to the ship at 2:30 and had lunch at Waves. We read for a while and then did afternoon trivia. For dinner we had booked the Polo Grill, and I had the lobster mac&cheese. We cleaned up at evening trivia again, winning by a large margin. What's going on?


Day 8 (Jun 8) - Limassol, in a New Country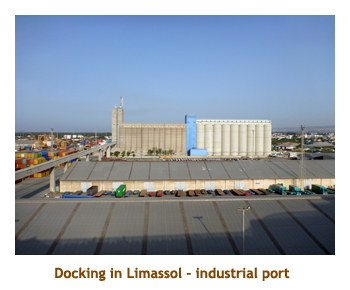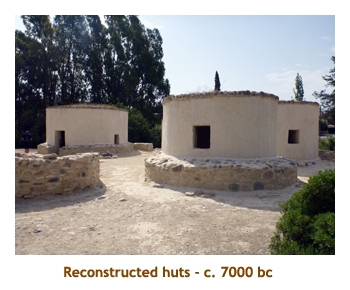 We were up at 6:30, ready to visit a new country. We had lucked out when Oceania pulled the plug on Egypt, where we really didn't wish to revisit (for the 3rd time). In lieu of Port Said, we were going to Cyprus. We had breakfast in the buffet as we were docking in Limassol. Our tour was for 9:20. We loaded up the bus and then headed east along the southern coast of the island to the archaelogical site of Choirokoitia. This is a neolithic site dating back to 6,700 BC. Some round houses had been reconstructed, but most of the site was ruins and foundations. We were given an overview of the history by our guide, and then had half an hour to clamber around the ruins (on a steepish hillside). It was not a big site, and was thought to have maintained a relatively small population of 300 to 600 people. It was quite warm with little shade.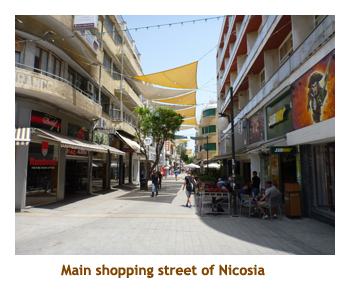 We reassembled at the bus and then turned north to the capitol city of Nicosia. This is the last remaining "divided capitol city" in the world, since the collapse of the Berlin wall. Our first stop was at the 17th century Cathedral of St. John. This was built in 1662 by the Archbishop Nikiforos. (Well, him and some other guys). The church is famous for its 18th century frescos that embellish the walls with colourful Biblical scenes. Right next to the church is the modern Bishop's Palace, built in 1956. We then drove a few blocks to Ledra Street - the main shopping street of the city. It also leads to a border control into the Turkish side of the city (also called the Green Line). We had a bit of time for shopping so we bought some Keo beer and a matching t-shirt. The beer was local to Cyprus. It was an hour or so to drive back to the ship where we arrived about 2:00. We had lunch at the buffet (it was still open!). We read for a while and then did afternoon trivia. We had dinner in the MDR where I had roast beef. We played evening trivia and then turned in.


Day 9 (Jun 9) - Alanya, Back to Turkey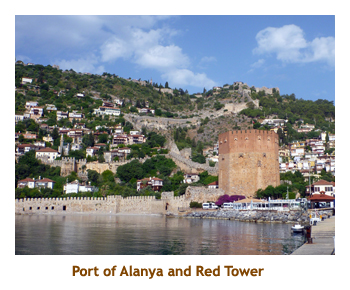 Today we visited the second port that was substituted for Egypt. We were headed for Alanya, Turkey. It was a new port to us. We were up at 6:30 to a hot and sunny day. We had breakfast in the buffet and then left for our 8:30 tour. We started with a sightseeing drive in the town of Alanya. We saw the Red Tower, and the extensive city fortifications. We then drove east along the southern coast of Turkey, past miles of hotels on both sides of the highway (sort of like Cancun). After about 40 minutes we arrived at the archaelological site of Aspendos. The main attraction was a beautifully preserved Roman theatre built in 262 AD. The theatre is still used for opera and ballet. We were given a talk on the history of the theatre, and then had time to wander around the ruins. The theatre had seating for 12,000 people.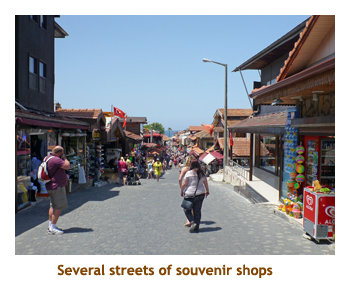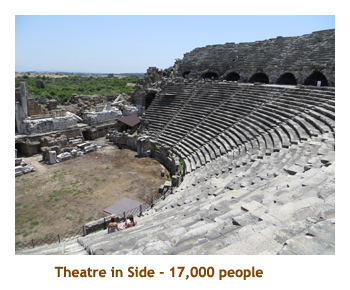 Afterwards we reboarded the bus and continued further east to the village of Side. We were let off the bus near the "souvenir quarter " of the town. While the others were getting off the bus and gathering, I did a quick run through the stalls. Lots of stuff but nothing of interest. We started our walking tour and stopped first at a Roman theatre. This was larger than the one in Aspendos, and seated 17,000. It wasn't as well preserved as the other, but was impressive none the less. Then we continued along a path encountering homes, temples and other buildings, where the locals lived. Along the way was a reconstructed Roman bath that housed a wonderful museum. There were lots of sculptures, carvings, pots, coins, etc excavated from the nearby ruins. It was really hot by the time we reboarded our air-conditioned bus. It was an hour back to the ship and we arrived about 2:30, so had lunch at Waves. As we ate we watched the tourist pirate boats in the harbour. Must be very popular! We read for a while and then did afternoon trivia which we won. Dinner was at the MDR where I had fried chicken. We played evening trivia and won again - by one point. Off to bed.


Day 10 (Jun 10) - A day at sea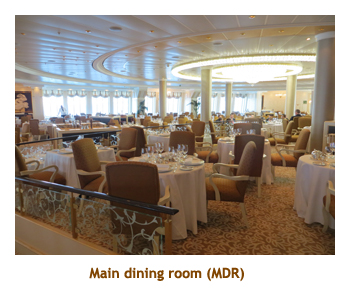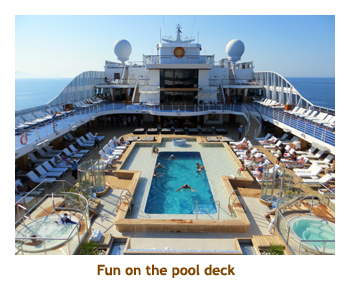 We were up at 7:00 AM for another sea day, while we headed towards the island of Crete. We had breakfast in the buffet. Marjorie visited the laundry room afterwards before it got busy there. According to maritime law, we needed a muster drill refresher, so they had an "in cabin" announcement explaining how to survive at sea. Never had that before! Then it was time for the gym for me and a cooking class for Marjorie. We had lunch in the buffet and then read for a while on our balcony. At 3:00 I listened to a lecture on Knossos. Very interesting. Afternoon trivia was at 4:15. We skipped the captain's reception, but had to meet at 7:00 with the future cruise lady and two other randomly selected couples for a special dinner in the MDR. It was very nice and the company was very interesting. I had the "72 hour" short ribs, which they seemed to prepare in 20 minutes. They were very good. We finished dinner too late to make it to trivia, but our team did just fine without us (they won!). It was disappointing that our absence didn't provoke at least a little devastation. We walked the upper deck for a while and then went to bed.

Day 11 (Jun 11) - A second visit to Crete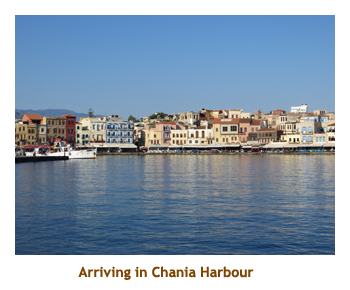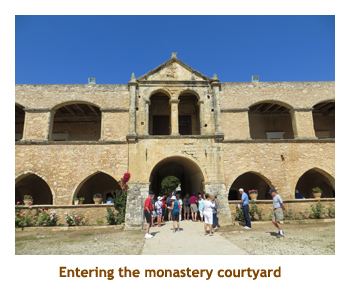 We were up at 6:30 AM as we were anchoring in Chania Harbour. We had been to Crete before, but had anchored at the opposite end of the island (east, in Agios Nikolaos). Today we were on the western end of the island and would be seeing all new territory. We had breakfast in the buffet and headed out on our 8:15 tour. We had to tender to shore to find the buses. Once aboard, we drove east along the northern coastline to the Arkadi Monastery near Rethymno. This monastery dates back to the 5th century but most of the buildings were rebuilt in the 16th century. In 1866 when several hundred refugees were being attacked by the Ottoman army and hiding in the church, they lit the gunpowder room and blew themselves up rather than being captured by the Turks. We were given some time to visit the church and walk around the grounds of the monastery. It was a warm, sunny day that belied the tragedy that had occured here.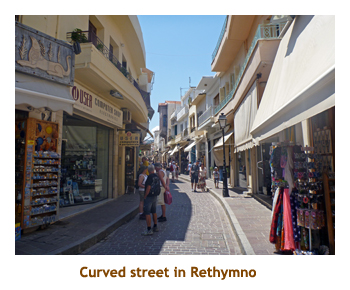 Afterwards we reboarded the bus to drive a short distance to the seaside village of Rethymno. There we did a walking tour through the old town and then along the water front. It was an interesting village. Then we headed back to Chania for a walking tour through the historical area. Finally we were dropped off at the waterfront, which included the tender docking area. Near the tenders, Marjorie ducked into a cafe to use their internet while I sat in the sun on the waterfront. It was quite hot, so I was glad when Marjorie showed up again. We tendered back to the ship arriving at 3:00. We had a very late lunch at Waves and just made it to afternoon trivia. Despite the late lunch, I still managed the Chateaubriande for dinner in the MDR. We played evening trivia and finished a respectable second.

Note: About 11:00 PM (we were asleep) the captain came on the in-cabin PA system and said something to the effect of: "We were notified by the Greek authorities that there was a possible security threat on the ship. The crew have checked and found nothing, so everything is fine. Have a good night". So, what was all that about? And, if everythng was fine, why did he bother to tell us? If anyone was feeling safe aboard before the announcement, how were they feeling now? Fodder for upcoming days!




Day 12 & 13 (Jun 12 & 13) - Day at sea; Valletta, Malta
Day 12 - We were up at 6:30 for another sea day. We had breakfast in the MDR. Afterwards, we read for a while then Marjorie headed off to croquet and me to the gym. We read some more and then attended a cooking show. We had lunch in the MDR and tried to share, but it's almost impossible to share for breakfast or lunch in the MDR - not enough people eat there (just tables for two). Then it was the golf tourney followed by the shuffleboard tourney. We did well at afternoon trivia (second). Dinner was at Toscanna where I had rack of lamb. We finished the evening with the late trivia and then hiked to bed.

Day 13 - We were up at 6:30 (again!) to watch our entrance into the Valletta Harbour. We love that entrance, second only to Venice. We had breakfast in the buffet and then hustled to our 8:15 tour. Our first stop was partway across the island to the Church of St. John in the town of Mosta (also know as the Mosta Dome).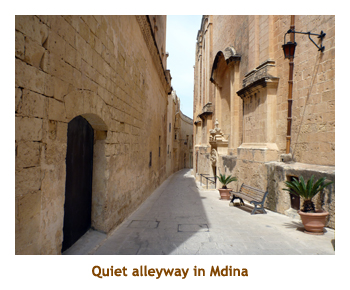 Afterwards we reboarded the bus to drive a short distance to the neighbouring villages of Rabat and Mdina. We had been to both before on a previous cruise, but we were happy to walk through the "old towns" again. We were given about an hour to wander through the area. Then it was back on the bus to the village of Ta' Qali to visit a craft market. There were several buildings featuring blown glass, silver/gold filligree, ceramics, artwork, clothing, souvenirs, etc. It was interesting wandering through the market, and Marjorie bought herself a tea towel (or two). Then it was time to head back to the ship. We made it back by 1:30. We had lunch at Waves, and then headed back ashore to use the internet. We found an internet bar where Marjorie typed while I sampled a local beer (Cisk). We were back in time for afternoon trivia and tied for the win. For dinner I had lobster pad thai at the Red Ginger. We won again at evening trivia - a lucky day! We wandered the upper deck and then headed to bed.


Day 14 (Jun 14) - A Visit to Trapani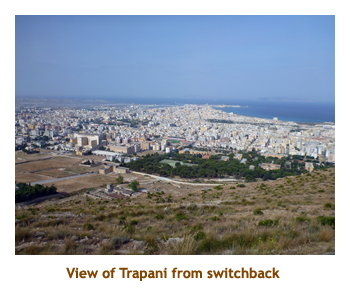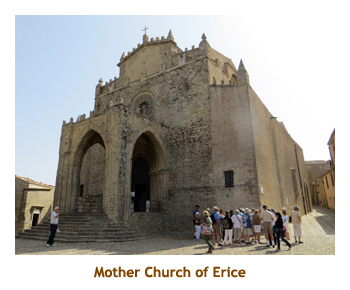 We were up at 6:30 to watch us dock in Trapani, Sicily. This port was added in exchange for Tunis due to the terrorist attack. So, we had booked an excursion up a cable car to the mountaintop village of Erice. We had breakfast in the buffet and then headed off on our 8:30 tour. We drove through the town of Trapani to the cable car terminus. As we were driving, word came that the cable car was closed due to some brush fires on the mountain which were still smoldering. So, instead we stayed on the bus and wound up some switchbacks to Erice above. The views were amazing. Once at the town we disembarked the bus and did a walking tour of the village. The highlight was an old 13th century church called the Mother Church that was a mix of architectural styles. We were given half an hour or so to wander around the village. As we passed an old building on a narrow street, I popped inside the lobby and discovered that it was a School of Nuclear Physics, somehow connected to Ettore Majorana. All sorts of interesting items were posted on the walls. An attendant came running over to me and summarily booted me from the building. Wow, physics in a medieval town!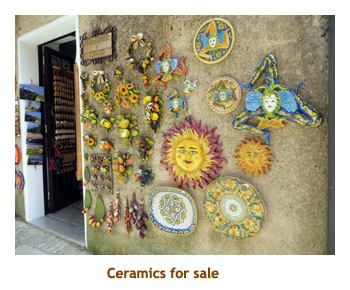 When we all met to reboard the bus, we learned that the cable car had reopened so we would be taking it down the mountain. The views were wonderful, but we did pass over several blackened areas where the grass fire had spread. At the lower terminus our bus was waiting. We were back to the ship by 1:00. We had lunch at Waves and then walked back into town to use the internet. It was sunny and hot! We were back on the ship again in time to win at shuffleboard. Afternoon trivia was at its usual 4:30. We ended in last place. Bummer! We had dinner in the MDR and I had a strip loin. It wasn't very good, but the food overall had been excellent. No complaints. Evening trivia was a bit better (second place). We wandered the upper deck in the warm night, then headed off to bed.


Day 15 (Jun 15) - Cagliari, Sardinia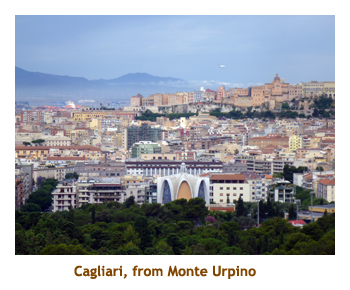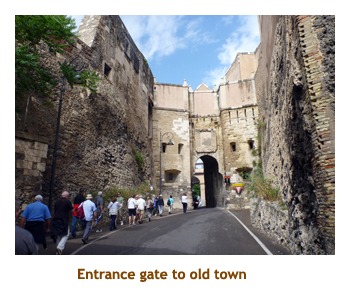 Today we were up really early - 6:00 AM. We were docking in Cagliari, Sardinia. We had been to Sardinia before but it was in Olbia across the island. We had breakfast in the buffet and then got ready for our 8:45 tour. We boarded a bus and drove inland to some salt ponds that were inhabited by pink flamingos. Then we drove to a hilltop (Monte Urpino) for a panoramic view of Cagliari. Then we did a quick stop at the Church of the Madonna di Bonaria. Our final stop was a walking tour of the old town. We had a guided tour and then were given one hour of "shopping" time. We didn't really want to shop, and we could see the ship from where we were gathered, so we just walked back to the dock entrance to catch the shuttle bus to the ship. We were onboard by 12:30 - our earliest lunch yet (while in port)! We had lunch at Waves and then read on our balcony. We played afternoon shuffleboard and won again - two days in a row! This was followed by trivia which we also tied for the win. Immediately after trivia was the BIG-O Points shopping extravaganza - a chance to spend those hard earned points on various merchandise. We had 200 points, plus another 80 carried over from our Dubai cruise, so were able to buy 3 athletic shirts, 2 long sleeved t-shirts, and two travelling umbrellas. We still have 60 points for a future cruise. For dinner I had coquille St. Jacques at Jacques. There was no evening trivia, so we spent the time packing and putting our cases out in the hallway.


Day 16 (Jun 16) - The Long Way Home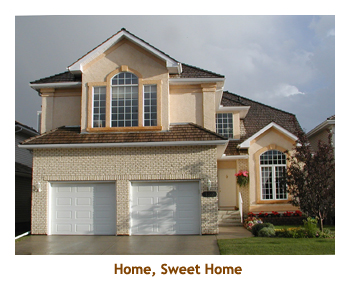 We woke up at 6:30, on the final day of the cruise. We had just docked in Civitavecchia. We had breakfast in the buffet, a final omelet with everything! We read in our cabin until 8:00 and then vacated to our designated lounge. We were off the ship at 9:00 and joined our small group that we had organized before the cruise. We climbed aboard a small van and were at FCO by 10:00. We had some Coke and cookies (thanks to Oceania) and lounged around until 11:30 when we could check in with Alitalia. Our flight left FCO at 3:15 PM bound to Toronto. We landed at TO about 7:30 PM. Our 9:00 departure (to Calgary) meant we had to scramble through customs, reclaim our luggage, transfer to a different terminal building, recheck our luggage, go through security and then board the plane all in the space of an hour. When we arrived at the departure gate, the plane was just finishing loading. Phew! Our 4 hour flight to YYC landed at 11:15, right on time. We phoned our prebooked shuttle van, but no answer. Oh, oh! We ended up taking a cab home after midnight. All was fine at home and the kitties were glad to see us. Another great cruise.