---
Travel
Cruises
Past Cruises (Diaries)
Future Cruises
Rogues Galleries
Land Trips
Diaries (Land Trips)
Hawai'i - Big Island - 04'01
Hawai'i - Maui - 05'02
Hawai'i - Big Island - 04'03
Hawai'i - Kaua'i - 09'04
Hawai'i - Big Island - 04'06
Hawai'i - Maui - 04'06
Mainland China - 05'07
Phoenix, Arizona - 12'07
Greek Isles - 05'08
Hawai'i - Kaua'i - 09'08
Hawai'i - Big Island - 09'09
Hawai'i - Maui - 05'12
Hawai'i - Big Island - 04'13
Ireland - 08'13
Mexico - Cancun 11'13
France/Belgium/Lux 07'15
Hawai'i - Big Island - 05'17
England / Wales - 06'17

---
Photography
Cameras
Underwater
---
Pets
Tara
Blackie
Whitey
Muffy
Ollie
Rusty
Fluffy
Rufus&Dufus
---
Games
---
Rowing
---
Physics
---
Marjorie discovered this cruise for a good price and we tentatively booked it. As the date neared, we became more sure of ourselves, to the point where we booked a week long pre-stay on the Big Island. You can see the diary for the land portion of our trip in our Big Island diary.

This was a full cruise (2875 pax, 2880 capacity). It was really popular with the British Columbia crowd - we met numerous people from the Vancouver and Victoria areas. It felt like two cruises with 5 port days followed by 5 days at sea.



Day 1 (May 7) - Flight to Honolulu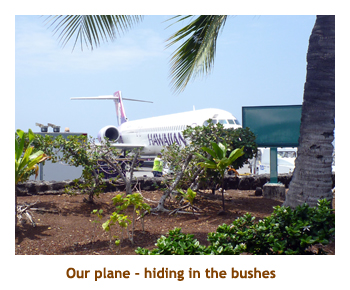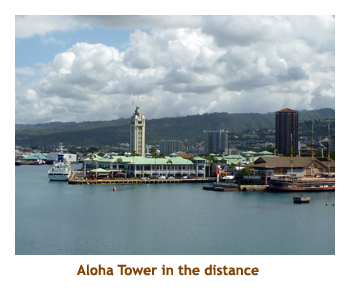 We left our condo in Kona about 8:30 AM to drive to the car rental place to return the car. The Buick Verano had been great. Along the way we stopped at Costco for gas. Gas prices in town averaged about $3.29 per gallon. At Costco it was $2.55 - a huge saving! We hopped aboard the rental car shuttle and were at the airport about 11:00. Check-in and security were kind of slow, but we arrived at the gate in plenty of time for our 1:15 flight. The flight was about 45 minutes, landing at 2:00. We grabbed our luggage from the claim area and found the Celebrity Hostess. She directed us to the shuttle bus and we were at the ship by 2:30 or so. The previous two times we docked in Honolulu, we were right next to the Aloha Tower. This time we were at an alternate dock about 1/2 a mile away. The ship's check-in was fast and we were soon aboard the Celebrity Solstice. Nice to be back!. We hustled to the buffet for a quick bite. Our bags soon arrived and we unpacked and stored stuff away. We phoned D&J to let them know that we were safely aboard. We had open seating dining for the cruise and agreed to meet at the main dining room at 5:30. There, we filled each other in on our respective land stays in Kona and Waikiki. We had all enjoyed our stay. For dinner I had prime rib which was very good. After dinner we went ashore to look for a grocery store (to get some Pepsi), but we were in an office area of downtown and couldn't find anything. So we reboarded the ship and wandered the upper decks and enjoyed the view of Honolulu in the moonlight.

Day 2 (May 8) - A second day in Honolulu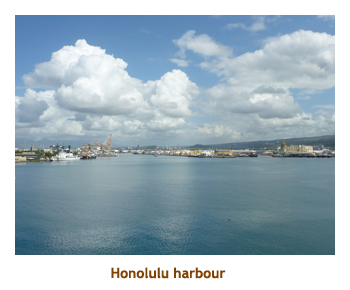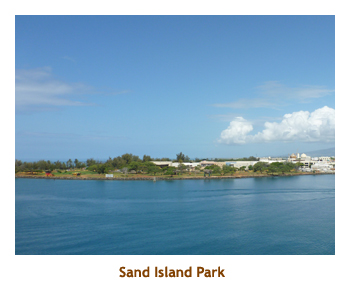 Today was a full day in Honolulu. We had done pretty well everything the island offered over the years and so had nothing booked for the day. For breakfast we had a smoothie in the Elite lounge then an omelet in the buffet. Too bad the Elite lounge didn't offer hot foods - could only get cold plates there. Then we went out on the dock to look for a free Wal-Mart shuttle bus. We found one to the Ala Moana shopping mall which was within a block of a Wal-Mart. We shopped Walgreens first and then got a dozen Pepsi at Wal-Mart. Back at the big mall we waited for the return shuttle to the ship. We were back to the ship in time for lunch. We had a lazy afternoon with a trivia session at 3:00. Muster drill was at 5:00. We did our usual "steal a drink" from the Elite bar and met D&J for dinner at 5:30. We carried in our drinks. I ordered NY steak. It was very good. We did the entertainment which was a male singer who did a great job. We sailed at 10:00.

Day 3 (May 9) - Lahaina, Maui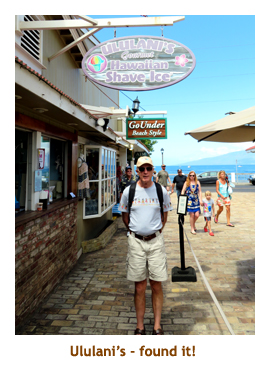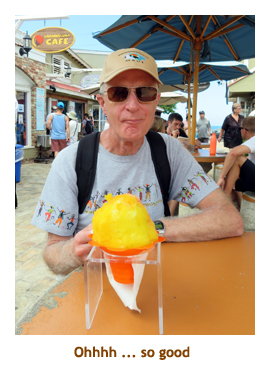 Today we would be all day in Lahaina, Maui. It had been 5 years since we were last on Maui and we were looking forward to seeing if it had changed at all. We were up early to watch us anchor off of Lahaina. We had nothing booked here (again because we had been here many times before), so had plenty of time to have breakfast in the main dining room where we sat with 4 other Canadians. D&J had booked a tour that included the Iao Needle but there were still washouts on the access road, so it was pulled from their itinerary. That was too bad as we had enjoyed the Needle many times in the past. A while after breakfast we tendered in to Lahaina town for a walk along the sea wall with all the tourist shops. I bought a humuhumu... hat from one of the many tourist shops. We were on the lookout for Ululani's (our favorite shave ice place) and discovered that it had moved to one of the little side street malls off of the sea wall street. The shave ice was just as good as I remembered it from previous visits. Marjorie did some interneting, then we tendered back to the ship for lunch. They had a fish & chips special, but the fish batter was rather limp having been under the heat lamp too long. We read for a while then Marjorie headed ashore to do some more interneting while I went to the gym. Marjorie was back in time for 4:00 PM trivia with D&J, in which we tied for first. Afterwards we raided the Elite lounge for beer and joined D&J for dinner. I had roast lamb stuffed in phylo pastry. Yummy. We skipped the entertainment and instead walked the decks.

Day 4 (May 10) - Hilo, Big Island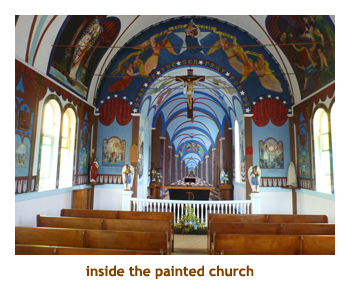 We were up at 6:00. We had breakfast in the buffet as the ship docked in Hilo. Then we got ready for our 8:15 tour. Marjorie had never been to Hilo before (I'd stayed there three times with the kids), so we had to make sure that she saw the sights. We were in a small bus of 16 people (which included D&J)and started with a tour of the southern part of Hilo. Then we drove through Pahoa and stopped at the "painted church". The church was built by Father Evarist Gielen from Belgium. Father Damien and others had painted colorful murals inside the church. The church was relocated in 1990 to avoid a lava flow. Our second stop was at Kaimu Beach Park where we walked over a lava flow to the rocky beach. Local volunteers had done a wonderful job of creating a safe red sand trail through the lava. Then we drove along the rugged coast to our third stop where a once beautiful bay was filled in with lava. Then it was a stop in Lava Tree State Park where the trees interacted with the lava flows. Some trees survived the flow, while others left trunk-shaped holes in the lava.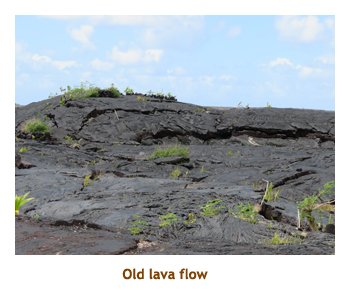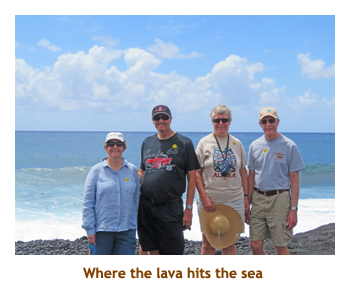 Closer to Hilo we stopped at the Mauna Loa macadamia nut farm. The factory tour was self-guided. The gift ship carried all of their products, and feature chocolate macnut icecream! Yummy! Our final stop was just north of Hilo at Rainbow Falls. We toured back through the northen side of Hilo and arrived back at the ship by 3:00 PM. We had a late lunch in the buffet and then hustled to 4:00 PM trivia. For dinner I had rack of lamb. It was undercooked and, hence, a bit tough. For our evening entertainment we watched the hot glass late show until 10:00 PM. At that time we were scheduled to sail by the Kilauea volcano in the dark. One could see red spots in a line down the mountain (the lava flow) and huge red clouds where the lava poured into the ocean. Spectacular. The captain spun a 360 so that all of the cabins had a chance to see the action without having to go outside to the upper decks. D&J were on the opposite side of the ship as us, so by running between cabins we were able to see the volcano twice. Then it was time for bed.

Day 5 (May 11) - Back to Kona
Today we were in Kona and planning to use the Kahalu'u Beach Park snorkel bus that we had scoped out last week during our stay on the Big Island. We were up by 7:30 to have breakfast in the buffet, followed by a smoothie from the Elite lounge. We tendered in to the town dock and there were the shuttle buses waiting for us. We had to visit a kiosk across the street to purchase a wrist band and then we were good for the day on the shuttle bus. The bus made Ho-Ho stops at a mall, two farmer's markets and three beaches, so it wasn't exclusively for Kahalu'u Beach Park. We hopped off about 10:00 at KBP and had a wonderful final snorkel. We decided to catch the 12:00 bus back to the ship. It was very crowded at the pickup point, (the lunch time crush), but we were lucky and the bus pulled right up to where Marjorie and I were standing. Not everyone got on but we did. At one of the subsequent stops there was a crowd waiting, but no one got off our bus. The crowd was not amused. We were at the tender dock by 1:00. Marjorie hopped onto a Wal-Mart shuttle, while I tendered back to the ship for lunch and a visit to the gym. Marjorie was back by 3:30 and we did the afternoon trivia. We tied for the win and then won the tie-break question. For dinner I had braised shortribs. Excellent! We did the entertainment which was two very loud electric violinists. The music was nice, but far too loud. We put our clocks ahead one hour tonight as we headed out to sea (and to Vancouver).

Days 6 - 10 (May 12 - 16) - Five days at sea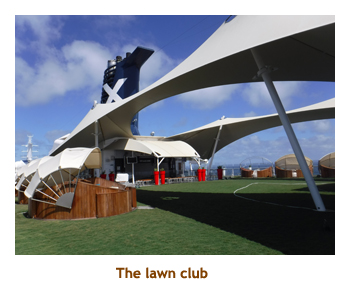 Our sea days tended to be pretty formulaic, so I decided to do a general writeup for the 5-in-a-row days. Our first sea day was sunny and warm, but the next 4 were windy, cold and sometimes rainy. We were usually up at 7:00 and had a leisurely breakfast in the MDR. Then we would pop over to the Elite lounge for a smoothie. We attended a 10:00 AM series of lectures on scientific topics (plate techonics, glaciers, big bang, etc) and an 11:00 series on Alaskan biology (sea lions, sea otters, bald eagles, orcas, bears). We also did a one-off lecture on the Titanic. We had lunch mostly in the MDR and played cards with D&J in the early afternoon. Trivia was daily at 4:00 in which we had mixed success. Marjorie squeezed in some hot glass demos, swathed in a blanket, and she actually won a raffle for another glass vase. For those keeping count, 4 of my dinners were roast turkey, shrimp scampi, rack of lamb and prime rib. For the fifth night, Marjorie had complimentary tickets for Murano (saving us $100) where I had lobster tail prepared at our table. We did the entertainment twice. One night featured a singing impersonator that we had seen twice before. He was excellent. The other night it was the ship's singers and dancers. I didn't know much of the music and it was far too loud. And, two of our nights featured turning the clocks ahead one hour. Woohoo!

Oh yes, one more thing. We still had about $250 in non-refundable onboard credit to spend, so Marjorie bought herself a really nice $200 underwater camera. That worked out well!
Note: The glass blowing demo has always been a source of fascination to Marjorie and I aboard the Celebrity Solstice, Equinox and Eclipse ships. Most of the work is raffled off (for free!) and Marjorie has won several pieces over the years (and adventures getting them home). Each cruise the artists create a few special items to be auctioned off in support of the Corning Glass Museum scholarship fund. This time it was the turtle (pictured below) which fetched $1500 for the fund. The artists did a great job in adverse conditions - the kilns are outdoors and it was cold and windy, not nice for glass blowing.

Day 11 (May 17) -Vancouver to Calgary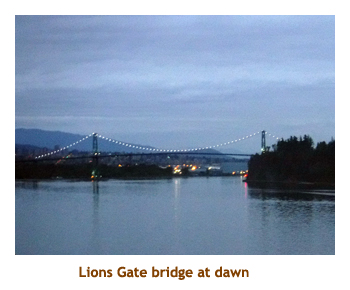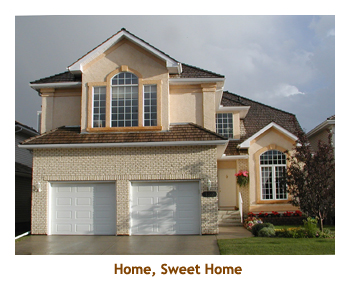 We arrived in Vancouver about 5:00 AM. Marjorie ran up top to take some pictures. I decided to get a bit more sleep. We had breakfast in the buffet and then did a final sweep of our cabin. Although we had the same "exit time" as D&J, we did not see them in the crowd of passengers. We located our luggage in the terminal building and were prepared to go through Canadian Customs, but there wasn't any! Just a person collecting the declaration forms. We did the block and a half to the Canada Line train terminal and were soon on our way to the airport. We arrived at the airport by about 11:00 AM. Check-in was a bit slow as was security, but we were at the gate in plenty of time for our 1:00 PM flight to Calgary. Marjorie had some complimentary WestJet lounge passes, so we spent an hour in the lounge drinking, munching and using the wi-fi, in comfy chairs. Very nice. The flight was ontime and we arrived in Calgary at 3:30. We picked up our luggage from the carousel and then took a cab to Christina's place to pick up our car. No one was home at this time, so we just said "Hi" to Minnie. We were back home by 5:00. The kitties were happy to see us (I think) and all was well at home. Another great cruise vacation.