Rating (out of 5): Ship

Food

Service

Itinerary

The Star Princess is identical to the Grand Princess. We had really enjoyed the Grand two years ago, so decided to give the Star a try. Yes, this is the same ship that had the terrible fire that destroyed a hundred or so cabins just a couple of months later. I'm glad that we missed that event. We were also sailing just a few weeks after the worst hurricane season in recent history. We wondered what shape the Caribbean was going to be in.
Our trip started with a mixed blessing, even before we left Calgary. We were looking at our air itinerary to let our son know when to pick us up from the airport when we returned from the cruise on Dec 11. The return leg was dated Dec 12!! The person that took the reservation had entered the wrong return date. We called the airline, but they wouldn't budge and we would have had to rebook the flight at a ridiculous rate. There's a lot worse things than discovering you have to spend an extra day in paradise, so we booked a hotel for the extra night.

Day 1 (Dec 3/4) - Boarding in Ft Lauderdale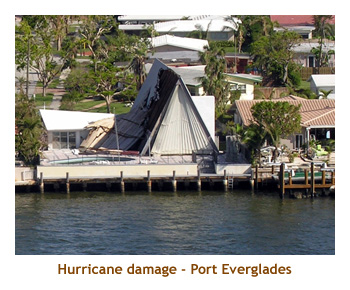 We arrived in Ft Lauderdale only a few weeks after it was devestated by a hurricane. Once again we arrived a day early, just to ensure we made the ship OK. As we flew over the city, we could see a lot of damage - especially roofs. Lot's of work for roofers!
When we arrived in Ft Lauderdake (at the airport), we phoned B/W to be picked up by their shuttle. They had no record of our booking and it turned out that they had cancelled our reservation for unknown reasons. They were full up. So, we tried every hotel on the call board - same answer, full up. The final one we tried was the Red Carpet Inn, and they had 2 vacancies. We hustled over and got a room. BUT ... the hotel was the worst we have ever seen. It catered to biker gangs and hookers. The rooms were filthy and everything was damaged and falling apart. It was absolutely gross. The next morning we stood in line for the cruise dock shuttle with a number of other cruisers that had booked the hotel through the Web. They were all in shock. The Web had made the hotel sound very nice. One couple turned out to have a cabin near ours on the ship and we were always bumping into one another. We would jokingly compare our cabins to the rooms at the Red Carpet.
Update (March, 2007) - Virtual Tourist had a "Top 10" list of the 10 filthiest hotels in America. The Red Carpet Inn was #5 on the list. I'd hate to see the 4 hotels that beat it!!
The next morning, we headed off to the ship. The embarkation process went pretty well. We dumped our stuff off in our cabin, and then headed to the buffet for lunch. Having been on the Grand Princess previously, we had no problem finding our way around the Star.
After checking out the ship, we attended the lifeboat drill. Then it was dinner time. As usual, we had booked Personal Choice dining, as we really enjoy being able to eat when we want, and to meet new people each evening.

Day 2 (Dec 5) - A Day At Sea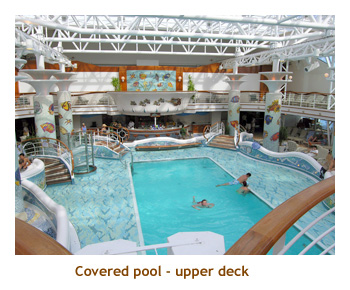 Our second day was a day at sea. It was a beautiful sunny day, and the ocean was calm. You would never know that only a few months earlier, such deadly storms were raging. We spent the day relaxing and walking around the ship.
One drawback to Princess is that they don't have any rowing machines in their gyms. I'm a rower (indoor), and HAL, RCCL and Celebrity have one or two ergs on each of their ships. But not Princess. I mentioned this to the gym attendent, and he said that "not a single ship afloat had a rowing machine"! Hmmm, I wonder what lines he has cruised?
Formal night tonight. Marj and I don't care for formal night, but we tolerate it and go along with it. It will be so nice when cruise ships smarten up and we no longer require an extra suitcase for show-off night! (Oops, enough of that).

Day 3 (Dec 6) - Cozumel, Mexico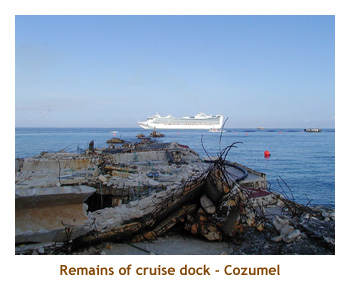 We arrived at Cozumel just after sunrise. We had been to Cozumel twice before, and were anxious to see how it had fared with Wilma. It was a disaster. All three of the piers were gone, so we had to tender in. On shore, workers were busy cleaning up and rebuilding. We had booked a snorkel excursion, so grabbed a taxi to the La Coleta marina. With the reduction in cruise ship traffic and land hotels, there were only four of us on the boat. As we headed out of the marina, we saw a lot of boats that were damaged or sunken from the storm. What a mess!
As we headed south down the Cozumel coast, we passed Chaukanaab Park where we had snorkelled a couple of years earlier. The sand and beach were totally gone. The botanical gardens were just twisted sticks, and the dolphin encounter area was nowhere to be seen. It will take a long time for this park to recover again.
The snorkelling was pretty good, but there was a lot of coral damage due to the storm. Poor Cozumel!

Day 4 (Dec 7) - George Town, Grand Cayman
We arrived in GeorgeTown around noon. This is a tendering site, so we didn't expect to get ashore too early. Because we had done the Seven Mile Beach and Stingay City on two previous vists, we decided just to stay in town and snorkel at Eden Rock. It is only a 10 minute walk from the tender slip, and the snorkelling is quite good. We snorkelled for a while and then warmed up on the beach. It was a great way to spend an afternoon.
There were four large ships in harbour, so the town was quite crowded. We didn't bother walking around with the crowds, but just headed back to the ship for dinner. We didn't notice any storm damage in the area. I think that Grand Cayman was spared from anything major.

Day 5 (Dec 8) - Ocho Rios, Jamaica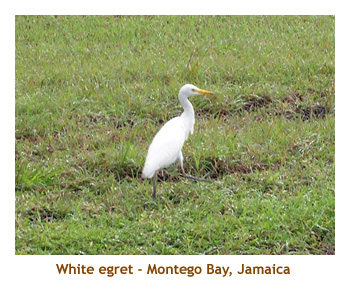 We got up early to watch the ship dock in Ocho Rios. It was dark and stormy, and the ship was tossing around. The ship made several attempts to approach the dock, but it was just too windy. The captain announced that the ship would head back out and try for Montego Bay. The last time we were in Ocho Rios, we didn't care for it at all, so this was no big loss to us.
We docked at Montego Bay around 1:00 PM under cloudy skies and sporadic rain. Because this was a last minute port, we had no excursion booked. There is nothing around the dock area, so we went out for a quick walk and then headed back to the ship to relax, read and do a gym workout. So much for Jamaica! Not our favorite island.

Day 6 (Dec 9) - Another Day At Sea
The next day was back to sunshine and blue skies. It was a day at sea, so we had all day to relax, read, walk the ship, etc. It's funny, but when we have a sea day, I often feel that I like sea days the best. However, when we spend a day in port, I usually feel l like the port days best. I guess I like them both!
I had recently watched a show on the Discovery Channel about unusual ships. One of the ships featured was a pleasure yacht transport ship. The entire mid section of the ship could be lowered below sea level so that the yachts could be floated on or off the ship. It was fascinating. Well, I was looking out to sea that day, and, behold, there it was! Even though it was quite distant, I immediately knew that it was the ship I had seen on Discovery, and it was loaded with brand new yachts. Thank goodness for the telephoto lens to record the sighting. Miles and miles of ocean, and there it was! What kind of coincidence was that?

Day 7 (Dec 10) - Princess Cays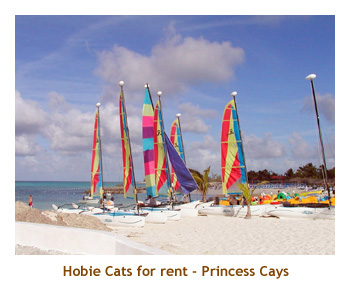 Our penultimate day was spent at Princess Cays. It was beautiful there. Next to Half Moon Cay, it's my favorite beach. We spent the morning snorkelling and sitting on the beach. We skipped the beach barbeque and headed back aboard the ship for the sit down lunch. It sure is quiet when most of the passengers are ashore.
We left Princess Cays early - about 3:00 PM. Instead of heading NW towards Ft Lauderdale, we headed eastward around the far side of Eluthera Island. This took us within sighting distance of Half Moon Cay, where we crossed paths with the Westerdam heading away from Half Moon Cay. Then, in the distance, we spotted a spray of water coming from a large black hump in the water. It was a whale. About every 30 seconds it would send another plume of water into the air. The whale must have been floating as the black hump was always visible. We watched it for quite a while until we left it in the distance. Too bad we weren't closer.

Day 8 (Dec 11) - Ft Lauderdale
We arrived in Port Everglades before sunrise. Our flight wasn't until the next day, so we booked a Ft Lauderdale tour through the ship. The disembarkation process went well and we were soon on the tour bus. We stopped at the River Harbour for a walk around, and then toured through the downtown area. We ended up at a dock where we boarded a riverboat for a tour of the harbour. We sailed by many multi-million dollar homes on the water which were just beautiful. How are there so many people that can afford these homes? Then we sailed in to the Port Everglades harbour and looked up at the huge cruise ships docked there (including the Star). It was a great finish to the cruise week.
After the boat tour, we got back on the bus and were delivered to the airport. From there, we caught the shuttle to La Quinta Suites (not the Red Carpet Inn!!). Tomorrow we would fly home after another great cruise. The ship was wonderful - full marks for the Star Princess. The itinerary wasn't up to par as Cozumel was trashed and Jamaica was a disappointment.