Rating (out of 5): Ship

Food

Service

Itinerary

Chrissy and Matt booked the Freedom of the Seas over a year ago. When they invited us to join them on the biggest cruise ship in the world, we just had to sign up. Who wouldn't want to check out all the facilities? Joan and Dave decided to come along too.
Day 0 (Sept 30) - Getting to Ft Lauderdale
We had done so many cruises out of Ft Lauderdale (and none from Miami), that Marj automatically booked our flight into Ft Lauderdale. Realizing our mistake, we were stuck with it as these were Aeroplan tickets and a change of destination would be costly. Luckily RCCL provides a shuttle bus service from the FLL airport to the Miami docks. No big deal! We flew in a day early to ensure we didn't miss the sailing due to airplane problems. The flight was through Toronto. The customs pre-clearance at TO was empty, so we didn't have to wait long at all. We arrived at FLL on time, and caught the shuttle to the hotel.
We stayed at the Sheraton Hotel, near the airport. It was very nice. The rest of the family overnighted at the Embassy Suites in Miami, so we didn't see them until the next day.

Day 1 (Oct 1) - Boarding in Miami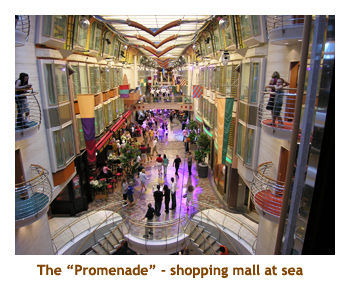 We hopped the hotel shuttle to the airport so that we could catch the RCCL shuttle to the Miami cruise dock. We had to wait about an hour at the airport for the bus to come (and fill up with people). The drive to Miami was quite quick - very little traffic on the road. We arrived at the dock jus after 12 PM. We had a walkie-talkie with us and Chrissy answered us from the Windjammer. They had arrived and boarded about 11 AM, with no lineups or anything. We weren't so lucky and took about an hour to check in and board.
What a huge ship! The hallway to the cabin went on forever. Our cabins were close together. Ours was a balcony cabin on the "hump". Dave and Joan were the same cabin on the opposite side of the ship. Chris and Matt had an inside cabin just down the hall from us. The Internet Cafe was just footsteps from each of us, so we would meet there when going to dinner, entertainment, etc.
Chrissy and Matt carried on 3 cases of pop including a case of Coke for me. They had no problem bringing the pop onboard. Good kids!
Day 2 (Oct 2) - A Day At Sea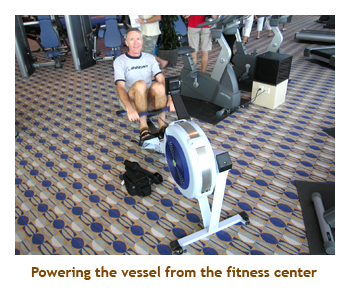 Our first full day was a day at sea. It gave us a chance to check out the ship. The indoor promenade is pretty cool. It's like a cobblestone (tile) street with shops, restaurants and bars. There's lots of room for people to wander around. Chrissy and Matt spent lots of time in there favorite spot - Sorrentos (the pizza joint).
The fitness center was stocked with lots of the latest cardio stuff, but only one C2 rowing machine. Fortunately, no one seems to use the rower, so I never had to wait. The center also contained a boxing ring where you could pay big bucks to spar with a staff member. We only saw it used once the whole cruise, so it's kind of a waste of space.
The flow rider was a popular innovation. We enjoyed sitting in the teak bleachers watching the kids (and adults) try to surf the flow. Most of them ended up falling off and being swept back over the top of the "wave". Lots of fun. The rock wall was very popular too with lineups waiting to climb. The cruise had over 600 kids aboard, so that probably contributed to the participation. We didn't visit the skating rink during public times, but did attend the ice show. It was terrific. The skaters were excellent. It was tight quarters for them, but they did a great job.
Day 3 (Oct 3) - Cozumel, Mexico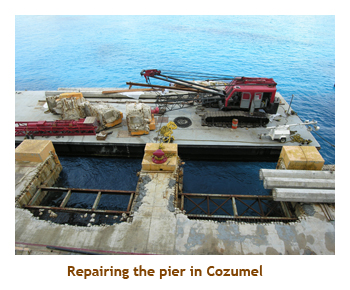 We didn't book any excursion for Cozumel. We had been there 3 times before and had done Chankanaab, Tulum and Palancar Reef. Our most recent visit was Dec 2005, right after hurricane Wilma. Cozumel had been devastated. A year later they are still rebuilding. We actually got to dock rather than tender, even though the pier was under repair. There is extensive damage to the pier but it has been "patched" so that one ship can dock. We just toodled around the shops at the end of the pier and hid from a terrific downpour of rain. I bought 3 cans of Mexican beer to bring back on the ship for Dave, Matt and myself. No problem bringing them on the ship.
Matt and Chrissy booked a Mexican cooking excursion which they really enjoyed. The excursion concluded with some time in the sun on the beach. Dave and Joan rented a cab and popped into San Miguel for some shopping. After 4 vists to Cozumel, Marj and I still haven't been into San Miguel. Maybe next time.
Day 4 (Oct 4) - George Town, Grand Cayman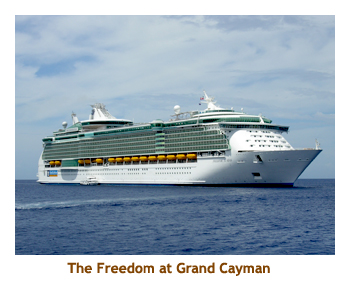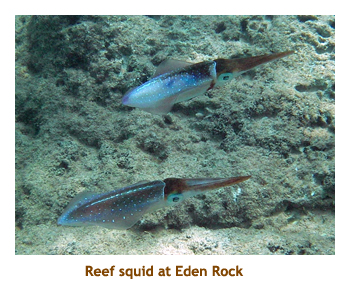 We didn't book an excursion in GC either. On our past three visits to the island we had done Cemetary Reef (far end of 7 Mile beach), Stingray city and Eden Rock (right in town). We planned to head directly to Eden Rock and spend the morning snorkeling. Tendering was quite quick as they used the large land based tenders that hold several hundred people. There is a new tender slip in town, just north of the original tender slips. The new slip is huge with room for future shops and food outlets for the cruisers. Dave and Joan accompanied us to the beach. We really enjoyed our snorkel. The snorkeling was excellent - the highlights being 7 or 8 four foot tarpons, a school of Caribbean squid and a lone stingray that I followed around for a while.
We headed back to the ship for a late lunch and stayed aboard for the rest of the afternoon. Chrissy and Matt signed up for some Jeep 4x4'ing. They really enjoyed it despite getting covered in mud. They were in a group of several Jeeps, with 4 people to a Jeep.
Day 5 (Oct 5) - Montego Bay, Jamaica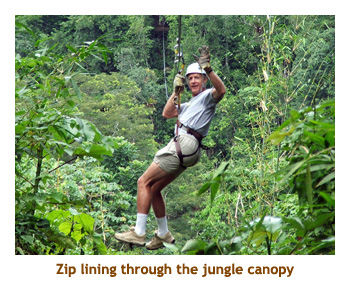 In Jamaica, we had booked the "Jungle Canopy" tour. Joan and Dave, and Matt and Chrissy were gung ho on the tour. Marj decided that it wasn't her cup of tea and just hung around the ship. We had an hour bus ride up the mountains to get to the zip lining place. it was also the start of a river tubing excursion which also looked like fun (maybe next time!). We were split up into groups of 14 people and given a quick lesson on how to zip line. Then we headed off into the jungle for our tour. It was terrific. The first zip was a little unnerving, learning to sit in the harness and control your descent. After that, the remaining 5 or 6 traverses were a riot. The longest run was over 1,000 feet.
We returned to the ship in time for a late lunch and then headed back to the dockside to do some t-shirt shopping. All in all it was a great day.
Day 6 (Oct 6) - Labadee, Hispaniola
This was our first time to Labadee. It is a beautiful private peninsula, similar in amenities to Princess Cays and Half Moon Cay. (Half Moon Cay is still my favorite, though). There were lots of shady areas on the beach, and stacks of extra lounge chairs that were available but not required. That surprised me because with 4100 passengers, I would have thought that we would have used up all the seating capacity. The water was very warm, so we tried some snorkeling. It wasn't very good. The water was quite murkey, and there was very little in the way of fish. We did see an interesting colored crab, but nothing else of interest. We also saw a lot of garbage on the bottom - pop cans, broken wine bottles, etc. What was realy strange, though, was when the ship's staff (from the snorkel rental shack) saw us snorkeling, he waded out and demanded that we rent snorkel safety vests. What a ripoff! The snorkeling was crappy, too! We essentially said "no way", and just swam around in the warm water.
The beach BBQ was great. We were served hamburgers, hot dogs, chicken and ribs, with salads, buns and deserts. We lasted until the mid-afternoon, but it was 95 degrees with no breeze at all. We tendered back to the ship and spent the rest of the afternoon working out in the gym and getting ready for dinner.

Day 7 (Oct 7) - Another Day At Sea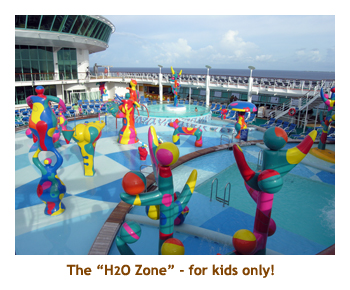 This was our final day at sea, heading home to Miami. It was a sunny day, great for taking pictures on deck. During the cruise we did the walk-a-mile every morning. RCCL is the only cruise line (that I'm aware of) that still has a passenger fitness program. It's fun doing the walk and saving the fitness dollars for a t-shirt or backpack. We didn't earn enough dollars during the 7 days, so are taking the dollars with us on our Brilliance cruise in two weeks.
I had planned on doing the rock wall with Matt, but there was a pretty long lineup of people waiting to scale the wall. That's another activity I'll have to postpone for the Brilliance.
One thing we noted about our cabin was that it had less closet space than other ships we've been on. Usually we don't use all of the space provided, but this time we used every inch. The bar fridge was quite large and very cold. It was great for storing my case of Coke.

Day 8 (Oct 8) - Miami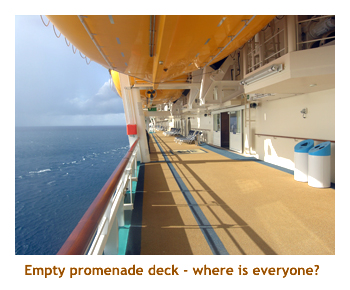 We arrived very early in Miami. It was still dark out when I awoke, but we were already docked. RCCL has a new disembarking option where you can carry your own suitcases off any time after 6:30 AM. This meant that we didn't have to pack the night before and put our suitcases in the hall. We grabbed a quick breakfast in the Windjammer and then headed off the ship. Disembarking was quite quick and we whizzed past the other folks waiting for their luggage at the carousels. The Ft Lauderdale bus was waiting for us as we exited the terminal building.
The ride to FLL was quick, with not much traffic. We had a two hour wait for our flight, so had lunch at Sbarro's. We flew back through Montreal. Again we lucked out with an empty customs area, so were able to hustle through customs and security . We arrived at Calgary about 10:30 PM and Mike was there to pick us up. Chrissy and Matt had flown from Miami, and arrived a couple of hours earlier.
In all, it was a great cruise. Loved the ship, loved the food, the service was great. The itinerary was OK. Labadee was new to us, but Cozumel, GC and Jamaica were the "same old". Next time we'll have to look for a cruise doing Belize, Costa Maya or somewhere we haven't been to so many times before.