Rating (out of 5): Ship

Food

Service

Itinerary

This cruise was unusual in that it was the first time we booked solely based on the ship. The itinerary was only 3 ports, all of which we had been to before. Hence, the ship itself was our destination. We were not disappointed as the ship, food and service were wonderful. The only reason I marked down the ship itself was the poor excuse for a promenade deck. Dave and Joan accompanied us on this cruise.
The other unique thing about this cruise is that we planned on doing land based excursions at each port. This is the first Caribbean cruise that we have not brought along our snorkeling gear. It's going to be a dry trip ...

Pre-cruise (Feb 21) - Travelling to Fort Lauderdale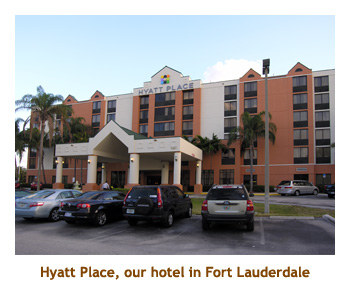 We were up at 4:00 AM in order to get to the airport by 5:00 AM. We parked at the new Park 2 Fly lot that offers valet parking. This doesn't mean much at drop off, but it is so nice to pick up your warmed up, cleaned off car at pick up time! Our Continental flight to Houston was on time and they even served a small meal. We had a 1 hour layover in Houston and then continued on to Fort Lauderdale.
After we had arrived and picked up our luggage (about 5:00 PM), we called Dave and Joan from the airport to let them know we had arrived. D&J had arrived a couple of days earlier and were going to meet us for dinner. We caught the hotel shuttle and checked into our room. D&J picked us up about 6:00 PM and we headed to Bimini's (on the canal) for dinner. After dinner we wandered along the docks, occupied by a yacht dealership. Wow! Those 3 story yachts must be many $millions.
On the way back to the hotel, D&J took us to Winn Dixie so we could pick up some Coke and other items so we wouldn't starve while on the cruise. Back at the hotel we went to bed early as it had been a long day.

Day 1 (Feb 22) - Boarding in Ft Lauderdale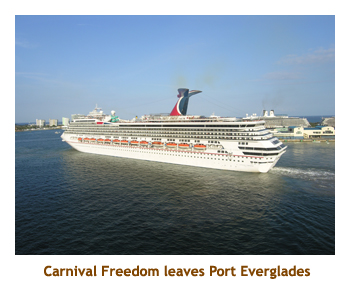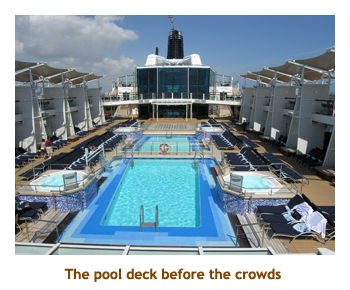 We woke up early and had breakfast at the hotel. Then we walked over to Publix to do some more shopping. We caught the 11:30 cruise shuttle and headed off to the ship. we got there a bit early and had to wait about 20 minutes before being allowed to board the ship. However, there were no lineups for checking in, so that was just fine. We went directly to our room (which technically wasn`t open yet) and dropped off our carry-on stuff. Then it was up to the buffet (Oceanview Cafe) for lunch. The buffet area was huge and the food islands were well laid out. There were several "make to order" areas for pizza, omelettes, stir fry, sandwiches - everything freshly made.
Then we did a wander about the ship checking out the "lawn club" and the other unique features of the ship. The decor is very modern and it is unlike any ship we have been on before. Our bags arrived at the cabin mid-afternoon, so we were able to get settled into our cabin right away. At 4:00 PM we attended the life boat drill and then sail away was at 4:30. There were 8 ships in port that day - Solstice, Westerdam, Eurodam, Costa Fortuna, Crown Princess, Island Princess, MSC Lyrica and Carnival Freedom. We were the 4th ship to leave Port Everglades. We had a wonderful dinner and met our new dinner mates. We were at a table for 6 with D&J and Bob and Jean (from Florida). Later on we attended the intro show at the theatre. The theatre is much larger that on the Crown / Emerald / Ruby Princesses - 1260 seats for 2850 people (rather than 880 seats for 3100 people on the Crown class). Throughout the cruise there were still seats available each evening after the show had started! Another long day, so early to bed.

Day 2 (Feb 23) - A Day At Sea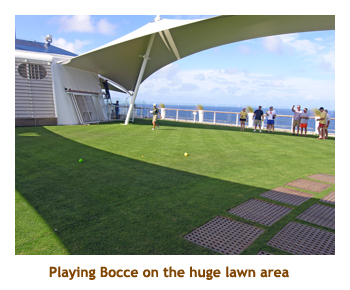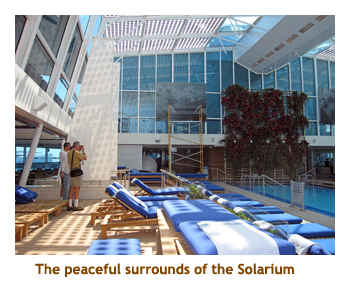 Today was a day at sea. We had a leisurely breakfast and then headed up to the hot glass area to check out the show. It was very interesting. The show is run by the Cormning Museum of Glass. They have a full time employee aboard (who is also an artist), and two independent artists. The artists sign on for 12 week contracts. Each day the three of them create 6 or 7 pieces of glass. The creations are not sold, but instead are raffled off each day. That way, the artists are free to do whatever they wish. While each piece is being created, one of the artists dons the microphone and explains each step of the process. It was really fascinating.
The library was quite good. It was self serve (no librarian), so the books weren't in any order, but the selection was very good. I went to the gym around 9 AM and it was packed. Even the rowing machine was busy. I went back a couple of hours later with the same result. Oh, oh. However, I tried again in the afternoon and it was only half full. This turned out to be the only day that it was so busy. I guess most of them gave in to the buffet! We spent some time reading and exploring through the ship. It was formal night, so we had to get dressed up. Dinner was great. The entertainment was very Cirque de Soleil-like. Lots of smoke and flying people. It was great. Very good acrobatics.

Day 3 (Feb 24) - San Juan, Puerto Rico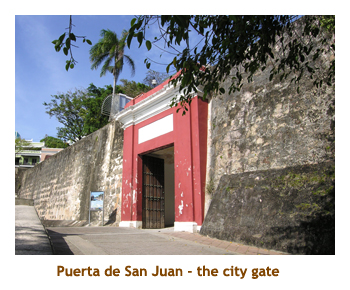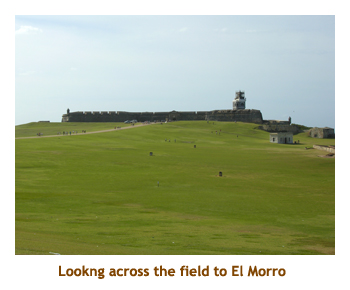 Today was our first port - San Juan. However, we weren't to arrive until 2:00 PM. This gave us the whole morning to do our usual ship stuff. Breakfast, hot glass show, rowing workout, etc. There was also a theatre backstage tour for Elite members. Two of the ship's cast showed us the dressing rooms, sewing room, and other facilities used by the cast members. They claimed that the facilities were the largest of all of the Celebrity ships. They were very pleased with them. A great tour! It was a lovely sunny day. We had lunch just as the ship approached Puerto Rico. We docked alongside the Eurodam.
We didn't have any excursion planned, so D&J and us headed off the ship with El Morro (the fort) as a tentative destination. Just past the dock area, there was a wonderful outdoor photographic exhibit of various locations on the globe taken from the air. The photos were amazing. There must have been 50 or more huge photos on display. Then we continued along the "Paseo de la Princesa" outside of the city walls and along the ocean. We came to the main city gate and entered the old town there. D&J decided on shopping, so Marj and I headed towards the fort. It was very hot, and when we came to the field leading to the fort, we decided to head back. We wandered through the old town and eventually found our way back to the docks. In the meantime the Freedom of the Seas had arrived and was docked beside us.
We reboarded the ship and got ready for dinner. There was no entertainment on the bill tonight as we weren't to leave San Juan until 10:00 PM. Most of the folks seemed to be dining (or partying) in San Juan, so there were lots of empty seats in the dining room. We didn't go back on shore, but instead wandered the decks for a while. The evening hot glass show was 9:30 to 11:00 PM, so we watched the glass blowing as we headed out to sea.

Day 4 (Feb 25) - St Kitts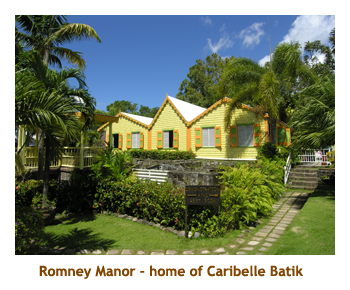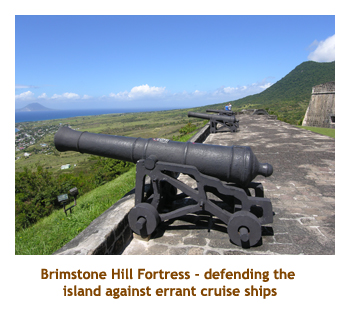 We arrived at St. Kitts about 10:00 AM. For today, we had booked with a private tour operator - Thenford Grey. It was a long tour, which left soon after we arrived. We met on the dock at 10:30 and then climbed into the van. There were about 18 people in the group. D&J were with us. We had a tour through Basseterre, and then stopped on a hillside overlooking the harbour and the cruise ship. Then we continued up the island. We stopped at a place that had small monkeys that you could be photographed with. Umm, OK! Then we drove on to Romney Manor, the home of Caribelle Batik. The gardens and landscaping there were beautiful. There was a shop that sold all sorts of batiked items.
After about 40 minutes we drove further up the island to Brimstone Hill Fortress National Park. This was an English fortification . The fort was begun in 1690 and various additions were completed through 1790. The hill is about 800 feet high, so it affords a wonderful view of the north end of the island and St. Eustatius Island nearby. There was a 15 minute movie about the history in office area. Then we walked up a hill to the main fortification. Lots of canons! After spending about an hour at the fort, we drove down to the southern tip of the island. It was about 2:30 when we arrived at Cockleshell Beach. There was a "beach shack" restaurant with so so food and exhorbitant prices. I had a hot dog for $8.50 (US). We stayed at the beach about 40 minutes. Dave went in swimming, but Marj and I didn't bother. We had our snorkel gear with us, but some people coming out of the water said they didn't see much. Then it was back to the ship. We got off in town and walked around a bit. Then it was time to go in for dinner. Dinner was great. The entertainment was song and dance stuff so we skipped it. A wonderful day!

Day 5 (Feb 26) - St Maarten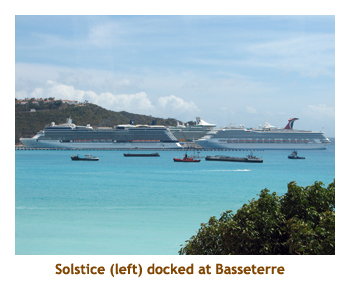 Today is our final port. We arrived at St. Maarten at 7:00 AM. We had booked an island tour, but couldn't get the early time. Instead our tour was at 2:00 PM. We had done St. Maarten several times before, including the wedding cruise 3 months earlier. So, for the morning we did our regular "at sea" things. The buffet was so good that we did not do the dining room lunch once on this cruise. Once again we had lunch in the buffet. After lunch we headed out onto the dock to do our tour. We were picked up in a regular bus, so there must have been about 40 people. We drove through Philipsburg and then past the salt pond and onto the French side of the island.
We arrived in the town of Marigot (the French capital) around 2:00 PM. We were given an hour to walk around the town and do some shopping. Marj bought a pair of plastic sandals and that was it. The town was quite interesting with lots of new buildings (shops and restaurants). There was a huge craft market as well. Didn't buy anything. Then we contued our circumnavigation of the island. It rained a bit while we were driving. We got back to the ship around 4:30 PM or so. We walked through the cruise dock shops looking for some cold beer. I got a couple of Stella Artois to take aboard. D&J announced that they were heading back into town to do some shopping. They had to hurry because the shops close at 6:00 PM (in less than an hour). However, they showed up at dinner shortly after 6:00, so must have really hurried. Dinner was great again. The entertainment was a fellow who played an electronic vibraphone synthesizer. He was absolutely phenomenal. We really enjoyed him. The ship set sail at 11:00 PM, just after we had gone to bed. It was nice to be able to see the harbour lights through our balcony window, while lying in bed.

Day 6, 7 (Feb 27, 28) - Two Days at Sea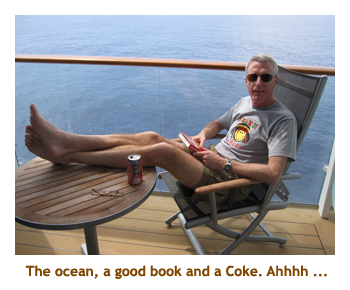 So, our ports were done and we had two days at sea. Three ports certainly isn't a lot! Another port on the way back would have been nice. We were fortunate and had two days of beautiful weather. We did the usual things - workout in the gym, walk the decks, etc. One of the afternoons Dave joined us and we played 10,000 (the dice game). And, of course, we spent a few hours watching the glass blowers make their wonderful designs. By this time I had discovered that the sandwich bar in the buffet made the best egg salad sanwiches. I usually ordered them with whole wheat buns and loaded with egg salad and shredded lettuce. Yummy!
The entertainment on the first of the sea days was a tribute to Broadway. The first half was a medley of some of the older musicals and we really enjoyed it. Then they did some recent musicals (I guess) and we didn't know any of the songs. Didn't enjoy the second half so much. The following night was a mix of the previous entertainers. The vibraphonist played again and was terrific. The a capella group was very good too. All in all the two sea days were relaxing and enjoyable.

Day 8 (Mar 1) - Ft Lauderdale
We hit Ft Lauderdale about 5:00 AM. It was a nice day, but we weren't looking forward to the long trip home. Our exit time was at 8:45 and our flight at 2:30. We had breakfast and then headed to the sky bar (for elite members) to wait for our time to disembark. Exiting the ship went well. We found our luggage in the terminal building and then went to hail a cab. We got to the airport just after 9:00 AM and the place was packed. We had a long wait ahead of us. Fortunately the airline (Continental) was willing to take our bags, even though we didn't fly for another 5 hours. We spent about an hour getting through the lineup and checking our bags.
Then we walked to the security area which was also packed. We decided to sit on the bench there and eat our lunch. Marjorie had ordered extra egg salad sandwiches the day before (at the buffet) and we had put them in the fridge. We sat and ate them. They were excellent! By the time we finished eating, the lineup had dwindled down to almost nothing. We went through security and on to the waiting room. The flight was ontime and we flew to Houston. In Houston we changed planes and continued on to Calgary. We arrived about 9:30 PM. After going through customs and claiming our bags, we caught the shuttle to the parking lot and then headed home. It had been snowy and cold while we were gone, so the car was quite icy. Good to be home though! Overall, a great cruise.