Rating (out of 5): Ship

Food

Service

Itinerary

We booked this trip on the Emerald Princess a year and a half early (July, 2006). It was originally to be a reunion cruise with our old Sea Princess buddies (16 folks from 2005), but soon grew into a family cruise when Chrissy and Matt, Dave and Joan, and David and Valerie joined us. Of course we met many new people through Cruise Critic, so even though there were 3048 passengers, we were running into people we knew all the time.
The Emerald design is based on the Grand class and is basically the Grand Princess with an extra deck. The new deck is all cabins (mini-suites) increasing the passenger count by 500, but with no added public space. The existing public space has been reworked to be more productive, but some areas suffer being the same size as on the Grand. For example, the Princess Theatre seats 880 people, not nearly enough to accomodate all interested passengers in 2 seatings. We found that you needed to be in the theatre 30 to 45 minutes prior to the show just to get a seat. The Explorer's Lounge was similar. For this reason, I have given the ship 4 stars. In all other aspects it is really a wonderful ship.

Pre-cruise (Feb 22,23) - Travelling to Fort Lauderdale
For this trip we decided to head down to FLL a couple of days early, so that we could have a full day for shopping and enjoying the Florida weather. Marj and I, and Chrissy and Matt were supposed to fly out of Calgary at 7 AM Friday, on Air Canada and connect thru Toronto. The kids slept overnight at our place so we could leave together, in one car. Chrissy was working again at the airport location, so we could park in the employee parking. We left for the airport at just past 5 AM (groan). As expected, the plane developed mechanical problems and we ended up leaving Calgary at 9:30, effectively missing our Toronto connection. When we got to Toronto, Marj and I had been rebooked on a 9 PM flight to FLL (by coincidence Dave and Joan's flight, but a 6 hour layover) and C&M had been booked on a next day flight. They were being put up in a local hotel with coupons for dinner and breakfast. They didn't seem to mind the delay. So, we flew with D&J and arrived at the Extended Stay in FLL about 1 AM or so. What a long day!
The next morning, we located David and Valerie's room and stopped in for a visit. (hadn't seen them in 10 years). We did some shopping in the morning (got my Pepsi crates) and then met C&M in the afternoon as they arrived from Toronto. Finally we were all together. We had a nice dinner at Razzo's next door.

Day 1 (Feb 24) - Boarding in Ft Lauderdale
This morning we had muffins and chocolate milk in our room and then got ready for our shuttle reservation (Sun and Moon) at 11 AM. While waiting for the shuttle, we met some of the old Sea Princess group and caught up on how everyone was doing. It was only a short ride to the terminal building. We arrived before disembarkation was completed so had to wait half an hour or so. Boarding the ship went well after the wait. We tossed our carry-ons into the cabin and headed up to the buffet for lunch. Always a good way to start a cruise!
I think that all of our bags arrived early to mid-afternoon. No one was missing any luggage. Muster was at 4 PM and sail-away was at 5. We didn't make it to the CC group meeting at sail-away, as we were busy with the family. We did dinner about 6 PM and then headed to the theatre for the opening show. After the show we did a walk of the promenade deck and then headed off to bed.

Day 2, 3 (Feb 25, 26) - Two Days At Sea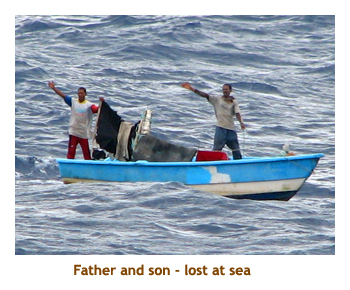 Our first port was to be Aruba, which is a long way from FLL. Therefore, we had two full days of sailing to relax and check out the ship. It really is a beautiful ship. As usual, some areas are very popular and often crowded (around the pools, for example) and other areas are almost deserted (promenade deck). The public areas are broken up into small areas, so it never seems that you're on a large ship. Overall, the ship is very similar to other Princess ships that we have been on - the Grand, the Star and the Diamond. The entertainment for the first day was none other than a fantastic juggler / comedian that we had seen before on the Sea Princess cruise. He was terrific!
On the second sea day, a get together for the Cruise Critic people had been arranged for 10 PM at Skywalkers. Most of the people who posted prior to the cruise were there and it was nice to finally meet the people behind the postings! Two or three of the ship's top staff showed up to say "Hi". I guess about 70 people were there.
Later things were spiced up with a rescue operation. Just after lunch I was out on the top deck, when the Emerald slowed down, and then turned around. There, in the distance, was a small rowboat with two people in it. Word of the rescue spread quickly aound the ship and soon there were hundreds of passengers lining the railings. I ran down to the promenade deck assuming there would be less people there, which was the case. I was able to hold my camera over my head to snap some unobstructed photos. A rescue speedboat was dropped into the water and the two people were rescued and brought aboard.
It turned out that they were father and son fishermen, from the Dominican Republic. During a fishing trip their motor had failed and they had drifted for 8 days. They had no radio or flares, only a red flag on a pole. The bridge staff spotted them with binoculars. They had 3 or 4 days supply of fresh water and some fish. At the end they were drinking sea water. However, they were in pretty good shape and recovered quickly in the ship's medical facility. It was a happy ending for their family who had given them up for dead. They were dropped off in Aruba and flown back to the DR.
The second evening's entertainment was a magic act (stage magic). The magic itself was pretty good, but the magician had no stage presence at all. It was like he was reading the script.

Day 4 (Feb 27) - Aruba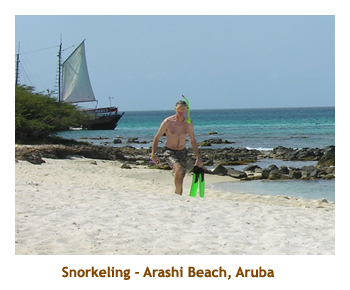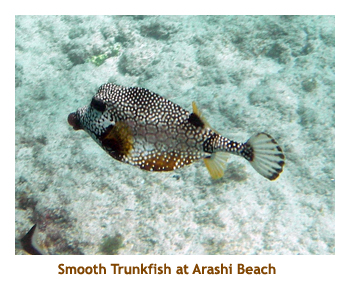 This was our second time to Aruba. The time before, we did a ship's snorkeling excursion to De Palm Island. This time we signed up for a sail / snorkel. For some reason, it was cancelled. We heard that Frank and Lynne were renting a car for the day, so we joined up with them. We drove out to Arashi Beach and spent the morning snorkeling. When we returned the car and gassed it up, the cost was only $25 per couple. That was sure better than taking a taxi! When we got back to our room to unpack and wash our gear, I discovered that I had left our flippers drying in the sun on Arashi Beach. Goodbye flippers! After lunch, we headed back into town for a bit of shopping. Got 3 t-shirts, a couple cans of Balashi beer (brewed in Aruba), and Marj bought a wide brimmed hat.
The others seemed to have a good time too. C&M did an ostrich farm tour, D&J and V&D did a island bus tour. Had another great dinner in the dining room, and then watched an excellent comedian. He was quite funny and then did some singing impressions of Neil Diamond, Johnny Mathis, and others. He was very good. He was very into his act and kept asking "Do you want some more?". He went on for 75 minutes when most acts are only 45 minutes. He got a standing ovation.

Day 5 (Feb 28) - Bonaire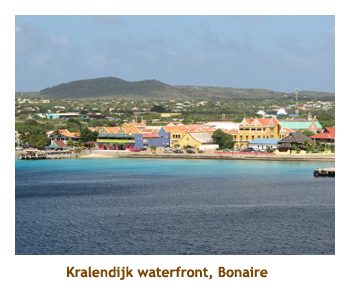 Bonaire is another island that we had been to once before. We had done a private accompanied snorkel with Caryn, a marine biologist. This time we did something similar with Renee (who provided us with flippers!). She wasn't as interesting as Caryn, but the snorkeling was good. Frank and Lynne accompanied us on the excursion. We did one site just north of the ship (near the Yellow Submarine beach) and another site south of the ship near the airport. The snorkeling was good, lots of fish, but didn't see anything new or unusual.
We were back to the ship by just after 10, so spent the rest of the morning buying new fins and browsing through a sidewalk mall. Marj bought a Bonaire Humane Society t-shirt (independently, Chrissy saw the same t-shirt and bought it for her Mom, so now Marj has two of them). The silver lining of the fins was that Marj's old pair didn't fit well, but the new ones were very comfortable and easy to get on and off. We were back on the ship for lunch, and then departed for Grenada at 2 PM.
Tonight, C&M and Dave decided to try out the Crown Grill. They really enjoyed it. Turns out it seats 160 passengers, so it should be no problem for our group dinner in November (on the Crown). Marj and I, Joan, and D&V ate in the regular dining room. We find the meals in the dining room to be so good that we can't justify paying a cover charge to eat somewhere else. There was a hypnotist on in the Explorer's Lounge, but we opted for a walk around the deck and an early retirement. D&J and C&M attended the show and said it was pretty good.

Day 6 (Feb 29) - Grenada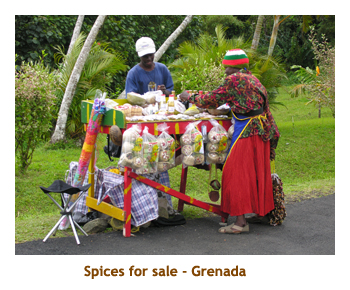 We arrived at Grenada about noon, so had an early lunch, ready for the afternoon's activities. This was our first visit to Grenada. We had booked a private tour with Mandoo, originally for the 8 of us, but it soon grew to a group of 36. It took a bit of organizing to get us all sorted into 2 different vans, but soon we were off through the narrow streets. Along the road, curbs, rocks, telephone poles, etc are painted green, yellow and red, like the national flag. The driver stopped frequently as we passed lookout points or spice / fruit trees. After driving out of the town and into the surrounding hills, our first stop was at the Douglaston spice depot. They had a wonderful display of many different spices in their raw form - nuts, bark, leaves, etc. When you buy the ground up powders in the store, you don't realize how diverse the origins of the spices are. Then we headed to Grand Etang Crater Lake, high up in the mountains. Along the way you could see the devastating effects of Hurricane Ivan (2004). It really shredded the forests. At the lake we took a walk through the rain forest and up to a lookout from which you could see the Atlantic Ocean on the other side of the island. On the way back to town we stopped at Annandale Falls where some locals were jumping off the cliff into the pool below. Of course if you took their picture, they wanted money! We were supposed to go to a beach as well, but by then we had run out of time, so we returned to the ship instead about 4:30.
We did a quick walk back into town to look for t-shirts or souvenirs, but didn't buy anything. At dinner, we had a table for 10 and two people from St. Catherines joined us. We have met a lot of Canadians on this cruise! After dinner we attended the performance of "Livewire". They are a husband (guitarist) and wife (violinist) team who play a variety of music (some Celtic) as they bounce all over the stage. We had seen the same act a couple of years ago on the Star Princess and quite enjoyed it.

Day 7 (Mar 1) - Dominca
Another day and another new island. Marjorie and V&D decidied to do a whale watching excursion, while the rest of us did an island tour. The whale watching turned out to be a real disappointment. No whales were spotted and the voyage was rough, cool and wet. Apparently only about 15 whales live in the vicinity of the island. Not a good bet for a sighting!
Our island tour started from the ship dock. We were sorted into 3 vans trying to keep groups together. We travelled in a convoy, so that didn't really matter. We headed out of the city on narrow, twisty roads with lots of potholes. It was interesting driving through the lush green hillsides. Our first stop was supposed to be at a fruit stand to learn all about the island's fruit crops. However, it was Saturday (the Sabath) and the stand was closed. Hence, we headed on to our second stop at the Emerald Pool (sounds like on the ship!). We hiked through some rainforest to arrive at the waterfall and pool. Several people went swimming in the pool. It was a very interesting area to visit.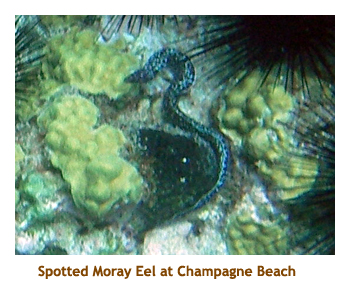 After hiking back from the pool, we headed back down the mountain towards the main town. Along the way we past a river tubing group having a lot of fun. Further on another group was zip-lining across the river. Our next stop was to be a beach for snorkelling. This raised some dissention amongst the group as the rocky snorkeling beach (Champagne Beach, south of the ship) and a nice sand beach for non-swimmers (north of the ship) were miles apart. We ended up stopping the 3 vans and resorting the passengers into snorkelling and non-snorkelling and went our seperate ways. I went with the snorkelling group. The beach really was rocky and would have been no fun for those wanting to relax on the beach. The snorkelling was very good. The beach gets it's name from thermal activity that causes streams of bubbles to emanate from the rocks under the water. It made the snorkelling extra interesting!
We were back to the ship in time to meet up with the whale watchers for lunch. After lunch I wandered around the town looking at the t-shirt and souvenir stalls. Didn't buy anything. For dinner, they served my two favorite meals - rack of lamb and king crab legs. To punish them for doing so, I ordered a plate of each. Oh, was it good! After dinner the entertainment was a song and dance review in the main theatre or a game show in the lounge. We opted for walking the promenade deck. It was a great day!

Day 8 (Mar 2) - St. Thomas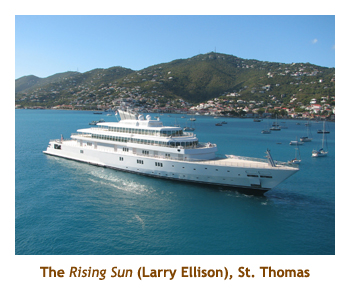 Today was St. Thomas. We had originally planned to grab a cab and head over to Ciki Beach for some snorkelling and perhaps a visit to the Coral World aquarium. However, a misunderstanding of the taxi prices made us look at other alternatives. However, Marjorie was coming down with a cold and didn't feel like going too far. In the end we just walked around the town and did a little shopping. We bought 3 t-shirts and a six-pack of Carib beer. When we got back to the ship, I realized that I had no way of opening the beer bottles. Some cruise lines provide an opener on the bathroom door, but not Princess. So, it was back into town to pick up a souvenir bottle opener.
After lunch we walked around the upper deck looking at the beautiful port in the bright sun. There as a huge yacht there called the "Rising Sun" that pulled out and left as we watched. A little web surfing proved it belonged to Larry Ellison, CEO of Oracle, and is the 5th largest yacht in the world (worth over $200 million). That will be my next boat!
C&M did an island bus tour that included a stop at their proposed wedding site. They felt it was a lovely spot and easy for us older folks to get to. D&V also booked a tour that include the Coral World facility. They seemed to enjoy it. D&J did not do a tour, but instead headed off walking into town. Before dinner, we gathered on our balcony to consume some of the Carib beer that I had brought aboard. D&V were still on their excursion, so they ended up taking their share down to dinner with them. We had another excellent dinner and then headed to the theatre for a singer. He was very good, told lots of funny jokes, and did great singing impressions of Nat King Cole.

Day 9 (Mar 3) - Another Day At Sea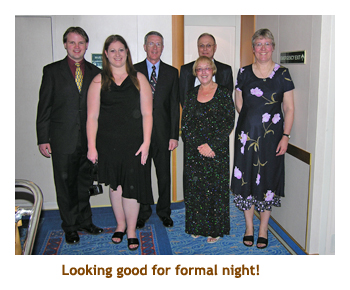 After 5 port days in a row, it was time for another sea day. In the morning, the ship had a sale on all of the souvenir items left over from other cruises. Some were from a Mediterranean itinerary. We were able to get nice t-shirts from Dubrovnik, Corfu and Katakolon. At least we had been to Dubrovnik, so it wasn't really cheating. I also picked up a neat ceramic mug with the Emerald Princess logo and a map of the itinerary. I think the captain uses the same mug to navigate the islands.
I tried to use the fitness center every day, doing 30 to 40 minutes on an upright bike. I think I only missed one day. The fitness center was excellent with lots of equipment (but no rowing machine!!). By fluke I often biked at the same time as a fellow from Montreal (Michelle) and we became good biking friends! There seemed to be a lot of classes going on in the open area - yoga, exercises, etc.
We finally checked out the International Cafe on deck 5 that people had been telling us about. They had several excellent salads including a wonderful Greek salad and a huge shrimp salad. At lunch we loaded up a plate of salad(s) and then carried them up to the buffet area to round out our lunch selections. Gotta remember that for the Crown in November!
After lunch we hiked to the very top deck to play minigolf. Whew, it was hot! The course was extremely difficult with none of the greens being the least bit level. Anyway, it was fun. Then we went back to our room to polish off the rest of the Carb beer. D&J have the cabin right next to us, and the room steward unlocked the adjoining door between the balconies for teh duration of the cruise.
We've really enjoyed the social side of the cruise. Besides our group of 8 and the 14 other cruisers from the Sea Princess cruise, we had met about 30 or 40 people from the Cruise Critic Web site. So, wherever we went on the ship, we were always running into people that we knew. As a matter of interest, Samantha Brown was aboard for the cruise filming either a segment for her show, or a commercial for Princess. We saw her a lot on our in-room TV, but never in person.

Day 10 (Mar 4) - Princess Cays
Our final port stop was Princess Cays. We were a bit worried that the tendering might not be possible, as so many recent cruises had been forced to skip it due to the weather. In fact, on a previous cruise on the Star Princess (2005) we had skipped the island. It didn't look good as we sat in the Horizon Court eating breakfast and looking out at the black skies and the rain. However, they announced that the tenders were ready, so we gathered up our snorkelling gear and headed ashore. By the time we got to the beach, it had stopped raining, but the lounge chairs were soaking wet. What better time to go snorkelling! As we entered the water, the sun poked out. We had a great snorkel and saw lots of fish. I even saw a very large slipper lobster. I didn't get a photo as my underwater camera battery had run down.
When we beached ourselves again, the sun was out in full and there were only a few puffy white clouds. The chairs had dried out and the rest of the day was hot and sunny. What a beautiful beach! At about 1 PM we headed over to the beach grill for some hamburgers and hotdogs. The lineups were huge! It turned out that the BBQ grill on the south beach (we were on the north beach) was closed, so everyone had to use the north beach facility. I think all 3100 passengers showed up at the same time, too. Anyway, the food was good. After we had had enough sun, we headed back to the ship. I went up to the top deck and took some photos of the island and watched the tenders going to and fro.
Then it was time to pack. We decided to wait until after dinner to pack. We packed all of our summer clothers and got out our winter clothes for the trip home. It was strange wearing long pants after being in shorts for 12 days. The entertainment was a wrapup show featuring Livewire and a comedian. It was quite good.

Day 11 (Mar 5) - Ft Lauderdale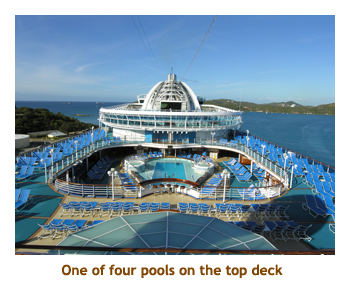 We arrived at Port Everglades at sunrise. It had been a great cruise. We had our final breakfast and then headed to the dining room to wait for our disembarkation call. We had booked transfers to the airport through Princess. D&J were staying on in Florida for a few days, and V&D were heading off on an Everglades excursion, so we had said goodbye to them the night before. C&M were coming with us. We disembarked the ship and boarded the bus to the airport.
We arrived at the airport about 9 AM, but our flight wasn't until 2 PM, so we couldn't check our bags yet. A storm in TO had delayed our departure to 3:55, so we had a long stay in the airport. Actually it was about 4:30 that we finally took off. We missed our TO connection (again!) and were put on a later flight. We arrived in Calgary about midnight, but our luggage missed the flight and came the next day. C&M drove us home. The cats were pleased to see us home again.