Rating (out of 5): Ship

Food

Service

Itinerary

This cruise was the result of a wonderful coincidence. We had wanted to go on the new Royal Princess as soon as we had heard about it. When the CSC had their Princess "One Day Sale" in 2013, a free cruise was offered in a draw for all of the clients who booked a cruise that day. Actually, it was two free cruises as the signing agent would win as well. Our friends Mike and Sheila (M&S) were drawn as the winners and so Marjorie also received the cruise as she had booked them. M&S were friends from an earlier South Pacific cruise. We were so happy that M&S had won, as we were for Marjorie too. The cruise costed us a bit though as we upgraded our cabin to a balcony. Dave and Joan (D&J) decided to do a 3 week Florida trip and worked in the Royal cruise as part of it. So, we had lots of company on the cruise!
The ship was wonderful. It was essentially full with 3577 pax (3600 capacity). The attrium was stunning in gold and glass. The buffet area was very large and well laid out, with lots of room between tables. The food was excellent. The only complaints we had were the lack of a staircase above deck 7 in the central atrium (to go up or down even just one deck you had to use the elevators), the lack of a proper promenade deck (our favorite non-food related place on the ship), and the small size of the regular balconies. That said, we would certainly do this ship again.
Because this was only a 7 night cruise, we had to extend the trip to make the flights worthwhile. There was a 10 night cruise on the new Oceania Riviera that followed the Royal displaced by one day and leaving from Miami, so we snapped it up to make this a 20 night trip. I have written up the diary for the Riviera Caribbean Cruise as a separate diary.

Pre-cruise (Jan 3,4) - Travelling to Fort Lauderdale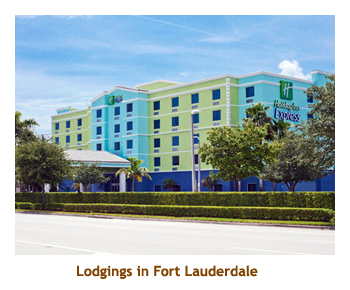 A few days before our trip the weather forecast was calling for a snow storm on January 4. Because we had an early flight, we decided to stay over night at the Delta Airport Hotel. So, on the evening of Jan 3 we drove to C&M's place to ditch our car and Christina drove us to the hotel. Marjorie had gotten a special T/A rate and the hotel was wonderful. The next morning we were up at 6:00, checked out and walked across to the terminal building. There was a huge lineup of skiers heading off to Colorado. We eventually got checked in and went through US customs and security. We were in the waiting room by 7:00 for our 8:30 flight. We had time so grabbed a hot chocolate and a muffin from Starbucks. We were half an hour late boarding and then sat on the plane for 1.5 hours while they fixed a baggage loading problem. We were fortunate that our connecting flight through Houston had a 4 hour layover! We arrived in Houston about 2:00 and had time for a lunch at Subway. When we got to the gate about 4:30 for our 5:30 flight, they announced that they had to find a pilot and flight crew. We only lost half an hour finding a crew and made up some time in flight and arrived in Fort Lauderdale almost on time at 9:15. D&J were there to meet us at the carousel with their rental car and drove us to the hotel (the Holiday Inn Express). Then we packed it in for the day.

Day 1 (Jan 5) - Boarding in Fort Lauderdale
We were up by 7:00 and had the hotel breakfast. The hotel was a distance from any stores, so Dave drove us to Walgreens where I bought a USB charger for our e-books. Back at the hotel we checked out about 11:30 and drove to Budget to return the car (with 7 suitcases!). We did the rental car shuttle to the cruise dock. It was a bit delayed leaving the car rental place when a lady fainted and had to be removed from the shuttle. She was OK though. The cruise check-in went quickly and we were on board by 1:00. Our rooms were ready so we dumped our carry-ons and hustled to the MDR for the "Elite" lunch. Our bags arrived and we put the contents into the cupboards and drawers. There was lots of room for stuff and we loved the bathtub and enclosed shower. We wandered the ship for a while and then attended the muster drill at 3:30. Sailaway was at 4:30 as we took turns with the other ships in leaving the docks. We had dinner in the MDR with D&J, and met M&S with their friends. I dined on linguini Alfredo. We skipped the entertainment.

Day 2 (Jan 6) - Back to Princess Cays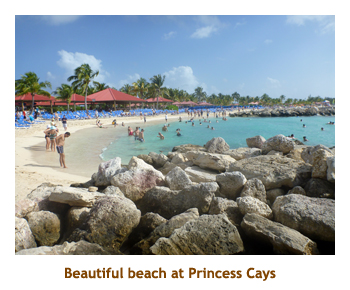 This was to be our "nth" visit to Princess Cays, which we had always enjoyed in the past. We were up by 8:00 (slept in) and greeted by a warm sunny day. We were in no hurry to go on shore, so wandered the ship for a while and then attended morning trivia at 10:30. There we met Joe and Judy who became, with D&J, our trivia team partners for the cruise. We weren't too excited by the BBQ ashore, so we decided to eat lunch onboard. We tried out the pizza restaurant (Alfredo's) on the atrium. I really enjoyed it but Marjorie wasn't impressed. We finally got onto a tender to the beach at 1:00. On the beach it wasn't hot by any means, just warm and it felt so good sitting in the sun. I debated if I would go into the cool water, so I talked to other snorkelers who said the water was really murky. That made up my mind, but Marjorie went in anyways. She didn't see much due to the cloudy water. We decided to return to the ship at 2:30 and encountered a huge lineup for the tenders. We must have waited at least half an hour until it was our turn. I guess it was a popular time to head back. We read for a while and then did afternoon trivia at 4:15. We had dinner by ourselves and I had seafood skewers. The entertainment was a singing foursome called The Unexpected Boys. We attended the 8:30 show. They sang mostly Frankie Valli / Four Seasons stuff, just like The Jersey Boys. They were excellent. They finished with "One Day More" from Les Mis - amazing! Marjorie enjoyed the show so much that she also attended the 10:30 show for a repeat performance!! We put our clocks ahead one hour tonight.

Day 3 (Jan 7) - A day at sea
Today was a day at sea, so we slept in until 8:00 again. It was 28 degrees and sunny outside. We did breakfast in the buffet. Lots of variety to choose from. We read for a while and then did morning trivia. We had lunch in the MDR with M&S. They were enjoying the cruise with two neighbours of theirs from Ontario. After lunch we played Hand & Foot with D&J. There was no games room so we played in the Crown Grill restaurant. We were done in time for 4:30 trivia where Kyle, who was on our trivia team the previous January (Oceania Marina cruise to Easter Island), joined our team. Small world! And, we won. Marjorie, Joan and I did a "Where am I?" trivia at 5:15 and won a bottle of champagne. Don't know where Dave was. It was formal night in the dining room. I had a shrimp skewer, maybe left over from the previous night. We skipped the evening entertainment.

Day 4 (Jan 8) - Charlotte Amalia, St. Thomas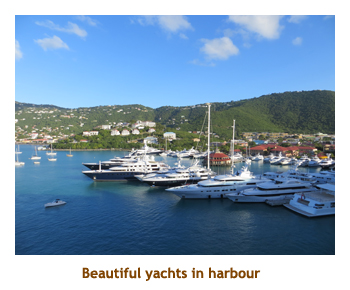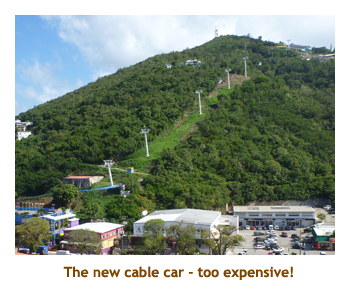 Today was a port day, but we had nothing planned. It would be a very busy port, too, as 22,000 passengers were expected from 6 or 7 ships. We had been to St. Thomas many times before (Chrissy & Matt got married there, remember?). So, we slept in until 7:30. It was another warm and sunny day. We had breakfast in the buffet and then wandered the ship for a while. We did the 10:00 trivia and then wandered out to the dock area. We walked through the shopping center to the base of the new cable car system. I had wanted to go up for the view, but then we saw the price - $39 US per person. That would have been almost $80 for a short gondola ride to take a couple of photos. Instead we went to a souvenir shop and bought a couple of t-shirts. We went back onto the ship for lunch. We read in the sunshine for a while and then went to afternoon trivia. For dinner I had scallops and shrimp in a cream sauce. Yummy! Afterwards we did the "Jeopardy Trivia". We didn't fare too well. No entertainment for us tonight.

Day 5 (Jan 9) - Philipsburg, St. Maarten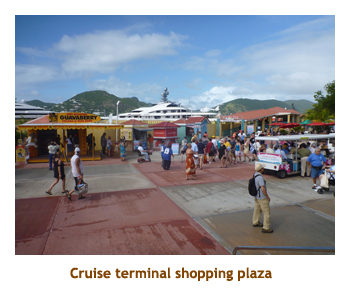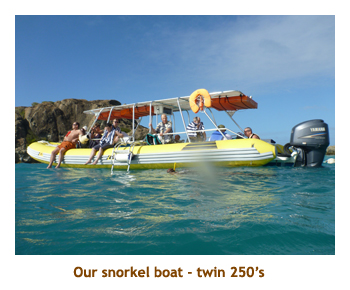 Back to another busy port! Today would see about 18,000 people from several ships. (Numbers from CruiseTT.com). This would be our 7th time to St. Maarten. We decided that we would do a snorkel trip this time, although we could only get an afternoon time. We were up at 7:30 and and had breakfast in the MDR. We played morning trivia and won by a lot (ie. more than one point)! We did lunch in the buffet and then headed off to our 1:00 snorkel tour. We traveled to the fishy spot (on the French side of the island) in a huge yellow zodiac, with twin Yamaha 250 outboards. We really zoomed! The 45 minute snorkel was so-so, typical Caribbean. I still enjoyed it though. Coming back one of the engines wouldn't start, so we limped to a nearby beach to wait for a replacement boat. We swam near the beach as one of the guides towed a floating bar around the group. We were back to the ship by 5:15 but we didn't delay the sailaway. For dinner I had the trio - lamb, chicked and pork. Very good. The entertainment was a comedian whom we quite liked.

Day 6, 7 (Jan 10, 11) - Two days at sea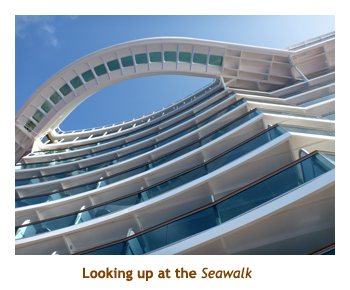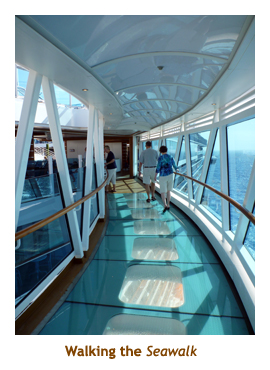 Jan 10: On our first sea day we were up at 7:00 to a sunny warm day. We had breakfast in the MDR and then played morning trivia - won. To celebrate I went up to the gym and rowed. We had lunch in the buffet and then went to a talk on the design of new ships, given by Princess' main design engineer. Very interesting. At afternoon trivia we ended in a 5 way tie for first. The breaker question was the "number of names in the Avatar film credits". We WAG'ed 675 (the highest guess) and the answer was 17,000 (or something like that). Woohoo! It was formal night in the MDR - I had shrimp and lobster. We skipped the main entertainment and watched a juggler in the atrium. Afterwards we did the "To Tell the Truth" game and really sucked! We set the clocks back an hour tonight.
Jan 11: Our second sea day was again warm and sunny. We ate in the MDR, then Marjorie went to a navigation lecture and I to trivia which we won, even without Marjorie. Then it was up to the gym to power the ship for a bit. Then, of course, lunch in the buffet. After lunch we played Shanghai rummy with D&J. At afternoon trivia we tied for first, but lost the tie breaker. Rats! For dinner I had roast turkey - always very good. Then we played "Smarter Than The Crew" game which was lots of fun. Finally we packed our bags, put them out into the hallway and went to bed.

Day 8 (Jan 12) - Disembarking and relocating to Miami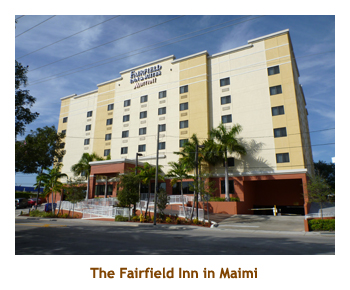 Time to leave the ship. We were up at 6:30 for an early breakfast then headed to the vista lounge to wait for our disembarkation call at 8:05. We were fortunate to run into both M&S and D&J so we were able to say goodbye to them. D&J were off to tour the Florida Keys and Fort Myers while M&S were heading back to Ontario. We didn't seem to get together with M&S too much, but this was probably because we were with D&J, and M&S were with their neighbours. We took the Princess shuttle to the Miami airport - about a 45 minute drive. From the airport we called the Fairfield Inn hotel and their shuttle took us to the hotel by about 11:00 AM. We walked to a nearby mall and had lunch at BK. Back at the hotel we used the internet and then did a walk to visit several nearby hotels (Marjorie likes to check them out). For dinner we walked to the neighbouring Marriott Hotel where I had butternut squash ravioli in a basalmic sauce. It was delicious! Back at our hotel we watched the Ozzie Open and then went to bed. For the continuation of our trip, please visit the Oceania Riviera trip diary.