---
Travel
Cruises
Past Cruises (Diaries)
Future Cruises
Rogues Galleries
Land Trips
Diaries (Land Trips)
Hawai'i - Big Island - 04'01
Hawai'i - Maui - 05'02
Hawai'i - Big Island - 04'03
Hawai'i - Kaua'i - 09'04
Hawai'i - Big Island - 04'06
Hawai'i - Maui - 04'06
Mainland China - 05'07
Phoenix, Arizona - 12'07
Greek Isles - 05'08
Hawai'i - Kaua'i - 09'08
Hawai'i - Big Island - 09'09
Hawai'i - Maui - 05'12
Hawai'i - Big Island - 04'13
Ireland - 08'13
Mexico - Cancun 11'13
France/Belgium/Lux 07'15
Hawai'i - Big Island - 05'17
England / Wales - 06'17

---
Photography
Cameras
Underwater
---
Pets
Tara
Blackie
Whitey
Muffy
Ollie
Rusty
Fluffy
Rufus&Dufus
---
Games
---
Rowing
---
Physics
---
Rating (out of 5): Ship

Food

Service

Itinerary

We had visited the Baltics in 2005 and 2007 on the Connie, so it was time that we revisited the area. Marjorie found a good deal on the Silhouette and the itinerary included Aarhus - a new port for us. The only potential drawback to this cruise was the time of year. Considering that some of the ports are above the 60th parallel (BC / Yukon border), then late August is really the beginning of autumn. As it turned out, we had a mix of warm and cold; and sun, cloud and rain.
The ship was very full. The double occupany capacity is 2,886 and there were 2,915 aboard. There were a few families, but it was mainly an adult crowd. One thing that surprised us was that there were no onboard lecturers. Instead they had a lecture channel on the in-room TV system which showed lectures that were taped from previous cruises. Other than that they had the usual short port talks on navigating the towns and shopping.
Usually when cruising Europe we book tours in each port. This time because we had been to these ports twice before, and partly to keep down costs, we decided to just "walk on our own" in Oslo, Stockholm, Copenhagen and Tallinn. Also, in Helsinki we planned to spend the day with our Finnish friends Henrik and Marjatta. We did book tours for Aarhus (new port to us), St. Petes (only way to get around) and Warnemunde (hadn't toured Warnemunde or Rostock before, always went further afield).
Having cruised for many years now one notices industry trends implemented on the ships. Here are a couple of examples:
Celebrity is caving to the informal crowd (that's us) to eliminate formal nights. They now have "evening chic" nights that seem just like the normal "smart casual" nights.
In order to provide the rich (Aqua Class, Suite class) passengers a more consistent experience, there is now a special restaurant for Aqua Class (Blu) and likewise for Suite Class (Luminae) so that they need not rub shoulders with us peons from below.
Lastly, our captain was a very humorous fellow. I will include some of his quotes throughout the diary.

Pre-cruise (Aug 18, 19) - Travelling to Amsterdam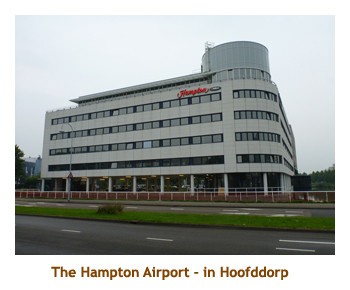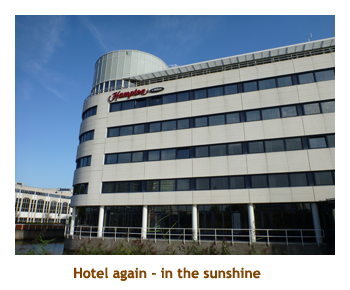 Our good friend Shirley picked us up at 1:00 PM in the afternoon. She got us to the airport by 1:30 and we started our adventure. Check-in went fairly quickly, then we had to go through security. Our 3:30 flight to Amsterdam (direct!) was ontime with a flight time of 8.5 hours. We landed at Schiphol airport in Amsterdam about 8:00 AM. We went through EU customs, grabbed our bags from the carousel and caught the hotel shuttle. We were staying at the Hampton Inn Airport in an area called Hoofddorp. The immediate area of the hotel was light commercial with mainly office buildings. We checked in at 9:00 AM and I was fearful that they wouldn't have any rooms available until the afternoon. However they had a room ready for us! We were really zonked from the long flight so immediately went to bed for a 4 hour nap. Old folks!!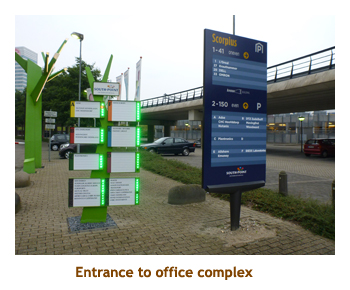 We arose just after 1:00 and inquired about grocery stores and restaurants. Pointed in the right direction, we walked for about a mile to a small town (Hoofddorp, I guess). The town had a business center with shops, restaurants and a large mall with a huge grocery store. We did our usual foray for Coke, crackers and chocolate bars. On the way back to the hotel we stopped for an early dinner at a sushi restaurant. It was an "all you can eat" sushi bar, but we were very disappointed with the quality of the food. We were back at the hotel by 4:30. It was cloudy, but warm and humid. (It rained heavily later during the night). We watched the Olympics on TV for as long as we could keep our eyes open. At 9:00 we did the sleeping pill trick and slept through the night pretty soundly.

Day 1 (Aug 20) - Boarding in Amsterdam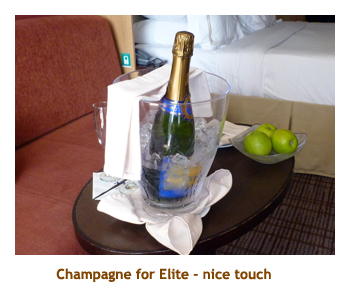 We were up at 7:00 to try the hotel breakfast. It was the typical American hotel fare - good but not exciting. We did a walk around the hotel site where it was still warm and humid. At 10:00 we checked out and caught the shuttle to the airport. We were there by 10:30 and walked to the baggage area to meet the Celebrity representative. Celebrity still has the archaic rule that you can only book their shuttle bus to the cruise dock if you fly in on the same day. So once again we had to give a "fake" flight schedule in order to qualify for the shuttle service. We boarded the shuttle and were at the cruise dock by 12:00 noon. Check-in was quick and we were soon back aboard the Celebrity Silhouette. We avoided lunch in the zoo ... er ... buffet as they had a special main dining room (MDR) lunch for Elite members. We finished lunch at 1:00 just as the cabins were announced open.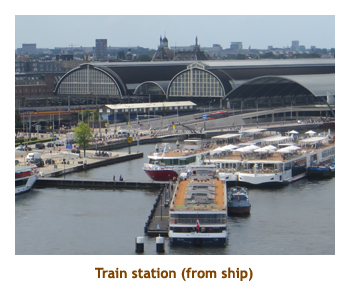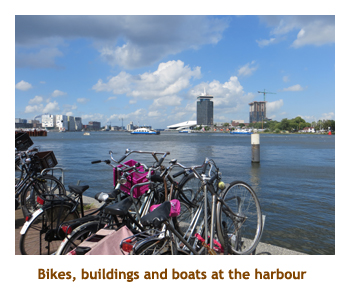 After lunch we popped into our cabin to drop off our carry-on bags. Our main luggage had not arrived to the room yet, so we set off ashore to scope out the dock area. Just a short distance from the ship was a huge train station that had a shopping mall inside. We headed inside the station and discovered a grocery store. We loaded up on Coke and chocolate milk to see us through the first week of the cruise. We arrived back aboard and entered our cabin just as our suitcases appeared. We unpacked our bags and then headed off for the 4:15 muster drill.
Captain's quote: "If we are evacuating the ship then I am responsible for the evacuation process. If I am incapacitated then the first officer will be responsible. If both of us are incapacitated, then the second officer will be responsible. If all three of us are incapacitated, then it's every man for himself!"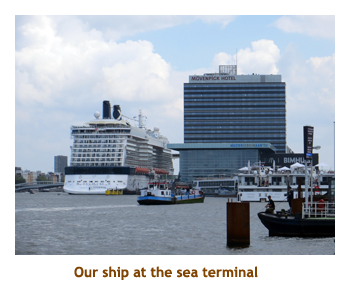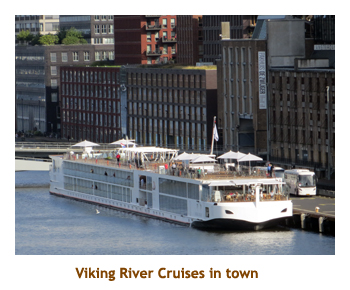 The sail-away was at 5:00 PM. We left the dock pretty much on time and headed out into the harbour. There was a shallow lock that we had to go through to get to the main channel. I hadn't noticed it when we were here on the Prinsendam some years ago. The harbour took us past some rural areas which were really lovely. Then it was dinner time (6:00 PM). We had booked "early fixed dining" (select dining was sold out) and a table for 6 or 8. However we were taken to a table for 4 with no other occupants. Not everyone makes it to the MDR on the first night so we asked the Maitre'd if anyone else was assigned to the table and he said no! So, after eating, we asked to be changed to another (populated) table for the rest of the cruise. Done! For dinner I had prime rib which was very good. Afterwards we saw a "mentalist" who did some mind tricks. He was OK. Then it was time for bed with a sleeping pill.

Day 2 (Aug 21) - A day at sea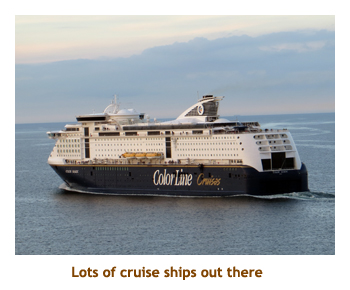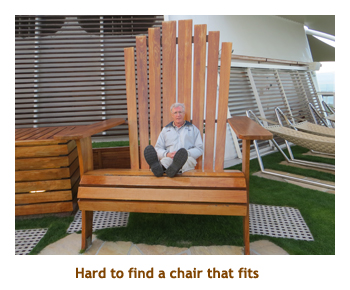 We awoke at 7:00 to a cloudy cool day. It is a long way from Amsterdam to Oslo (our first port of call), so today was a sea day. We had breakfast in the Elite lounge (Tuscan Grille) to try it out. It only had cold stuff - sliced meats, buns, muffins, fruit and cheese. But those smoothies! Our most common procedure for the rest of the cruise was breakfast in the buffet and then a smoothy in the Elite lounge. Afterwards we read for a while and explored the ship. At 11:00 we attended a port lecture that was a quick summary of all of the upcoming ports. We had lunch in the MDR (only available on sea days). We walked a bit around the upper deck, but it was cold and windy. At 2:00 there was a Cruise Critic Meet & Mingle event to meet all our fellow CC cruisers. Somehow we missed hooking up with the couple (Kathy and Hugh) that we had joined online for a St. Petersburg tour. I phoned them after the meeting and we agreed to have a quick meeting in the library. So we met our tour mates and dicussed logistics for the tour. Trivia was at 4:00 and we joined some other folks (Dan and Tammy) for a cruise-long partnership. At dinner we were sat at a new table for 6 with 4 others whom we enjoyed for the rest of the cruise (Kathy and Bart, Marilyn and Barbara). We got along very well and had some wonderful dinners together. For dinner tonight I had leg of lamb. We skipped the entertainment and instead went to bed early. Still trying to adapt to the time change!

Note: Celebrity has taken the lead in getting rid of formal night. They have replaced it with "Evening Chic" which really is no different than regular "Smart Casual". Jackets and ties are suggested, but optional! Some people still dressed up, but most seemed to wear their regular stuff. About time!

Day 3 (Aug 22) - A return to Oslo, Norway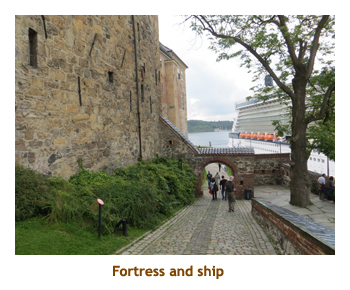 I was awake a lot through the night and finally got up at 9:00 AM ! We were docked in Oslo where we had visited once before in 2005. Once again we were tied up alongside the Akershus fortress. We didn't have anything formal booked for the day, and had planned an easy day of visiting the fortress and the royal palace - each easily walkable from the ship and not visited on our 2005 trip. We decided to do the fortress in the morning and so crossed the street from the ship and spent the morning meandering through the fortress grounds. The fortress consists of various buildings and walls from different eras. Building commenced in 1299 under king Hakon V. The medieval castle, which was completed in the 1300s, had a strategical location at the very end of the headland, and withstood a number of sieges throughout the ages. King Christian IV (1588-1648) had the castle modernised and converted into a Renaissance castle and royal residence. Today it is a museum. On our way back to the ship we walked by a three masted schooner (the Amerigo Vespucci) which was an Italian naval training ship. The sailors (men and women) were all dressed in their black tunics and white caps. Very smart!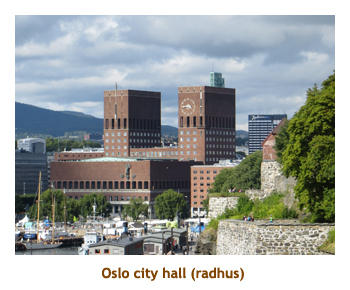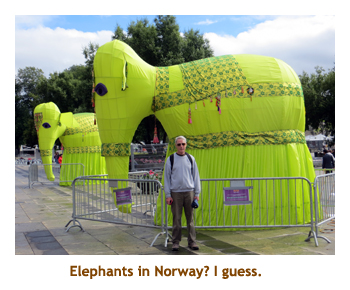 We were back on the ship for lunch in the buffet. After lunch we headed out for the royal palace by way of the radhus (city hall). It rained lightly on our way over, but stopped by the time we reached the city hall. On the big city hall square, they were either setting up or taking down for an outdoor concert. There were some huge caricatures of elephants but I have no idea why. We didn't go inside the city hall (been there done that) so just continued on a couple of blocks to the palace grounds. The Royal Palace was built in the first half of the 19th century as the Norwegian residence of the French-born King Charles III of Norway, who reigned as king of Norway and Sweden. The palace is the official residence of the present Norwegian monarch. The palace has 173 rooms. We walked around the palace gardens, but didn't go inside. At one side of the palace we encountered a group of helmeted soldiers participating in the changing of the guard. We walked back to the ship and were aboard by 3:00. Trivia and sail-away were at 4:00. For dinner I had seafood rissoto. We walked around the decks for a while and then read for a bit. Bedtime.


Day 4 (Aug 23) - First time to Aarhus, Denmark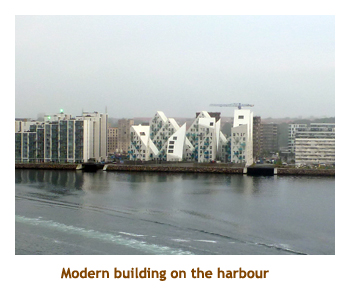 We were up at 7:30 to watch us dock at Aarhus - a new destination for us. Aarhus is the second largest city in Denmark and is on the mainland province of Jutland. As we sailed into the harbour we were met with some lovely modern buildings on shore. We had breakfast in the buffet and then headed off for our 9:15 bus tour. We drove through the main part of the city and then did a stop at the old town and, specifically, the cathedral of St. Clemens.We toured through the cathedral and then were given an hour to wander through the old town area. We passed a Starbucks that had a lineup out the door and down the street. It turned out that they were introducing a new product and were giving out free samples. At the designated time, we reboarded the bus and set off for our next destination.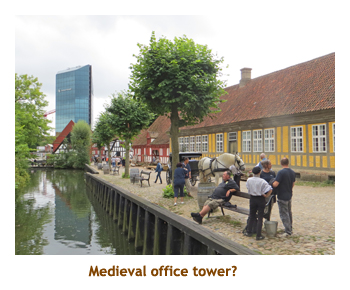 It was about 11:00 when we arrived at Den Gamel By (the old town museum). It was a reconstructed medieval village complete with many (75) buildings, streets and even volunteers in period costume demonstrating everyday life. It was really a wonderful exhibit. It reminded me of Heritage Park in Calgary. We did a short lecture about the village and then were given an hour to wander through the village on our own. Every building seemed to be housing something interesting with people to demo or explain it all. Our hour only allowed us enough time to wander around the grounds without entering many of the buildings. The park is really meant for spending the day there! Our time was up and we were bused back to the ship (by 12:30). We had lunch in the buffet, read for a while and then I headed to the gym. As we were still in port, the gym was empty. We did well at afternoon trivia, tying for first. For dinner I had lamb wrapped in Phyllo. It was excellent. The entertainment was a magician, but we skipped him to walk around the upper decks. We still were bothered by the time change, so headed off to bed. We were losing an hour too, as we put the clocks forward an hour tonight.

Day 5 (Aug 24) - A second day at sea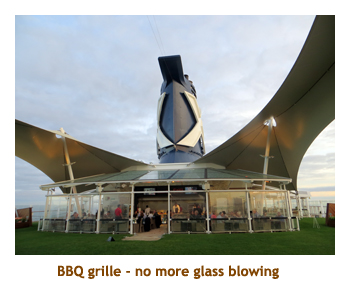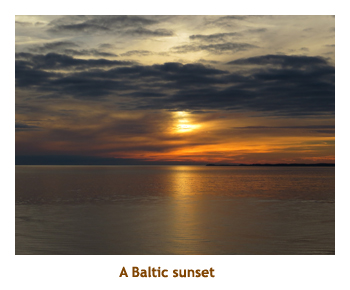 We woke up today about 7:30 to heavy fog. It was a sea day so that was fine. The ship's horn was being given a good workout. We had breakfast in the buffet and then read for a while. The fog cleared away and the sun came out. I went to the gym and, being a sea day, it was very busy. We did lunch in the buffet. After lunch we took our books out to the promenade deck and read for a while sitting in the sunshine. We really missed attending the glass blowing sessions that were on the sister ships (Solstice, Equinox and Eclipse) by the grassy lawn area. It's now an extra cost BBQ joint. Trivia was at 4:15. It was an evening chic night again, with the same mix of fashion choices. For dinner I had chateau briand which was very good. We wandered around the ship for a while and then headed to bed.

Captain's Quote: (Morning report while sailing in the fog.) "It is very foggy out and I don't have a clue where we are. We are currently doing 18 knots, so we are going very fast towards someplace we can't see."

Day 6 (Aug 25) - Our favorite, Tallinn, Estonia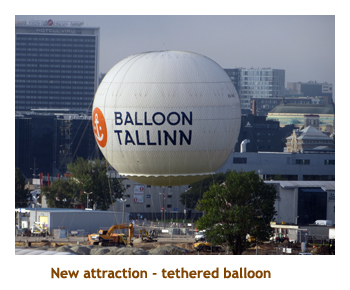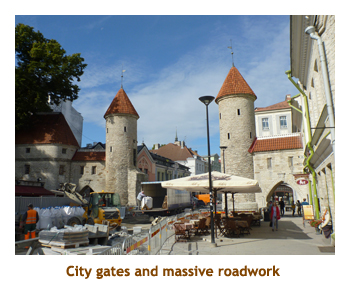 We were up at 7:30 to watch us dock at Tallinn, one of our favorite cities. We didn't have any tour booked and planned to just walk around on our own. We had a leisurely breakfast in the buffet and then dawdled a bit on the ship. We finally left to catch the 10:00 AM shuttle bus to the town center. We walked several blocks to the old town and then spent the morning trekking around the town. It was lovely and sunny, so great for photos. There was a lot of roadwork being done at the old town entrance. We stopped at a tourist info place to ask directions to a grocery store and there was a large one just across the street from the shuttle bus pickup spot. How convenient! We bought some more Coke and some chocolate bars. We were back to the ship by 1:30 for a late lunch in the buffet, where it was very quiet. We read for a while and then headed up to the 3:30 music trivia (which we never played). We were a bit late, but sat through the answers and we would have done quite well. We stayed for the 4:00 regular trivia and again tied for the win. For dinner I had braised short ribs which were excellent. We also brought our complimentary bottle of champagne to share with our table mates. We skipped the entertainment and wandered the decks.


Day 7 (Aug 26) - St. Petersburg, day 1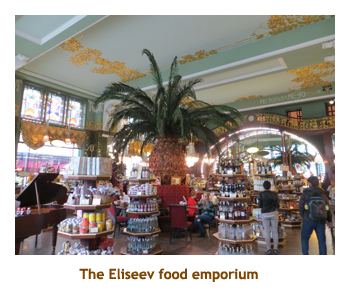 Today we would be all day in St. Petersburg - our third time there. We had done all of the "first timers" things like the Hermitage, the Catherine Palace, Peterhof, etc and luckily found a couple online who had also done all the big things. So we had put together a full day of touring that would take us to new places. Russia is the only country where you have to go through customs as you come and go, and they are sloooow. The booths are set up right in the cruise terminal building. In order to miss the lineups of passengers leaving right at 7:30 AM, we made our tour later, starting at 10:00. We had a leisurely breakfast in the buffet as the huge lines below were being processed by lovely smiling Russian agents (yeah, right!). Looking down from the promenade deck, the lineup stretched out the door and down the dock. We met our tourmates in the ship's library just before 10:00 and the four of us headed off the ship. There were only short lineups at the customs booths, so we were through very quickly. Our tour guide arrived shortly after in a small van and we headed out. It was a cloudy, gloomy morning, not great for photos.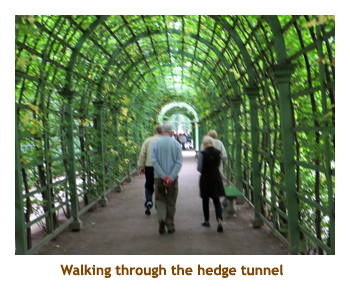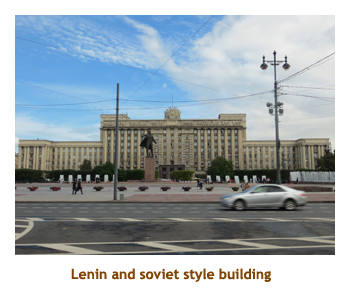 Our first stop was at the huge Kazan cathedral. modelled after St. Peters in Rome. We had been there before, so didn't take many pictures. Then we walked across the street to the Eliseev food emporium - a famous "deli". Lots of cakes, sweets and caviar. It was fun to browse through it. The store was done in an art deco style. Then we bused a short distance to the Summer Garden. We were expecting a flower garden, but it was really a huge green space - mostly filled with high hedges and trees. At the intersection of many of the criss-crossing paths were wonderful fountains. We walked from one end of the garden to the other (about 3 city blocks) and then back again. It would be a lovely cool place on one of those rare St. Petes hot days. At one point we encountered a wedding group with bright umbrellas. Our last stop for the morning was at a Georgian restaurant. The menu was pre-planned. The soup course and main course were similar (and spicy). The best part was the nan bread with melted cheese, and the ice cream for dessert.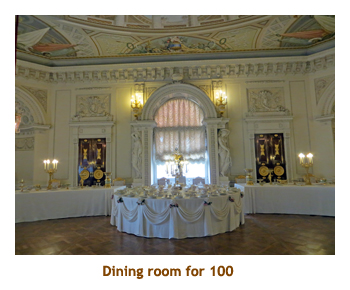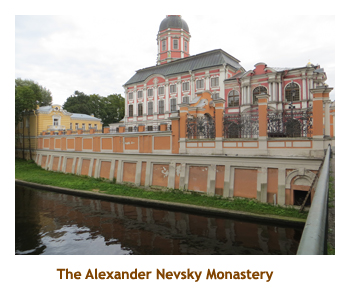 After lunch we reboarded the van and did the hour drive our to Pavlovsk. We stopped briefly at Tsarskoe Selo (Catherine's Palace) to pick up our Pavlovsk tickets. The palace was built by Catherine the Great starting in 1780. It is much smaller than Catherine's Palace and Peterhof. We walked through the rooms of the palace while the guide provided the history. It was very interesting. With the huge lineups and waiting times at nearby Catherine's Palace, this is a much quieter alternative although not as sumptuous. We then did the hour long return trip to our final stop - the Alexander Nevsky monestary. This is a beautiful orthodox church (called the Holy Trinity Cathedral) containing the remains of Nevsky. Right next door is the Tikhvin cemetery where the famous russian composers are buried (saw them last time). Finally we drove back to the ship, stopping at the tour office to pay for our outing. At the dock we had to go through Russian customs again. Another smiley agent! We were on the ship by 7:00 and headed up to the buffet for dinner. Afterwards we settled in the theatre for a russian folkloric show by the "St. Petersburg Super Stars". The singing and dancing was wonderful. A great way to end the day!


Day 8 (Aug 27) - St. Petersburg, day 2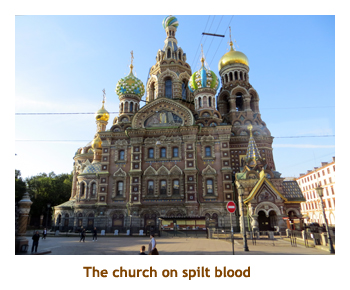 For our second day in St Petes, we booked a ship's half-day tour. We were up at 6:30 and had breakfast in the buffet in order to make our 7:15 tour. I guess most people did a tour yesterday, as the lineups for Russian customs wasn't too bad. They still weren't smiling! It was a beautiful sunny day, making up for yesterday's cloud and rain. Meeting our tour on the dock, we climbed in the bus and did a panaramic drive to a boat launch site. St Petes is interlaced with canals and is called "the Venice of the north". We had done the canal cruise before and really enjoyed it so we were looking forward to it. It was a wonderful cruise through the canals and the open river (Neva River) and we could see many of the famous buildings from the water. We went as far as the site of the revolutionary ship "Aurora" where we turned back and returned to the starting location. Then we climbed back into the bus to continue the rest of our tour.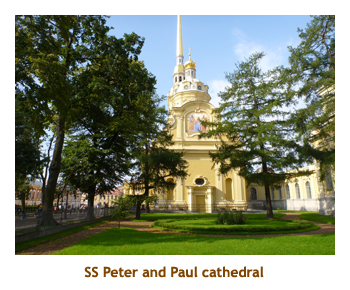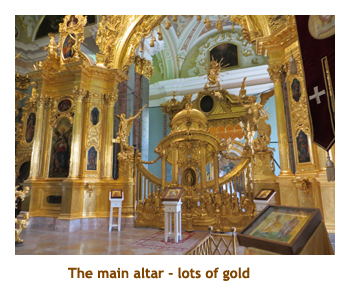 After the canal cruise, we drove to the Peter and Paul island fortress. Our destination was the SS Peter and Paul cathedral where most of the tsars since Peter the Great are buried. Once again we had been here before, but it was worth a revisit. Inside the beautiful cathedral were the tombs of many Romanov dynasty tsars, including the family of tsar Nicholas II - the last tsar. Then it was back to the ship, arriving about 12:00 noon. We had lunch in the buffet and then relaxed for the afternoon. At trivia there was a very small turnout. I joined another team of 2 and we came second. Not bad! For dinner I had roast turkey. We were supposed to sail from St Petes about 6:00 PM, but there was an anouncement during dinner that due to forecast high winds, we would not be able to leave the dock safely until 9:00 the next morning. So, Helsinki was cancelled. We had Henrik and Marjatta awaiting to pick us up so had to message via facebook that we wouldn't be coming. It was very disappointing not to be seeing our good friends! So, we were overnighting in St. Petes.


Day 9 (Aug 28) - Helsinki becomes sea day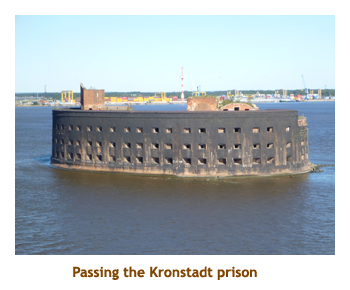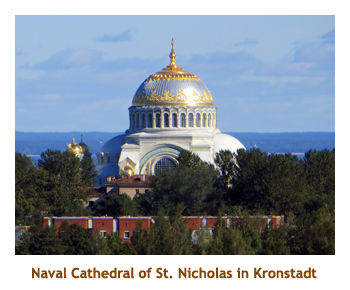 We were up at 8:00 and had breakfast in the buffet. It was a beautiful day so we watched our sail away from the upper deck. It was interesting passing Kronstadt Island, with Soviet fortifications and residential areas. There were a submarine and various warships, as well as a beautiful gold trimmed naval cathedral. Then it was out into the Baltic Ocean as we headed towards Stockholm. We read for a while and then had lunch in the buffet. We read and wandered for the afternoon. Trivia was at 4:00 and was very busy. For dinner I had prime rib. The clocks went back an hour tonight.

Captain's Quote: (Comparing the safety of our earlier foggy day to last night's windy weather.) "Sailing in the fog is called 'blind navigation' and, with radar, is smart navigation by a good captain. Sailing in a high wind is called stupid navigation and with a different captain."

Day 10 (Aug 29) - A rainy day in Stockholm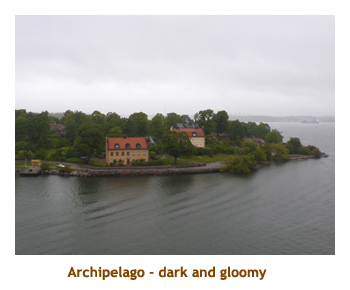 We were up at 7:00 to watch us sail through the Stockholm archipelago to Stockholm harbour. The archipelago runs for about 50 miles and consists of tens of thousands of islands of all shapes and sizes - some inhabited and some not. We had done 2 passages each way in the past with beautiful blue skies. This time it was cloudy, cold and rainy. It wasn't so bad for us having wonderful photos and memories from those past sunlit transits. However we felt sorry for those "first time" passengers who hadn't seen it before. We had done the Stockholm tourist things on past visits so this time we were just on our own. We had breakfast in the buffet and then, after we had docked about 8:00, we grabbed our unbrellas and headed off the ship to walk the two miles to Gamla Stan (Old Town). The rain was intermittent and didn't really bother us. We were at the Royal Palace just in time to catch the changing of the guard, although with all the tourists and unbrellas it was difficult to see.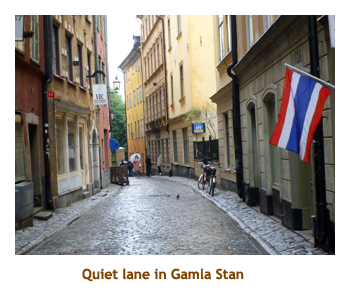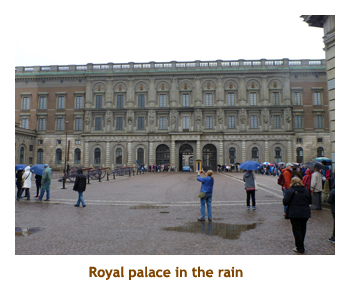 The military band played some march music and then switched to a medly of popular songs. I soon realized there was a theme - "Raindrops Keep falling on my Head", "Singing in the Rain", "Rainy Days and Mondays" (and it was Monday!), etc. We enjoyed walking through Gamla Stan again, even though it was a long walk to get there. We visited the Storkyrkan (Stockholm's 700 year old cathedral) and the Tyska Kyrkan (German church). Both were beautiful cathedrals. We finished our walk through the old town and did the 2 miles back to the ship. There was a lot of roadwork going on along the way as we had noticed in so many of our other ports. It rained a bit on the way back. We arrived at the ship about 1:30, in time for a late lunch in the buffet. We read for a while and then headed to 4:00 trivia. Once again there weren't many people there. For dinner I had beef brochettes. They were very good. We skipped the entertainment and headed to bed.


Day 11 (Aug 30) - A fourth day at sea
We were up at 7:30 for this sea day.The weather was quite nice allowing us to read on the promendade deck. We had a leisurely breakfast in the buffet and then invaded the Elite lounge for one of their excellent smoothies. Uncharacteristically, we did the 9:30 morning trivia then read for a while. We attended a future cruise presentation at 12:00. There were some new ports and itineraries, but no new ships. Right after the lecture we did lunch in the buffet. Then we sat out on the promenade deck and read for a while. The next event was 4:00 trivia. Tonight was the final evening chic night. For dinner I had lobster tails. The entertainment was very good with Mark Donaghue playing several instruments plus singing. Very good!

Captain's Quote: "The captain and his officers have to wear slip-proof shoes so that during an evacuation they do not slip on the deck and tumble into a lifeboat full of the ship's officers!" (With apologies to one Captain Francesco Schettino).

Day 12 (Aug 31) - A sunny day in Warnemunde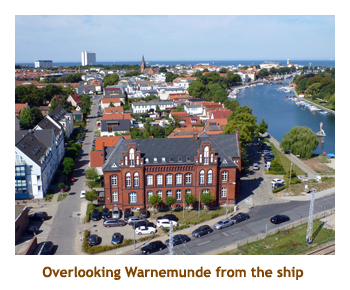 We woke up at 6:30 to a glorious sunny day. We were in Warnemunde, gateway to Berlin. Most of the passengers were booked for the train to Berlin where several different tours were offered. We had done the Berlin thing on a previous cruise and decided that the 3 hour train ride (each way) and the 7 hour city tour made for too long of a day for us (13 hours in total). Marjorie popped up to the upper deck to get a photo of the train leaving for Berlin. That sure emptied the ship! We had breakfast in the buffet and then did the Elite lounge for a smoothy. At 8:45 the bus was waiting to take us around the immediate area. We drove through the countryside filled with vacation homes and estates. Our first stop was in the village of Bad Doberan at the cathedral - the Doberan Minster - dating back to the 13th century. The minster was a beautiful church in a lovely park-like setting in the country. We toured through the church and then were given some time to explore the gardens and the nearby village. Marjorie bought a CD of organ music from the minster for 7 euros.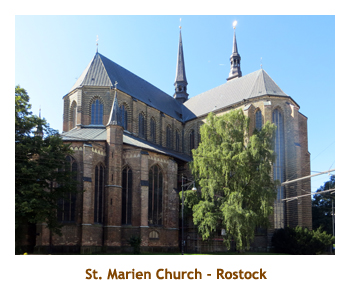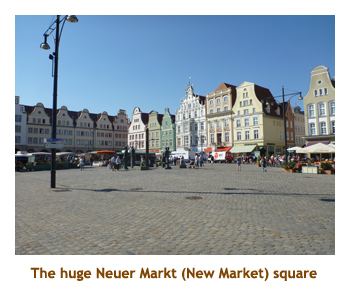 We reboarded the bus and drove through more countryside to the major port city of Rostock. Rostock used to be an industrial town, mainly to do with ship building. Now it is less industrial and certainly more dependent on the tourist trade. We did a tour past the major sights and then stopped at the "New Market" square for a walk about. We first visited the Marienkirche cathedral, built in 1230 AD. Another great church! Then we crossed the street to the town square. Finally we were given some time to wander around the old town and check out the architecture and fountains. Then it was time to drive about 30 minutes back to Warnemunde and the ship. We got to the ship about 12:30. We had a quick lunch at the buffet and then headed off to explore Warnemunde wich was literally across the street from the ship. We first walked south to the new commercial area and found a Rewe grocery store. We loaded up on Coke, beer, wine, tucs crackers and chocolate bars which we carried back to the ship.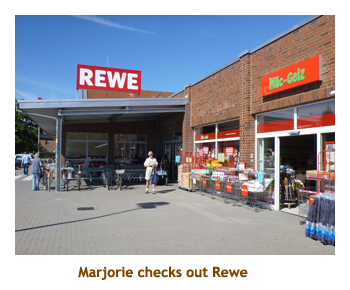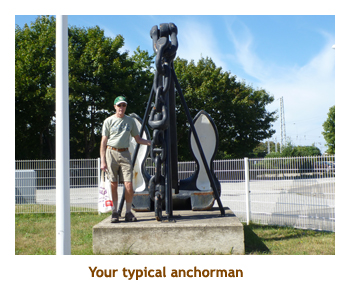 It was only 2:00 so Marjorie headed off the ship again to explore the northen end of Warnemunde where the old town was. It was really hot out by this time so I stayed on the ship. I sat on our balcony watching the huge variety of ships going into and out of Rostock harbour. Most of the larger ships were car ferries (of various lines). While Marjorie explored Warnemunde, I attended 4:00 trivia where I teamed up with another couple. The ship and trivia were nearly empty! It was a very difficult trivia and we scored 5 out of 20. We were surprised to tie for the win! Marjorie returned from her escapades and we got ready for dinner. Because most passengers were still on their way back from Berlin (including our regular dinner mates), we decided to do the special German extravaganza in the buffet. There was quite an array of German food and we were serenaded by two organ grinders and accordian. Very German!! After dinner we hung on the promenade deck watching the swarm of passengers debarking the train and queing up to reboard the ship. Hope they all had a good tour.


Day 13 (Sep 1) - Copenhagen, our final port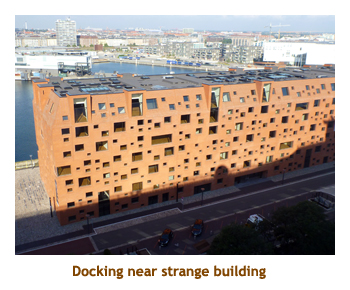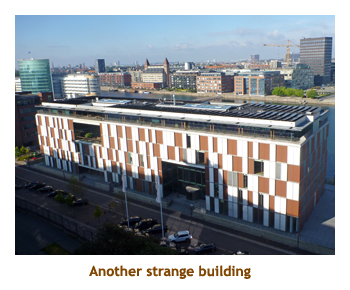 We were up at 6:30 to watch our ship sail into Copenhagen. It was a warm day with a mix of overcast and sunshine. We saw lots of familiar buildings as we siddled up to Langelinie Pier. Like some of the other ports we had been here twice before, so were content to grab the shuttle bus to town and wander on our own for the day. We had leisurely breakfast in the buffet followed by a smoothy in the Elite lounge. About 10:00 we headed off the ship and caught the shuttle bus into town. The bus dropped us off at King's New Square (Kongens Nytorv). We were surprised to see the beautiful square was baracaded off and under construction. It turns out that Copenhagen is expanding their underground metro system. What a mess! We walked a few blocks to King's Garden. This is a huge green space with lawns, trees and gardens. There were quite a few people in the park. Several large groups seemed to be part of a summer camp of some sort.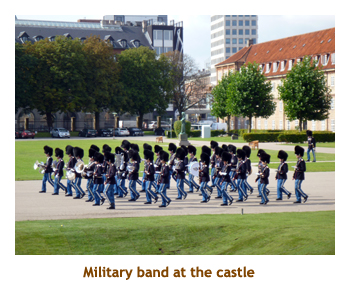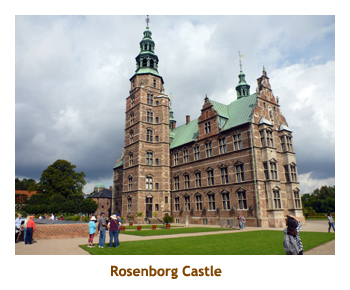 Right next door to the King's Garden was Rosenborg Castle. We had been to the site of the castle on an earlier trip but we had to hurry because it was late in the day. This time we had all day! The castle was built by Christian IV in the early 1600's. By the 1700's it was no longer a residence but rather the storage (and display) place for the king's treasures. We debated doing a guided tour of the castle, but in the end decided not to go inside the castle and just walked around the grounds instead. In the neighbouring military academy grounds a military band was doing its thing, marching in the sunshine. We watched them until they disappeared from view. Then we wandered through the gardens some more. From the castle we walked several blocks to a pedestrian mall looking for the Copenhagen porcelain museum. We found the museum and wandered through the main floor area. Lots of interesting china patterns! We found a bench on the mall and sat there and had our Coke and muffins from our backpack.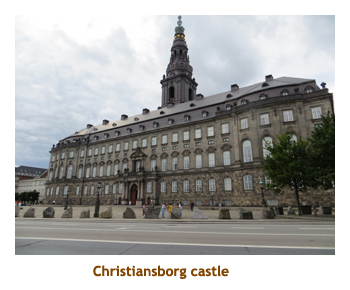 Continuing our walk, we passed by Christianborg Castle (now the parliament building) and the old stock exchange building. Finally we turned down a main street and surprisingly ended up at the shuttle bus. We had done a large loop and had just returned to our starting point. We were back to the ship by 1:00. We had lunch in the buffet. It was such a nice afternoon that we headed off the ship again and walked to the "little mermaid" statue not far from the ship. There were loads of tourists there. Then we walked back via the Geflon fountain, St. Alban's church and the Kastellet fortress. We were aboard again and in time for 4:00 trivia. For dinner I had red snapper. We walked the decks for a while and then turned in.

Captain's Quote: As we were leaving the dock, "We're all aboard and ready to leave as soon as I find the keys to the ship."




Day 14 (Sep 2) - A fifth day at sea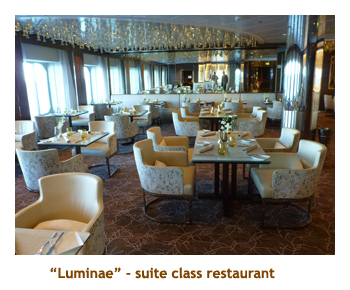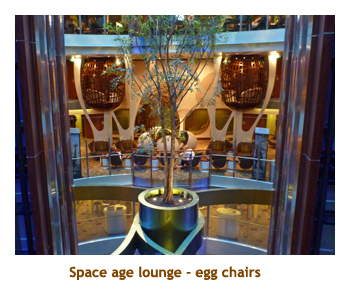 Today was a sea day and the final day of the cruise. It was going to be cool and blustery, but we were warm indoors. We were up at 7:00 and had breakfast in the buffet followed by a smoothy in the Elite lounge. At 10:30 we went to a lecture by the captain titled "secrets of ship's navigation". It was very interesting and the captain, as usual, was very humorous. We had lunch in the main dining room. Nice to meet some more people! After lunch we got out our suitcases and started to pack. Then we did a final tour of the ship. At 4:00 we did our final trivia - can't remember how we fared. We really enjoyed our trivia sessions with Tammy and Dan. For dinner I had shrimp risotto. Back at the cabin, we finished our packing and put our bags out in the hallway. After a final walk of the upper deck, we went to bed.

Captain's Quote: "Thanks to our GPS we know our latitude and longitude. But none of us know what that means!"

Day 15 (Sep 3) - Amsterdam and Home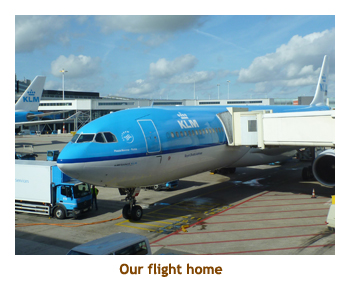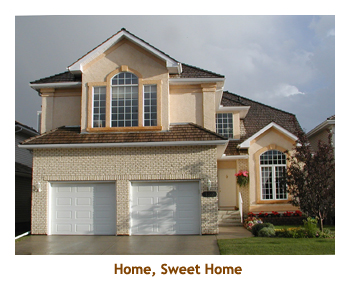 We were up early just after 6:30 and had breakfast with the mobs in the buffet. We had a "get off the boat" time of 8:30. We lounged in our room until the 8:00 check-out time and then went to the gangway area to wait for departure. When we left the ship and entered the terminal building there was no luggage zoo! Our bags were being delivered to the airport by a separate truck. So, we boarded the shuttle bus and headed off to the airport. We were at Schiphol about 9:00 and were let off near an entrance, where they were unloading our bags. The bags came in several trucks. Even though we were in the second earliest bus (of several), our bags came on the last truck! So, all this procedural change had done was move the luggage zoo from the cruise terminal to the airport! It was 10:00 by the time we had our bags. We went directly to KLM check-in and joined a huge line there. Then it was another slow moving line through security where they seemed to be hand checking half the bags. Finally it was another lineup through EU exit customs. By now it was 12:30 - 2.5 hours to get through the lineups!! We found a restaurant for some lunch. Our flight was at 3:30 so we didn't have long to wait until boarding time. Once aboard, we sat for a long time and then the captain announced that someone hadn't shown up to board so they had to find his luggage and unload it. So, we were 1 hour late taking off on our 8.5 hour direct flight to Calgary. We landed in Calgary around 5:30 and Ian & Shirley were there to pick us up. They must think of us as the "late" John & Marjorie. We were home soon after and the kitties were all well and happy to see us. Another great cruise.