Rating (out of 5): Ship

Food

Service

Itinerary

We had done the Baltic cruise before (in 2005) and felt we had not done any of the ports justice with only a day or two to visit. Therefore, we couldn't wait to get back to see some more of the port cities. We chose this specific cruise because it did a couple of ports that we hadn't been to before, and it also tied into an interesting trans-Atlantic cruise on the Grand Princess. However, we ended up cancelling the TA portion as Marjorie couldn't get the time off of work.

Pre-cruise (Thur/Fri, Aug 16/17) - Travelling to Dover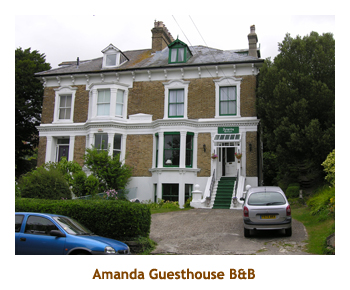 On our previous trip, we had decided to do 2 nights in Dover to give us a day to see around Dover. This time we booked only a single night in Dover, as Marjorie couldn't afford more vacation days. Our flight over was long, but smooth and on time. We flew in a brand new 777 which had plenty of legroom. It was 3 - 3 - 3 across, and so had a double aisle. That's great for doing laps to loosen up the legs after hours of sitting. After landing in Heathrow, we got tickets for the National Express bus, passing through Victoria Station to Dover. We managed to shorten our connect time at Victoria Station by squeezing onto an earlier Dover bus.

The B&B wasn't the greatest. The room was very small with two twin beds. There was a shared toilet and tub for three rooms, but the sink was in the bedroom. Weird! We spent the afternoon wandering around Dover and had dinner at "La Scala", an Italian restaurant. It was very nice. We went to bed early because we were pooped from the long j

ourney (10 hours) and the time zone change (7 hours).

Day 1 (Sat, Aug 18) - Boarding in Dover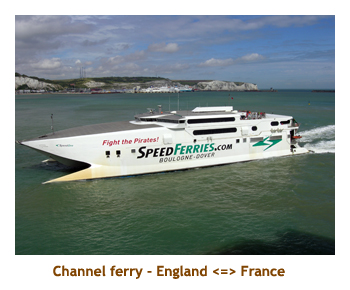 Because of the time zone change, we both woke up very early. We had breakfast about 7 AM and ordered a taxi pickup for 11 AM. Then we headed out for a walk around town. We returned the the B&B just after 9:30 as checkout was supposed to be 9:45. However, they had already evicted us from our room and put our luggage in the hall. So much for coming back early. We sat in the "lounge" for an hour waiting for the taxi.
We got to the ship around 11:30 and already there were lots of people boarding. The published boarding time was 2 PM, but we always find that you can get on much earlier. It was great to be back on the Connie. The stewards had not completed the rooms yet. We snuck into our cabin to drop off our carry-on, and headed up to the Seaside Cafe for lunch. We spent the afternoon checking out the ship. At dinner, we met most of our dinner mates. It was a table for 10. The first couple we met were from Toronto. Then another couple and their 17 year old daughter joined us. They were from Calgary! Their older daughter Erin (not with them) was in the same grade at Scarlett as Christina (not with us), so they knew each other. What a small world! The other 3 seats at the table remained empty for the evening. We skipped the entertainment for the evening and went to bed early.

Day 2/3 (Sun, Mon, Aug 19/20) - Two Days At Sea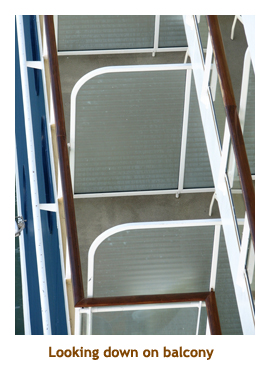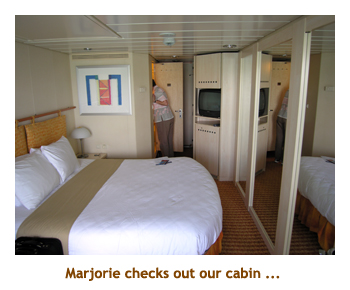 Our first port would be Tallinn, a long way from Dover. Hence, we had two full days at sea to relax and plan our port visits. We had a mix of weather, some sun, some cloud and a bit of rain. We were lucky with our cabin selection and happened to nab one of the 16 "deep balcony" cabins at the front of deck 6 (the Penthouse Deck). As you can see from the photo, the balconies jut out and are twice as deep as the regular balconies. The balcony furniture consists of two chairs and a table, but apparently you can ask your steward for a lounge chair. We didn't bother as we weren't expecting sunbathing weather on the cruise.
We passed under the Storebaelt Bridge sometime during the night. I'm glad that we had a chance to see it in the daylight on the previous cruise. Sunday (our second day) was formal night. - a chance to dress up (whoopie!). Our missing dinner mates showed up. They were a couple from a small town near Dover. Bill was to celebrate his 80th birthday later on the cruise. We all got along very well and had some wonderful dinners together. Mac and Lamoine (Toronto) had booked Ocean Liners for an anniversary dinner, but cancelled the reservation because they enjoyed our table company so much!
We attended a port talk one afternoon by a fellow who knew the ports inside out. He was very interesting. He split up his talks over 4 days (sprinkled throughout the cruise), and we attended 3 of them. Lindsay Hamilton was one of the evening entertainers, but we skipped her for extra sleep as we had seen her before. The next night featured a juggler who was very good. No way I was going to miss that show!

Day 4 (Tue, Aug 21) - Tallinn, Estonia
We arrived in Tallinn at 12 noon. That gave me time to do a workout in the gym. The weather was quite warm - blue sky with puffy white clouds. Great for photos, and I got to wear my shorts and t-shirt. Because we had done an organized tour the previous time here, we felt comfortable walking on our own this time. We rode the shuttle back and forth to the town center, and spent about 4 hours walking around the old city. I didn't realize how little of it we had actually seen the previous time. We visited several churches. One of them, St. Olaf's, had a huge bell tower that you could climb up. I did so (Marj stayed at the bottom to take my picture). At the top was a narrow walkway around the edge of the bell tower roof. Kind of scary! What a great view though. We also passed by the Alexander Nevsky Cathedral a couple of times. The outside was sparkling clean and the deep blue sky behind made it impossible not to take a bunch of photos each time. I really enjoyed our walk through the old city streets.
We did a bit of shopping while in town. We stopped at a liquor store to buy some "Tallinn Creme" liqueur (which we were later to have confiscated at the airport - boohoo). Then we stopped at a marzipan "museum" and Marj bought a bar of chocolate covered marzipan. After that it was back to the ship to get ready for dinner. After a nice time with our dinner mates, we walked the ship a bit and then turned in. The entertainment was song and dance with the Celebrity singers and dancers. Not our cup of tea as it is far too loud. Don't know why they do that.

Day 5 (Wed, Aug 22) - St.Petersburg, Russia (Day 1)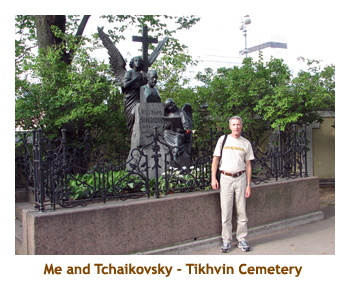 For our second visit to St. Petersburg, we signed up (with Red October) to see some things that we hadn't seen on the previous trip. Because we weren't doing any of the "first timer" sights, we couldn't get any other passengers to join us, so it was just Marjorie, me, Natasha (the guide) and Leonid (the driver). Natasha was the same guide that we had in 2005. We were off to an early start and headed out to Peterhof. We had lots of time to get there by opening time, so did an extra circuitious trip through the city to view some sights. We stopped at the Church on Spilt Blood for a quick photo stop. We arrived at Peterhof just as it was opening. Unfortunately it was very dull and cloudy, not like the sunshine we had on our previous trip. This turned out to be a national holiday - called "National Flag Day". There were quite a number of navy cadets on site and the main fountains were turned off for the festivities (fireworks and a huge sculpture of balloons). I'm glad that we got lots of fountain pictures from before. Last time we had visited the Monplaisir palace, so this time we did the main palace. It was very interesting.
After seeing the palace, we headed out to the north west section of the gardens (hadn't done this section before) and wandered the paths past many fountains and a large lake (Marly Palace). We had lunch at a small sidewalk cafe just outside of the entrance gates. After lunch we headed further west to the grounds of Oranienbaum. We toured the Chinese Palace, which was completely shrouded on the outside for restoration work. The inside was beautiful, but the rooms had not yet been restored. On the way back to St P, we stopped at the beautiful SS Peter and Paul Cathedral (near Peterhof) for a photo op. Then we headed for the Alexander Nevsky Monestary and the Tikhvin Cemetery. There we found the graves of Tchaikovsky, Glinka, Rimsky-Korsakoff, Glazunov, Cui, Rubenstein, Arensky, Borodin, Mussorgsky plus many writers, poets, actors etc. Marj took my photo with Tchaikovsky. Back on the ship, due to many passengers doing evening excursions, dinner was open seating and the entertainment was the movie "Dr. Zhivago". We were rather bushed from a whole day of walking, so headed to bed early.

Day 6 (Thur, Aug 23) - St.Petersburg, Russia (Day 2)
We were off to another early start and again had some extra time to get to Tsarskoye Selo. We stopped at the Kazan Cathedral for some photos and to tour the inside. What a beautiful cathedral. Then we were off south to Pushkin and the Catherine Palace. This was a repeat from our last trip, but it was somewhat different in that two of the palace rooms had been dissasembled and the restoration staff was hard at work pointing gold leaf and restoring the woodwork. Very interesting! I didn't get any photos inside as I did that last time and they do charge for using a camera. After viewing the palace rooms, we headed outside and wandered around the grounds. We visited a small building on the lake that had been restored in 2006 (so we hadn't been in it on our 2005 trip). Four singers came in and sang part of a religious mass. It sounded fabulous!
We headed back into town for lunch at a "Russian" restaurant called "W. Jack". How Russian is that? The lunch was good. Then we headed to St. Isaacs Cathedral. The previous trip had only afforded a distant photo op, so this time we visited close up and went inside. What an immense cathedral! The mosaics and decorations were stunning. For the remainder of the afternoon, we boarded a canal boat and toured the city from the Moika, Neva and Fontanka canals. You certainly get a great view of the palaces from the water. Then it was back to the ship for dinner. The entertainment was a singer. He was good, but we didn't really know (or like) the music.

Day 7 (Fri, Aug 24) - Helsinki, Finland
Finland meant a chance to visit with our good friends Henrik and Marjatta. Henrik was there to pick us up at 8:30. Marjatta had to work for the morning. We travelled east of Helsinki to the old town of Porvoo. It was very cloudy and rained on and off while we walked around the old part of the city. Marjorie stopped in to a chocolate shop to buy a few bars for the trip. After Porvoo, we headed back towards Helsinki and stopped at an old church (St. Sigfrid's) in Sipoo.It was built around 1450. Then we headed to Ainola, where Jean Sibelius lived. We toured through the family house and around the grounds. Sibelius and his wife Aino were both buried on the grounds. Then we headed across the street to the institute where Marjatta was working.
After having lunch at the institute, we drove through the countryside to the home of Matias and Karina, and granddaughter Vera. Matias was not there, but it was nice to meet Karina and see the little granddaughter. They were getting married on the next weekend. Then we headed back to H&M's apartment to meet another son - Sampo, Friederike and grandson Anton. It was a wonderful day and so nice to meet the "kids" and the new grandchildren. Henrik dropped us back at the ship just in time for our 6 PM departure. We had another great dinner with our dinner mates (I think this was the night we celebrated Mac and Lamoine's 39th anniversary), and then headed off to the show. Tonight was a comedian. He was very good, but I think I had seen him before (recognized most of the jokes).

Day 8 (Sat, Aug 25) - Stockholm, Sweden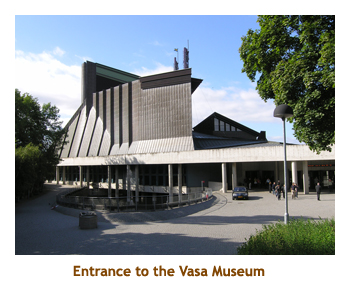 Last time here we did a waterways tour and then a walk around Gamla Stan. This time we decided to shuttle into town and then do the Vasa Museum and the Stadshuset (City Hall) on our own. It was a beautiful day with sun and blue sky. The cruise through the archipeligo was wonderful (I watched part of it while in the gym) and we arrived at the dock about 9 AM. As soon as the ship was cleared, we hopped on the shuttle to the Opera House bus stop. The walk to the museum was all along the waterfront. The museum was quite busy with lots of buses outside. It was very interesting. We did levels 3 to 7, but didn't make it down to the lower levels. Too many people and we had already been there a long time. We also did the movie presentation, which was really worthwhile. After seeing the Vasa, I think I prefer the Constellation.
We wandered back past the shuttle stop and headed over to the City Hall. We arrived just as an English speaking tour was leaving. The hall is amazing. The Golden Room with all the mosaic panels was fascinating. The city council seemed overkill though. Stockholm is a city of about 1 million people (same as Calgary), but they have 101 councilors whereas Calgary gets by with only 15. After the tour we lined up for the clock tower elevator. However, they only allow 30 people up the tower at one time, and then only replenish the crowd as people come down. The lineup was quite short, but no one seemed to be coming down. We waited almost 45 minutes and then had to give up. We had a long walk back to the bus stop and didn't want to miss the last bus. So, we just walked around the grounds of the hall and then hoofed it back to the shuttle bus. It was certainly a gorgeous day. Then it was time to feast with our dinner mates. The show was a singer / comedian / impressionist who was quite good.

Day 9 (Sun, Aug 26) - Riga, Latvia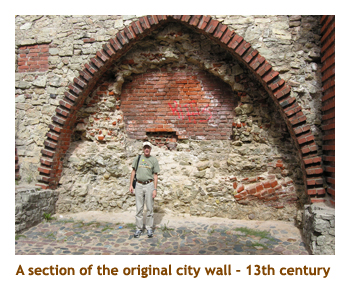 Riga was the first port that we hadn't been to before. For this reason, we had booked a city tour through the ship. It was another cloudy day, so not the greatest for photos. We didn't arrive until 11 AM, so it gave me the opportunity to visit the gym for a little exercise. It's amazing how quiet the gym is at 6:30 in the morning.
The tour bus picked us up at the ship. Our tour guide, Edite, spoke very good English and was very knowledgable. I asked her about the 2006 World Hockey Tournament staged in Latvia. She admitted that they were very nervous as to whether they could pull it off. However, they built a world class hockey arena and things went very well (even if Canada didn't win!). The city center was quite a distance from the dock. On the drive in we passed a number of "rental garden plots" where the apartment dwellers get their gardening jollies. Then we passed through a crumbling suburban area - old warehouses and other brick buildings. We finally hit the old town and got out for our walk.
The buildings in the old town have been beautifully restored. We visited several churches. At one church (the Dome Cathedral), we were presented with a short organ recital, which included Bach's Dm Prelude and Fugue. It was wonderful. When we entered the church, there was a cellist playing (outside), and when we left a young girl was playing the violin (that wonderful tune from Thais). At another church there was a wedding party on the front steps having photos taken. The photographer was using live doves in the shoots, and it was exciting when a stray cat attacked them. Lots of people scooping up the doves, but no harm done though.
Then it was back to the ship for dinner. Because our ship didn't leave until 8 PM, some people were missing from dinner (but our group was all present). The entertainment was the Celebrity singers and dancers, so we skipped it in favour of a walk around the ship.

Day 10 (Mon, Aug 27) - A Day At Sea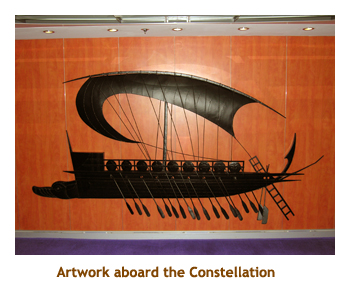 Today was a well earned day at sea. We had just completed 6 busy port days in a row and were ready for a rest. We really do love the Constellation. It is a beautiful ship . The ship had been in drydock earlier in the year and was in very good shape. A few things had changed since our first time aboard (2002). Notes has been converted into an acupuncture clininc and a computer training lab. The "Bar at the Edge of the Earth" has been toned down, but still looks a bit silly. The "Brad Pitt" statue had relocated from the top lounge down to deck 5 or 6. but otherwise, it's the same old ship. The gym equipment was all replaced during drydock. The treadmills, bikes, etc. were all brand new and each had a TV screen for personal viewing. Very nice!
We found that the food quality had changed since 2005. The buffet consistently disappointed with dishes looking much better than they tasted. The evening dinners lacked the variety of vegetables that we had had previously. Also absent were those tasty little "vegetable pates" that had everyone guessing what they were. These points aside, the food was still pretty good, especially the lamb (5 nights!) and shellfish. We had a wonderful room steward (Agnelo) from Mumbai, and he even showed me how to write my name in Hindi script.
As previous cruisers, we were given a coupon book in the room. Most of the coupons were for discounted spa treatments or casino deals. Not much use to us. There was an internet coupon that gave an additional 25% (in minutes) if you bought an internet package. However, we just paid by the minute so didn't use the coupon. The only coupon that we did use was an "all the laundry you can stuff in a bag for $20" coupon. It came in handy for washing up all my gym stuff and other dirty clothes.
We had another wonderful evening with our dinner mates. The entertainment was a variety singer and I think that we stayed for part of his show. Then it was off to bed to get ready for 3 more busy port days.

Day 11 (Tue, Aug 28) - Rostock, Germany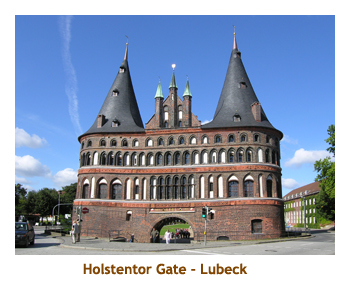 On our previous visit to Rostock, we docked right in Rostock and did the the train trip to Berlin for the day. It was fabulous. This time we docked in the small town of Warnemunde (just minutes away from Rostock). Our excursion was booked through the ship and was a walking tour of Lubeck and Wismar. It was a nice sunny day (but cool). The drive to Lubeck was west along the Baltic coast, taking about an hour and a half. The old part of Lubeck was wonderful. The buildings had been faithfully restored from damage during the war. We stopped at an interesting marzipan shop. On the second floor they had pictures fashioned out of marzipan, and a number of lifesize statues of famous people made entirely out of almond paste. Afterwards we visited a beautiful church (Marienkirche) that had a very old astronomical clock. We happened to be there on the hour and saw the parade of town characters being blessed by the priest. (Wood carvings on the top of the clock). We were also able to sit through a short service (in German) which included a couple of pieces played on the huge pipe organ. In one corner of the church were the broken bells that had crashed down in 1942 during a bombing raid. At lunch we ate at a small pizza booth on the cobbled sidewalk. After lunch we popped into a department store (Karstadt) to buy Mike a beer stein.
Then we boarded the bus and headed to Wismar. On a historical note, Lubeck was in west Germany, and Wismar was in east Germany. Hence we passed through the area where the fences and mine fields separated east from west. Today it is just a small break in the forest. Wismar was smaller than Lubeck, but just as interesting. Once again we walked through narrow streets with restored buildings and churches. On the way back to the ship we detoured through the town of Rostock. We even saw the stadium where Hansa Rostock play football.
This was another open seating dinner evening, as the Berlin excursions didn't arrive back until 8:30 or so. Our Calgary dinner mates were on the Berlin trip, so we had agreed to meet our other mates at 6 PM so that we could sit together. We returned right at 6, so headed directly to the restaurant to let our mates know we would be another 10 minutes or so to clean up for dinner. They grabbed a large table and saved us spots, so we all ate together. The entertainment was a Polish classical pianist who played some Rachmaninov and a lot of Chopin. He was excellent.

Day 12 (Wed, Aug 29) - Copenhagen, Denmark
We arrived in Copenhagen at 12 noon. This gave me lots of time for an early workout in the gym. Also, we grabbed an early lunch to fortify ourselves for an afternoon of walking. It was a beautiful blue sky day, but a little cool. Having been to this beautiful port city before, we decided to catch the shuttle to King's New Square (Kongens Nytorv ) and head out from there on foot. We had a travel book with us that detailed a great walking tour which we were going to follow. We headed east from the square into Nyhavn. We decided to jump on a canal tour boat and did a one hour circle trip around the waterways. It was great. Then we continued on our walking tour. We headed north along the Inderhavn to the Amalienborg Slot. We had been there before, so just did a quick walkthru of the palace grounds and the beautiful fountain. Then we headed north again past the Gefion Fountain, Saint Alban's Church and into the Kastellet (hadn't been there before).
After a quick walk around the Kastellet, we headed south to the Rosenborg Slot and gardens. We hadn't been there before either. We were tempted to visit inside the palace, but it closed at 5 PM (in 15 minutes!) and they still wanted to charge us admission. So, we settled for walking around the outside of the palace. Then we headed back to King's New Square to wait for the shuttle bus back to the ship. It had been a wonderful walk. While waiting for the bus, we popped into the famous department store, the "Magasin du Nord". Whew, is that expensive!
We stayed overnight at the dock in Copenhagen (on the ship, that is). Once again there were many people missing from the dining room as they were off to Tivoli Gardens or other evening attractions. There was no live entertainment for the evening, just a showing of the move "The Queen".

Day 13 (Thur, Aug 30) - Helsingborg, Sweden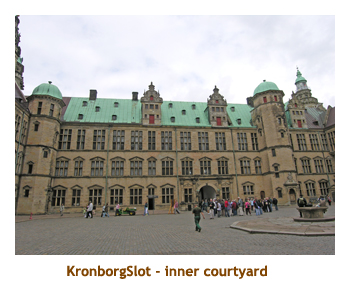 The ship set sail from Copenhagen at 6 AM and headed north to Helsingborg, Sweden - about 3 hours away. While we were sailing north I headed to the gym to help power the ship. This was the only port that we tendered. The weather was cold, cloudy with some intermittent rain. We had not been to this port before, so we had booked a ship's tour. The tour included a walking tour of Helsingborg, and then a ferry ride over to Helsingor, Denmark for another walking tour. We met our walking tour guide right at the dock. From there we headed to the Dunkers Kulturhus, built in the 21st century - not yet a historic building! Then we headed into the older section of town past the beautiful City Hall. We climbed numerous steps up an old fortress to the Karnan Tower. It provided a great view over the city. Coming back down the steps,we passed through some narrow streets lined with shops and restaurants. Our guide was Danish and was explaining the similarities and differences of the Danish and Swedish languages. He actually stopped a couple of (fortunately good natured) locals and asked them to say something in Swedish. He then said the same thing in Danish so that we could hear the difference. The Swedish couple (mother and son?) were very good sports and played along with us. Then we visited the Mariakyrkan (St. Mary's Church). It had beautiful stain glass windows, and someone was playing the organ inside. After touring the church, we headed to the ferry dock and boarded a Scandlines ferry to Denmark. The ride across the sound (4 km) took about 20 minutes - a lot faster than the time needed to load and unload the cars and trucks.
Now we were in Helsingor, Denmark. We walked into the old part of the city, past another beautiful City Hall building. We toured through some narrow streets finally stopping at the famous Karmeliterklosteret (Carmelite Monastery) called Sankt Mariae Kirke. We didn't see inside the chaple area, for some reason, but we did walk all the way around the cloister quadrangle. The monastery dates to the 15th century. Then we walked westward to see the Kronborg Slot (Hamlet's "Castle of Elsinore"). We entered the inner courtyard of the castle, but did not go inside any of the rooms. On one of the castle walls was a stone carving of the great bard himself - William Shakespear. After tramping around the castle grounds, it was back past the city hall again and to the ferry dock. The ferry ride back was another 20 minutes. From there we hiked the short distance back to the ship. It was a wonderful tour, but really would have been better for photos if the sun had peeked out a bit. Oh well, next time!
Departure was at 5 PM so we were already underway by the time we hit the restaurant. It was a formal night and we celebrated Bill's 80th birthday. The entertainment was another song and dance evening, so we skipped it.

Day 14 (Fri, Aug 31) - A Day At Sea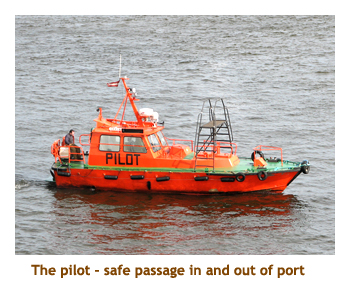 So, it was a day at sea, and the final day of our cruise. The ports had been very interesting and I was so glad to have had the opportunity to return to the cities we had enjoyed so much before. I only regretted that we couldn't have seen Oslo and Gdansk again, but hey, that's for another trip! We spent the day wandering around the ship and doing some reading (and, of course, visited the gym). The onboard boutiques had some good sales on so we bought a couple of Matryushka dolls. I also picked up a DVD of Peterhof. The t-shirts weren't all that great, so we didn't get any of those.
I popped into the theatre to check out the attendance for the final snowball jackpot bingo and there were only about 100 people there. The theatre seemed almost empty. The jackpot was only $1000 (for a 14 day cruise!), so the turnouts must have been low all cruise.We did a last walk on the promenade deck. Like so many newer ships, the deck does not circle the ship. There is no passage at either the front or the back of the ship. You can only walk back and forth on one side or the other of the ship.
We had our final dinner with our dinner mates and said goodbye. Then we headed back to our room to pack and tossed our bags into the hall. The entertainment was a collage of previous performers so we decided to attend the show. It was quite good. Then it was off to bed.

Day 15 (Sat, Sep 1) - London, England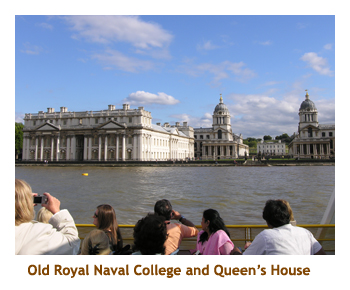 Departure day! We were up early for breakfast, then grabbed our carry-on luggage and headed off the ship. We caught a cab to the national Express station at the Dover East Ferry Docks. We were there by 8:15 and, even though our ticket was for the 10:30 bus, we caught the 8:30 bus. Great! We were in London (Victoria Station) by 11 AM. It was only a short walk to the Winchester Hotel but we were too early to check in. So, we left our luggage at the hotel desk and returned to Victoria Station to get on the HOHO sightseeing bus. We sat on the upper deck which was uncovered. The weather was warm, but mostly cloudy. The sun came out every so often and it would get quite warm. We stayed on the bus for a complete loop of the tour route, which takes about 2 hours or more to complete. Then we hopped off near the "Eye" and climbed aboard the HOHO river boat (about 2:30 PM). The "Eye" is huge! We didn't try it as the lineups were too long. The river boat cruise was great. The map made it look like the boat would loop back at Tower Bridge, but we were wrong. It continued down to Greenwich. By the time we got back to Tower Bridge, it was about 4:30. We left the boat and wandered around the Tower of London, where a jousting tournament was in progress. Then we hopped back on the HOHO bus to get back to Vic Station. However, traffic was quite bad and we stopped about half way back and the bus went out of service. We were transferred to another bus that was leaving at 6 PM (about 20 more minutes). The new bus repeated part of the tour and we finally got back to our hotel about 7 PM. Whew! We headed out to a restaurant called "Grumbles", recommended by the hotel cleark and a lady on the street that helped us find it. I had lamb chops which were quite good. Then it was time for bed.

Post-cruise (Sun, Sep 2) - Heading Home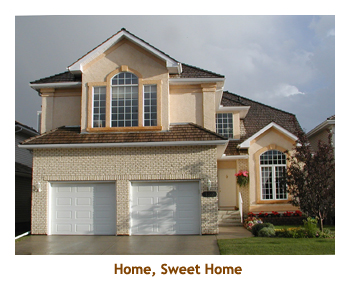 The flight home left about 1 PM, so we had lots of time to get to the airport. We had breakfast at the hotel (included) and then walked to Vic Station to get our National Express tickets to Heathrow. Heathrow was quite busy. It is really hard to get around there as the checkin queues obilterate any passageways inside the buildings. We checked our bags in and proceeded through security. There we discovered that we had forgotten to move our Tallinn creme liqueur from our carry-on to our checked baggage. Goodbye liqueur! Then we settled in the common seating area waiting for our flight to be called.
The flight home was uneventful. We were again in a new 777 with lots of leg room. We arrived on time in Calgary and Chrissy and Matt were there to pick us up in their brand new Dodge Charger! They had bought the car while we were away. It was great to be back home again.
Overall the cruise was wonderful. The only negative was the food as I mentioned above, which is why I gave the food only 4 out of 5 stars. Our room steward and waiter were wonderful. The ship was still in very good condition. It's a cruise I would do again (third time), but not until we do some other itineraries that we've never done before.