Rating (out of 5): Ship

Food

Service

Itinerary

After doing nine cruises in the Caribbean and Alaska, it was time to go a little further afield. We decided on a Baltic cruise on our favorite ship - the Constellation. Christina (our daughter), and Dave and Joan accompanied us. This turned out to be the best cruise (and best all round holiday) we have ever been on. Read on ...

Pre-cruise (Jun 1-3) - Touring Dover
We decided that since we were flying all the way to England, we should see a bit of it. So, we decided to spend a couple of days in Dover before the cruise. We left Canada June 1, and arrived in Dover on June 2. We had booked a couple of nights in Dover at a B&B which was very nice. Our first day was kind of a write-off due to the jet lag. We had dinner at an English pub, and headed to bed. The second day was the last day of the rainy season. We spent the best part of the day walking around Dover Castle. It was very interesting, containing structures as old as the 1st century AD (Roman tower) through to some recent WWII structures. It was a great way to spend a rainy day.
The sun came out later in the afternoon, and we walked around the town of Dover. We had dinner at an Italian restaurant - very slow service. All in all, we had a great (but short) time in Dover.

Day 1 (Jun 4) - Boarding in Dover
Sail away day was a mix of cloud and sun. We were early to the terminal building and had to wait for boarding to begin. We met a number of British cruisers while we were waiting. When boarding opened, we boarded quite quickly. Once on the ship, we headed up to the top deck to check out the view. It was very windy and quite cold on deck. The view of Dover harbour and the castle on the hill was fabulous. A couple of Sea France ferries (Dover to Calais) came and went as we were docked.
Lifeboat drill was mid-afternoon and then we were off to dinner. It was really great being back on the Constellation again.

Day 2/3 (Jun 5/6) - Two Days At Sea
We had two sea days to re-familiarize ourselves with the Connie. It had been over two and a half years since we had last been on her. The ship was still in very good condition. The only aging we noticed was that the "Gorilla with Fish" sculpture on the top deck had developed patches of green on it (must be bronze?). We didn't notice any major changes in the menu due to being in the Baltics, and every night was still sushi night in the buffet area (a Celebrity innovation).
The North Sea was fairly calm, but cool. On the second day we were up early and on deck just in time to see us sail under the East Denmark (Storbaelt) Bridge. This bridge (plus a tunnel) connects mainland Denmark (Jutland) with the island of Sjaelland (where Copenhagen is). In conjunction with the Oresund Bridge (from Copenhagen to Malmo, Sweden), this bridge, which opened in 1998, completed the route connecting central Europe to Scandinavia.

Day 4 (Jun 7) - Gdynia, Poland
We pulled into Gdynia early in the morning. It was mixed sun and cloud, but the clouds would soon win and the rest of the day was grey and cloudy. A band had assembled on the dock and was playing "When The Saints" and other US favorites. Marj had decided not to do an excursion in Poland, so the rest of us headed off to Sopot and Gdansk. Along the road you could see the influence of the Communist era - plain concrete buildings and apartment blocks. Thanks to infrastructure progams via the EU, there was roadwork everywhere.
The old part of Gdansk was fabulous. Despite being destroyed in WWII, the town had been rebuilt painstakingly, and is now a UNESCO heritage site. We walked up and down the length of the main street, and also toured through St. Mary's Church. Then we travelled along the banks of the Motlawa River. What a gorgeous town. My only regret was that it was very cloudy. It really washes out the photos. I want to come back again on a blue sky / sunny day!
On the way back to the ship, we toured through Sopot , a tourist spot for the more affluent Poles. Not the French Riviera, but quite a nice spot.

Day 5 (Jun 8) - Stockholm, Sweden
We were up on deck at 6AM to witness the start of the 24,000 island archepelago, leading to the port of Stockholm. For four hours we sailed through the islands under blue skies and sunshine. It was absolutely gorgeous. Every island was inhabited, with summer homes, permanent residences, farms, etc. There were lots of ferry slips, with small yellow ferries hustling back and forth between the islands. We also saw larger (huge) ferry boats connecting the baltic capitals, lines like Viking and Silja.
We arrived in the harbour about 10 AM. We had booked a water tour excursion. Stockholm is built on 14 islands, so most of the interesting parts can be seen from the water. The tour was awesome and we spent 2 or 3 hours motoring around the harbour and waterways. After returning to the ship for lunch, we hopped on the ship's free shuttle and headed over to Gamla Stan. We spent the afternoon walking around the old town and exploring the royal palace grounds. What a wonderful day. I'd return to Stockholm again in a heartbeat. It is such a beautiful city.

Day 6 (Jun 9) - Helsinki, Finland
We arrived early AM in Helsinki. It was another beautiful blue sky day. We had arranged to meet a local couple for the day, whom I met through the Concept II rowing website. Henrik and Marjatta picked us up about 9:30 AM, and took us on a tour of Helsinki. We visited the Sibelius monument, Henrik's rowing club, Senate Square, the rock church, Uspensky Cathedral, the Kauppatori market and Esplanade Park. It was a terrific tour.
Then they took us to their lovely apartment for a great lunch and an afternoon visit. We certainly had a wonderful day in Helsinki, all the more special thanks to our new friends. They dropped us back at the ship in time for departure and dinner.
Helsinki is a very beautiful city. Lots of parks, and very clean. We'll have to come back here again some day!

Day 7 (Jun 10) - St.Petersburg, Russia (Day 1)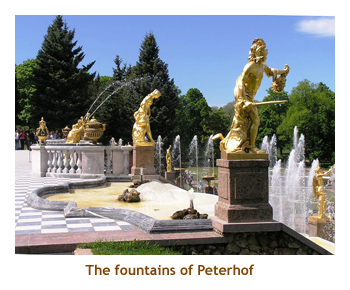 St. Petersburg is different from all other Baltic cities in that you require a special visa to enter the country, and the ship docks several miles from the city center, with no means of transportation to take you into town. We booked our 2 day excursion through a Russian tour company called Red October. They are government sponsored, and guests do not require visas. Our guide and driver were excellent. The morning was overcast and showery. We were picked up at the ship, and we drove around the downtown area, stopping at St. Isaacs, the "bronze horseman", the Rostral Columns, SS Peter and Paul fortress / cathedral, and the Yusopov palace. After a nice restaurant meal, we headed out to Peterhof.
By the time we arrived at the Peterhof palace, the sun had come out and the sky was blue. It was gorgeous. We walked around the gold fountains and through the gardens. Our tour included a visit to Monplaisir, the small palace. We did not do inside the main palace. Half a day was not enough time. I'd love to come back and spend a whole day walking around the gardens and see inside the main palace.
On the way back to town, we stopped at another SS Peter and Paul Cathedral. It was a busy, busy day, but I thoroughly enjoyed it. The churches and palaces were awesome!

Day 8 (Jun 11) - St.Petersburg, Russia (Day 2)
We were picked up at the ship again, and headed out to Tsarskoye Selo to see Catherine's Palace. It was another sunny day. What a gorgeous palace! We toured through the palace from end to end. It was devastated by the Nazis in WWII and has been painstakenly rebuilt. The gold rooms are absolutely breathtaking. We walked through the gardens and viewed a number of other buildings on the grounds.
We headed back into St. Petersburg where we were taken to "lunch with a Russian family". We signed up for this optional lunch and were taken to have lunch with an authentic Russian family living in a typical tenament house. The apartment building was very run down and the people are very poor. But they were very nice people and we had an enjoyable lunch. The hosts asked us many questions about life in Canada, and it was almost embarrasing to realize how well off we are in Canada.
After lunch, we headed off to the Hermitage Museum, where we spent the rest of the afternoon. It is huge. I think we only did a fraction of it but were "all museumed out" by the end of the day. I would highly recommend Red October to anyone visiting St. Petersburg. Gotta come back! So much more to see!

Day 9 (Jun 12) - Tallinn, Estonia
After the huge sprawl of St. Petersburg (5 million people), Tallinn was very small and self contained. The old historic part of the town is only a few blocks in any direction. It was a cloudy day, and we had booked a ship's excursion. The bus picked us up soon after we docked. Our first stop was a city park with a lovely central pond and fountains. Then we went to a huge outdoor stage where concerts are presented. The park is especially noted for large choral presentations. Then we visited the site of the Olympic sailing venue, from the 1980 Moscow Olympics. We returned back into town and stopped just outside the gates of the old walled town (Toompea), where we headed in on foot. The old town was amazing, with buildings dating back almost 1,000 years. Oh I wish it had been sunny - there were so many buildings to photograph. What a wonderfully preserved village. Another place I want to come back to!
We headed back to the ship for a late lunch and spent the afternoon relaxing on the ship. The city of Tallinn (and the whole country of Estonia) is doing very well economically, unlike the other ex-Soviet Bloc countries. With close ties to Finland (70 km away across the gulf), Estonia is doing OK.

Day 10 (Jun 13) - A Day At Sea
After so many days touring so many cities, it was nice to have a day at sea and let the mind rest. It's always nice to have a balance of port and sea days. Marj tends to like the sea days, while I really enjoy the port days. Either way, it's nice to have the occasional break from the hectic port excursions.
Since I obtained my digital camera, I always bring my laptop along with me. I like to be able to download my photos each day , look at them on the large screen, and back them up to a CD. It really paid off this trip. Dave and Chrissy had digital cameras and, between the three of us, we took over 2,200 pictures!

Day 11 (Jun 14) - Rostock, Germany
Even though Rostock itself is an interesting destination, we decided to splurge and do an excursion to Berlin. It was a beautiful blue sky day, with temperatures predicted of 28 degrees. At 7:30 AM we boarded a passenger train right at the cruise dock. It was a 3 hour trip from Rostock to Berlin. We travelled through what used to be East Germany, through farms and quaint villages. A wonderful train ride.
Upon arriving in Berlin, we transferred to a tour bus. We drove mainly through East Berlin past many famous buildings and landmarks, including touching the Berlin Wall. Mid-morning, we transferred to a river boat on the River Spree. The Spree winds through the center of Berlin and passes the Chancellor's residence, the Reichstag, the Bode Museum, and many other famous or important sites. After an hour and a half boat ride, we were bused to a large restaurant with a train station above. The food was excellent.
After lunch we continued with the bus trip, visiting Checkpoint Charlie, the Brandenburg Gate, the Reichstag, and ending up at the European Mall on the Ku'damm for a little shopping. All day had been hot and sunny, but around 5PM while at the mall, it clouded over and rained. The trip back to Rostock was equally enjoyable as we travelled through the German countryside. We arrived back at the ship about 9 PM. It was a long day, but we enjoyed it immensely.

Day 12 (Jun 15) - Copenhagen, Denmark
We arrived at Copenhagen about noon, under blue skies and sunshine. We had to sail almost right around the island of Sjaelland (clockwise), probably because we couldn't sail under the Oresund bridge. On the way, we once again sailed under the East Denmark Bridge, and passed the beautiful Kronborg Slot (castle) in Helsingor. We had booked a ship's excursion. We boarded the bus and drove to the Little Mermaid site. After seeing the Gefion Springvandet (fountain), we drove the length of the Nyhavn canal.Then we headed to the Amelienborg Palace, where the Royal Family lives. We were in time to see the changing of the guard. We also saw a military youth band (apparently quite famous), and they were having their picture taken by the fountain. Then it was off to Christiansborg Slot where the Danish parliament building resides. Before heading back to the ship, we wandered through a neighboring garden. It was lovely. The excursion was really great.
After returning to the ship for dinner, we headed out on the ship's shuttle bus to Tivoli Gardens. I had thought it to be mostly fountains and gardens, but instead it was mainly kids' rides and restaurants. We were a bit disappointed, but it was an interesting way to spend the evening. I don't think that we would return to Tivoli again. The ship left Copenhagen at 1 AM, so, needless to say, we did not partake in the sail away. Now we have another place that we would love to return to!

Day 13 (Jun 16) - Oslo, Norway
Because we left Denmark so late, we didn't arrive in Oslo until 2:30 PM. Once again it was a sunny warm day. The ship docked in the city harbour right next to Akershus Castle. The castle and grounds looked very interesting, but we didn't have time to visit there. Instead we had booked a bus excursion. The bus drove slowly through downtown Oslo (lots of traffic!) and out to Vigelandsparken. The park was huge and filled with bronze and granite human sculptures by Gustav Vigeland. We walked the length of the park viewing the sculptures . There was also a huge ornate fountain. The park was fabulous.
After the park, we headed up the mountainside to Holmenkollen, the home of the big ski jump. All the way up the hillside were beautiful alpine homes. It would be a great place to live if you worked in Oslo. It clouded over after leaving Vigeland Park, so I didn't get any great pictures of the ski jump. Blue sky would have really helped! We headed back into town, zigzagging a bit to take in the important buildings and sites in the downtown area.
I'd love to come back to Oslo again to see all the things we missed this time, including Akershus Castle.

Day 14 (Jun 17) - A Day At Sea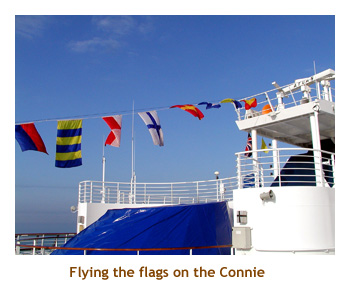 Another chance to relax after three very busy port days. By this time my mind was boggling with all the cities, palaces, gardens, museums and other sites that we had visited.
We enjoyed every port on this cruise immensely. Thinking back, there's not a single port that I would have skipped, and not a single port that I don't want to go back to again. I had expected the ports to be similar, but they were all so different. The cultures, the history, the standard of living - all were very different.
We thoroughly enjoyed the Constellation. The service, the food, the entertainment - all was very good. The cruise went by so quickly, and here it is time to put out the suitcases!

Day 15 (Jun 18) - London, England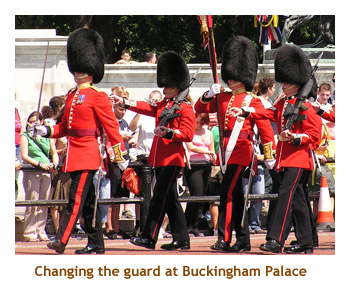 We had a late afternoon flight (Heathrow to Calgary), so decided to do a ship excursion into London. It was a hot sunny day (temperature about 30 degrees). Disembarkation went pretty smooth and we boarded the tour bus. The drive from Dover to London was interesting as we passed through a number of English villages. Once we hit London, our first stop was at the Tower of London. We were given about an hour to walk around the castle grounds. Then we toured through London seeing Big Ben, Westminster Abbey, "the Eye", etc. At about 11 AM, we stopped at Buckingham Palace in time to watch the changing of the guard. We were there about an hour or so. It was great.
We boarded the bus again and did some more sightseeing, then headed out to Heathrow Airport. Time to head back to Calgary. It was just a super cruise and I can't wait to do it again some day.