---
Travel
Cruises
Past Cruises (Diaries)
Future Cruises
Rogues Galleries
Land Trips
Diaries (Land Trips)
Hawai'i - Big Island - 04'01
Hawai'i - Maui - 05'02
Hawai'i - Big Island - 04'03
Hawai'i - Kaua'i - 09'04
Hawai'i - Big Island - 04'06
Hawai'i - Maui - 04'06
Mainland China - 05'07
Phoenix, Arizona - 12'07
Greek Isles - 05'08
Hawai'i - Kaua'i - 09'08
Hawai'i - Big Island - 09'09
Hawai'i - Maui - 05'12
Hawai'i - Big Island - 04'13
Ireland - 08'13
Mexico - Cancun 11'13
France/Belgium/Lux 07'15
Hawai'i - Big Island - 05'17
England / Wales - 06'17

---
Photography
Cameras
Underwater
---
Pets
Tara
Blackie
Whitey
Muffy
Ollie
Rusty
Fluffy
Rufus&Dufus
---
Games
---
Rowing
---
Physics
---
Rating (out of 5): Ship

Food

Service

Itinerary

We booked this cruise fairly last minute because it came up on the travel agent el cheapo list. After we had booked, Oceania posted a fairly competitive retail rate so Dave & Joan booked the same cruise. The ship eventually filled up, with 658 passengers (684 max double occupancy).
Oceania was great as usual - good food and good service. I gave the itinerary only 4 stars as we missed Norfolk due to inclement weather. It certainly wasn't the fault of Oceania, but it was disappointing just the same. The entertainment relied heavily on the ship's song and dance crew with only 3 guest performers for the 12 day cruise. That was OK though as we really aren't entertainment people.
The highlight of the cruise for me was discovering Bermuda. The island is absolutely beautiful and the houses and other buildings were freshly painted in wonderful pastel colours. The ferry and bus system was excellent and we enjoyed the scenery as we travelled around the island. We enjoyed three full days there and still didn't see it all. The only negative of the island is the cool ocean and the lack of good snorkeling. Docking in Hamilton (middle of the island) was superconvenient as we were right in downtown Hamilton, with the Royal Dockyards one hour (by bus) to the west and St. Georges one hour (by bus) to the east.
Pre-cruise (Apr 10, 11) - Travel to Miami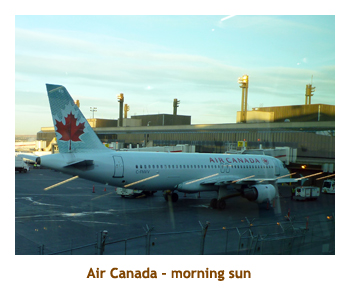 Our flight to Miami was at 8:00 AM, so we would need an early start. Marjorie obtained a very cheap rate for the Calgary Wyndam Garden hotel at the airport which we took advantage and booked for the night before. We drove to C&M's in the late afternoon, dropping off our bags at the hotelon the way. We took Matt, Christina and Lincoln out to dinner at Paros. Matt had hockey right after, so Christina dropped Marjorie and I off at the hotel. We were early to bed and up at 5:45. We shuttled to the airport, and did check-in and security in plenty of time for our flight to Toronto. We arrived in Toronto about 1:30 PM. We had lunch at The Hearth, then did US customs and security for our second flight leg to Miami. The plane was quite large (A321) but was only about 1/4 full. They had to reseat us for a smoother takeoff. We were in Miami by 8:00 PM where it was 22 degrees. We took the shuttle to the Element Hotel. As we left the airport we saw the freight plane that transports parts for the Dream Liner aircraft around the world. Weird!! We met D&J at the hotel and I did the pool while the others talked. We were to bed by 11:00.


Day 1 (Apr 12) - Boarding at Miami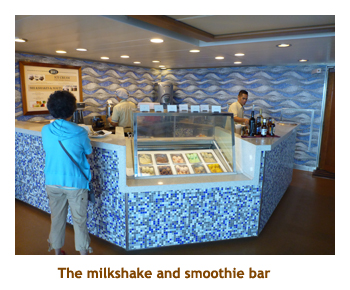 We woke up about 7:30 AM. There was no rush today. The breakfast in the hotel was not very good. I sat by the pool later and enjoyed the warm sun. At 11:00 we caught the shuttle to the airport. There we caught the 11:45 KSA shuttle to the cruise dock. There were two ships at berth, the Regatta (ours) and the Adonia (not ours). The driver took us to the wrong one (50/50 chance). By fluke, both ships were ex Renaissance R-boats so were identical in size and layout. However, it was still important that we board the correct one. Our check-in was quick and we were soon aboard (the correct ship) and into the buffet for lunch. I had my favorite surf & turf burger with a chocolate milkshake. Ou r cabin was projected not to be ready until 3:00, but D&J had booked comcierge class and so were able to get into their cabin at 1:30. We dumped our carry-on in D&J's cabin and sat and read in a shady spot until our cabin was ready (at 2:30!). Our suitcases had arrived so we put away our clothes and then wandered the ship for a bit. Muster drill was at 5:15 and sailaway was at 6:00. For dinner I had sea scallops. Yum! We skipped the entertainment and went to bed early.

Day 2 (Apr 13) - A vist to Nassau, Bahamas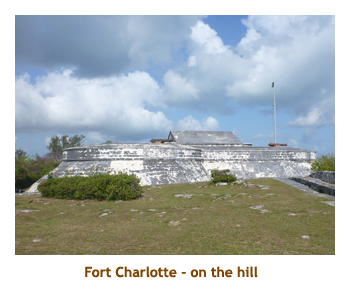 We were up at 7:00 and watched as we sailed into Nassau harbour. We had breakfast in the buffet (omelet and fruit). We had booked an island tour for 8:15. Our tour took us all over the island with 20 minute stops at the Atlantis Hotel complex on Paradise Island, at a beautiful beach, at Fort Charlotte and at the John Watling Rum distillery. Fort Charlotte was quite small, but was an enjoyable short walk in the sunshine. The rum distillery was also quite small, serving only the local islands. The rum is not exported. We were back to the ship by 1:45. We had lunch at Waves. Marjorie went back into town to use the internet followed by a lecture on upcoming ports, while I read for a while and then went to the gym. D&J were on their own excursion, so we didn't see them until dinner time. Sailaway was at 3:00. Afterwards we wandered the ship and then read for a while. For dinner I had prime rib. Delicious! We skipped the entertainment and did some laps around the upper deck instead. Clocks put ahead an hour tonight.


Days 3 & 4 (Apr 14, 15) - Two days at sea, Bermuda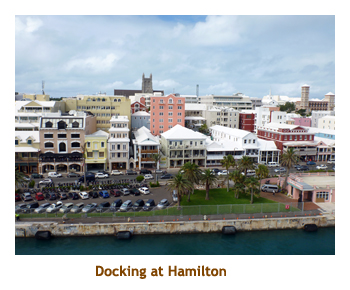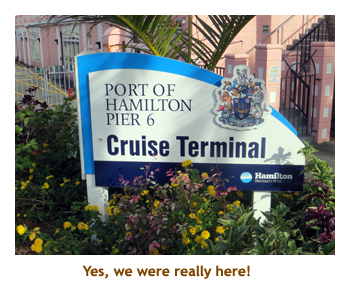 Day 3 - We were up at 8:00, a bit late due to the lost hour. We had breakfast in the buffet. It was a day at sea, so we read for a while, then Marjorie went to a lecture and I to the gym. Lunch was taken in the buffet. We met at 1:00 in the card room with D&J, and played a round of Hand & Foot. Our first trivia of the cruise was at 3:00. We formed a team that we played with each afternoon session. Afterwards we wandered the ship. For dinner we ate at the buffet - lamb chops, jumbo shrimp, sushi, etc. Afterwards we did evening trivia forming a different team for our evening sessions. We did the entertainment which was a lady pianist (Linda Gentille) - excellent.

Day 4 - Today we were up at 8:00 for a day very similar to the previous one, at least through to the afternoon trivia at 3:00. We skipped the trivia to watch the sail-in to Hamilton, Bermuda. It was a beautiful day and a very interesting sail into the harbour. The only other cruise ship in town (actually the Royal Dockyards) was the Oceania Riviera, one of our favorite ships. The houses and other buildings were all freshly painted and so clean - it reminded me of Tenerife in the Canary Islands. We were docked by 4:00 PM and went ashore to use the internet (at the public library). Fortunately we checked our incoming email as there was an email from a snorkel company about a tour we were to do tomorrow that we had booked online. There was a bad weather warning, so they had canceled the snorkel. For dinner I had osso buco. Always good! We did the entertainment again, which was a so-so British comedian (Stevie Joe).

Day 5 (Apr 16) - Royal Dockyards, Bermuda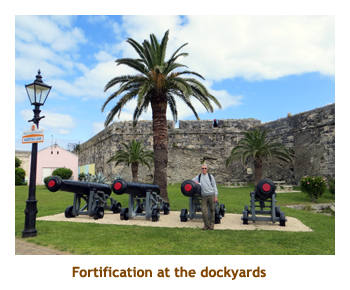 Today we woke up at 8:00 and had breakfast in the buffet. We didn't book any ship's tours for our Bermuda stay and our private snorkel was canceled. Instead we were going to do a day trip to the Royal Dockyards today, at the western tip of the island. The dockyards are where most cruise ships dock, as the entrances to Hamilton and St. Georges are too narrow and shallow for the bigger ships. I should mention that Hamilton is the capital "city" of Bermuda. St. Georges is a quaint "village" and the previous capital of the island. The Royal Dockyards are at the tip of the island and not really close to any town or village. However, the old buildings of the ancient dockyards are being converted into craft shops, restaurants, souvenir shops, etc. for the cruise ship passengers. Anyway, we headed out just before 10:00 and caught the ferry to the dockyards. (The ferry dock was just 100 yards from the ship!) It was a 20 minute ride to the dockyards.

The Riviera had left the previous night, so there were no ships docked there. We had the dockyards to ourselves! It was really enjoyable walking around checking out the shops and the old buildings. Our first stop was at Island Center Tours to check on our refund for our canceled snorkel. We stopped for lunch at a bakery where we ran into D&J who had come over on the 11:00 ferry. We wandered a bit more and then caught the bus back to Hamilton (1 hour). We popped into the ship for 3:00 trivia and then back into town to use the internet at the library. We ran into Dave again as we were headed to a grocery store where we bought some Boddington's beer. Back on the ship there was an announcement that there was a storm brewing off the eastern US coast and we would not be able to make it to Norfolk, Virginia. In lieu we were being given an extra day in Bermuda. I could handle that! For dinner I had rack of lamb. The entertainment was a pirate party, but being pirate averse we went to bed instead.

Day 6 (Apr 17) - A day trip to St. Georges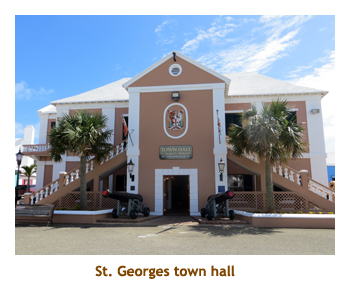 We were up at 8:00 to do some more exploring of the island. We had breakfast in the buffet. Today we were going to St. Georges at the eastern end of the island. There was no ferry connecting from Hamilton so we did the bus each way (different routes though). We caught the 10:00 bus and had about an hour's ride to St. Georges. What a beautiful little village! Whereas Hamilton was a city with lots of 6 to 8 story buildings, St. Georges was very much a village with 1 or 2 story buildings. We walked around the main area of the town and visited the City Hall. We ate our lunch (ship food) in a small park that was very quiet. It was warm and sunny all day. We decided to take the 1:00 PM bus back to Hamilton, but on a bit different route than we had come earlier. Again it was about an hour's drive. We stopped in at the library to use the internet, then reboarded the ship to catch the 4:00 trivia. We read a bit and then shared a beer with D&J. For dinner we went to Toscana, and I had veal scallopini. Mmmmm! We did the evening trivia and then went to bed.


Day 7 (Apr 18) - A final day in Hamilton, Bermuda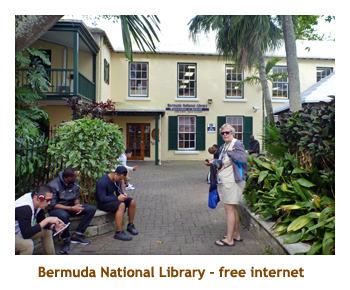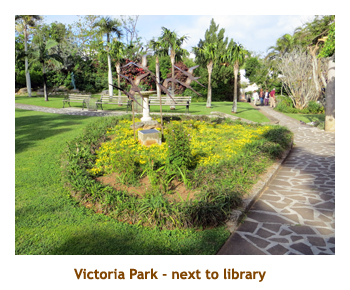 We were up at 8:00 for our final day in Bermuda. We decided that we would do Hamilton today, so no buses or ferries, just our own two feet. We had breakfast in the buffet and then headed out for a walk around town. The town was very clean and very safe, two things not always found on other Caribbean islands. The people were very friendly. We passed several churches and green areas. There was a wonderful park right next to the library - lots of flowers, trees and rolling lawns. We toured through a stately home museum and saw how the wealthy lived in the 1800's. On our way back to the ship (for lunch), the skies blackened and it poured in rain. We were soaked by the time we reached the ship. That was fine though as it was the only rain we had for the entire cruise. Once aboard, we dried off and then had lunch at Waves with D&J. After lunch we decided to head back to the library to use the internet. It was sunny again. We did our email stuff and were back aboard for 3:00 trivia.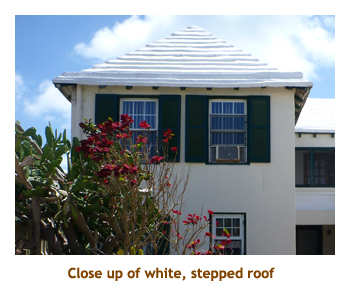 Sailaway was at 4:00 as we were headed to Charlotte, North Carolina. It was very windy on the top deck. We were sailing into the tail end of the storm that had prevented us from leaving yesterday for Norfolk, Virginia. The captain announced that we would have a very bumpy night. For dinner I had beef short ribs. Very nice! We played evening trivia, but skipped the entertainment and instead walked around the ship trying not to bump into walls and other passengers. The rocky rolly stuff lasted until about 3:00 AM, when things settled down again. Not a good night!

Note: I should mention about a unique architectural feature of Bermuda. There is very little fresh water on the island. Each house or building has a special roof to catch the rain water and funnel it under the house into a cistern to be used for washing, bathing, watering, etc. Drinking water is provided by a de-salination plant and imported bottled water. The roofs are stepped wood lathes or stone with a finishing coat of plaster, and every roof on the island is painted white. The design of the roof assists in catching the rain water. The effect of all white roofs is amazing - I have never seen anything like it in all of our travels, except maybe Alberobello in Italy.




Days 8, 9 (Apr 19, 20) - Two days at sea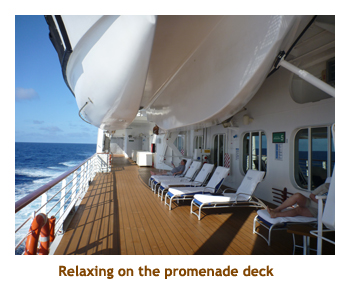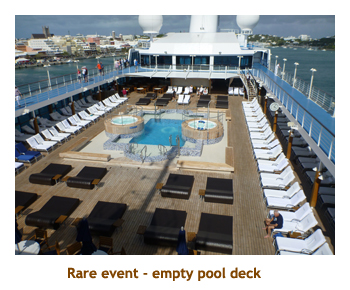 Day 8 - We were up at 8:00 to much calmer seas, and went to breakfast in the buffet. It was 20 degrees out and very windy. (It was warmer back in Calgary!) We read for a while and then Marjorie went to a port lecture and I to the gym. We had lunch in the buffet and then played cards with D&J. Afternoon trivia was at 3:00. We read then went for dinner in the MDR. I had miso sea bass (from the Red Ginger menu). Excellent! We did the evening trivia and then went to see the piano lady (Linda Gentille) performing again. Once more fabulous. Clocks went back an hour tonight.

Day 9 - We were up at 8:00 as usual and headed to the buffet to eat. It was busy in the buffet and Marjorie and I were hogging a table for 6 when the comedian (Stevie Joe) came and sat with us. He was very interesting. It was still windy and cool. As usual Marjorie headed off to attend a port lecture while I went to the gym. We had lunch at the buffet and then headed off to a 2:00 lecture by the comedian about his earlier career with the British Police and Scotland Yard. It was really interesting. Afterwards, we did afternoon trivia. For dinner I had shrimp and linguini. We skipped the entertainment and went to bed.

Day 10 (Apr 21) - First day in Charleston, SC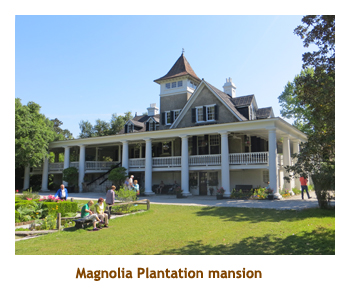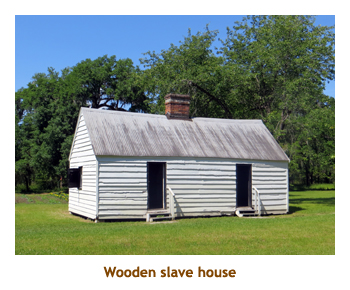 We were up at 7:00 as we docked in Charleston. It was a beautiful day. We had breakfast in the buffet. We had to go through US customs, this being our first US stop after Bermuda. It was very quick and we were out on the dock by 9:00 for our private tour. Rather than do the overly expensive tours offered by the ship, Marjorie had booked us through the Web with Southern Accents Tours. We were doing a tour today to Magnolia Plantation, followed by a city tour. We were picked up promptly by a small van and driven to their HQ a few blocks away. There we transferred to another van for our 1/2 hour trip to the plantation. The plantation was huge. Originally being 2,000 acres, parts of it were sold off, but 500 acres still remained. We wandered the grounds stopping to see the beautiful gardens, the plantation home (mansion!), a petting zoo, horses and stables, several slaves homes (not mansions!).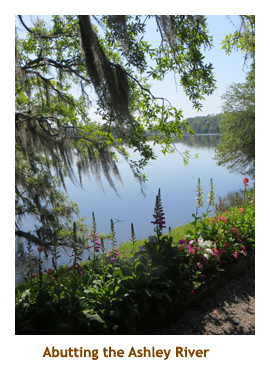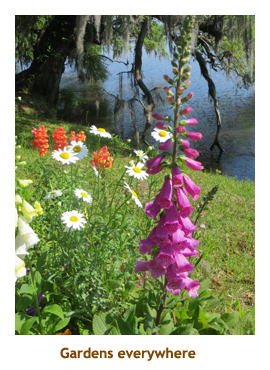 Then we did a 45 minute tractor/wagon tour of the undeveloped areas where we saw light forests and swamps, wading birds and several huge alligators. The swamps were small lakes, covered with bright green duckweed. The fish life was plentiful enough to feed the wading birds and the alligators. Special "ramps" had been built in the lakes to allow the alligators to sun themselves We had really enjoyed ourselves. The plantation is strictly tourist oriented now, there are no longer crops of any kind grown here other than for show. We found a nice picnic area to eat our muffins and Coke from the ship. We wandered around the grounds and gardens some more, and then spent some time in the gift shop. At 1:30 we were driven back to the tour HQ where we transfered vans again to one that was doing the city tour. The tour involved driving up and down most of the streets, pointing out all of the famous or interesting buildings. We stopped at one point to walk along the sea wall in the Battery area. We learned a lot about Charleston. We were dropped off at the ship by 4:00 PM. We caught the end of trivia and then shared a beer with D&J. For dinner I had lamb chops. We did the final evening trivia session (tomorrow was "collect your prize day"). We skipped the entertainment (comedian again) and went to bed. No rocking and rolling tonight as we were overnighting in Charleston.

Day 11 (Apr 22) - Second day in Charleston, SC
We woke up to our second day in Charleston at 7:00 ready for our next tour. It was to be sunny and warm. We had breakfast in the buffet and then headed out to the dock to meet the Southern Accents tour van. We were picked up right at 9:00 and did the HQ trip and van swap as before. Today's driver was a southern belle with a real "y'all" twang. This time we drove in a different direction to Boone Hall plantation. We were dropped off at 10:00 and once again were given 3.5 hours to wander around on our own. This plantation was in contrast to the previous day's visit in that it is a working plantation (strawberries, corn, etc) and the mansion is still occupied. We walked around the grounds, visited some horses, walked through a number of slave houses (a museum now), wandered through the gardens and did a mansion tour. Marjorie actually did the mansion tour while I just poked around the lovely gardens. We also did a tractor/wagon tour of the crop fields and saw a fair ground where a strawberry festival was being held. Our pickup was at 1:30 and we were back to the ship by 2:00. We had lunch at Waves and then did our final afternoon trivia. Right after trivia they had the Big O Points redemption. Between what we won during the cruise, plus some leftovers from a previous cruise, we had more than enough for two Oceania "athletic" shirts. We gave our remaining points to D&J. For dinner we had the Greek food bonanza in the buffet.and it was busy! Usually the buffet is quite empty for dinner, but I guess people like Greek food. There was no evening trivia so we read for a while and then went to bed.


Day 12 (Apr 23) - Cape Canaveral and the KSC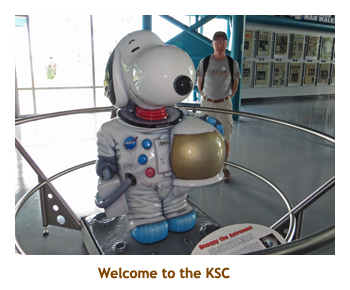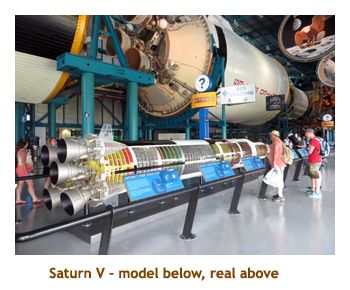 We were up at 7:00 ready for our final day of the cruise - another hot sunny day. It was quite a distance from Charleston to Port Canaveral, so we were arriving at 11:00 AM. As we ate breakfast in the buffet the captain announced that due to strong currents, we had lost time and would be arriving at 12:00. That was fine as we spent a leisurely morning reading and packing our bags. We docked right at noon and headed off for our 12:30 tour to the Kennedy Space Center. Wow!! We had been recently to the Johnson Space Center in Houston, which was very good, but the KSC was even bigger and better. After a half hour drive we arrived at the Saturn V booster rocket museum. The museum included a complete, actual size Saturn V rocket that was never used. we also saw a multi-media movie of highlights of the space program. Outside of the building were bleachers overlooking three different launch sites. We had an hour to wander around the museum and then were bused to the main display area.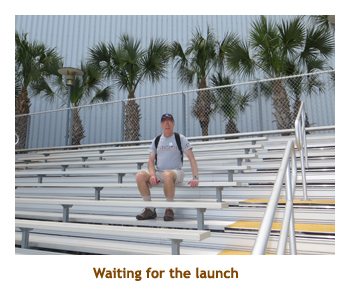 The main area was a pot pouri of museum buildings, various rockets and an imax theatre. The space shuttle Atlantis was shipped here after retirement, so some of the site was featuring the exploits of Atlantis. The IMAX theatre was wonderful, featuring Atlantis and touching on some of the future space program endeavers. In one of the plazas there were (mostly real) rockets from all of the programs (Mariner, Mercury, Gemini, Appolo, Skylab, shuttle, etc). We also got to walk across a real gantry walkway (from the Apollo era), although it was only a few feet above the ground rather than 310 feet high. We had a couple of hours to wander around the buildings and exhibits and then it was time to return to the ship (5:30). The drive there and back was across a totally flat wetland. No hills of mountains were visible in any direction. We saw lots of wetland animals, including a number of egrets and a small alligator. We were back to the ship by 6:00. We decided to go to the MDR for dinner as they were serving turkey. We went to the entertainment. It was a pianist (Peganini) who had excellent skills, but a poor presentation. He tried being a Victor Borge, playing parts of pieces, purposely hitting wrong notes and his English was not very understandable. By fluke he also repeated pieces that the lady pianist had played a few evenings prior. Enough! Time to put our bags out and head to bed.

Day 13 (Apr 24) - Miami, then back home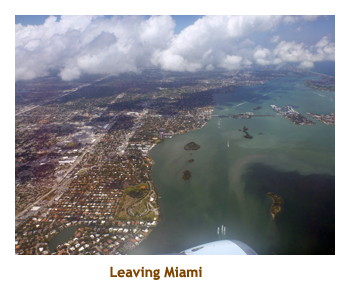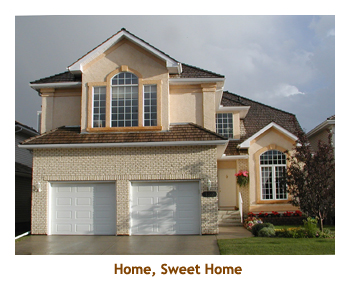 It was our final morning. We were up at 7:00 and had breakfast in the buffet. We bummed around our cabin until 8:30 - the official boot-out time. We exited the ship, grabbed our luggage from the terminal building, went through US customs and then met D&J waiting for the KSA shuttle. It came about 9:30 and delivered us all to the airport. We said goodbye to D&J as they were renting a car and spending three more days in Miami. It had been nice having them along for the cruise! We checked in to our flight, went through security and then waited for our 12:30 flight to Toronto. We arrived on time in TO and cleared Canadian customs and more security stuff. Our flight to Calgary was also on time and we got our suitcases from the baggage claim It was about 9:00 by this time. We called Christina who was in the cell phone lot and she picked us up at the arrivals door. We drove back to Christina's, said "Hi" to Matt, then climbed in our own car and drove home. It was about 10:00 PM and the kitties had stayed up to welcome us home. Another great cruise!