Rating (out of 5): Ship

Food

Service

Itinerary

It had been 7 years since we last went to Alaska, so we decided it was time to visit there again. Marjorie found a Celebrity Millennium cruise that offered TA rates so we picked that one. The cruise had several positives other than the cruise itself - a chance to do the railroad from Anchorage to Seward, a new port (Icy Strait Point), and a chance to see a "Solsticized" Millennium class ship. We had done the Constellation (3 times) and the Infinity, but that was before the upgrades. The only nagging doubt about the cruise was that Chrissy was due Aug 8 or 9 (first grandchild!) and we would not be home until Aug 1. Should be lots of time!
The ship was wonderful. The upgrade had added 60 additional cabins (120 pax) but even with 2359 passengers aboard it didn't feel crowded. We tried the new Bistro on Five and it was a good as on the Solstice class. The reason I only gave 4 stars to the food (which was excellent) is because king crab is no longer offered, even on an Alaskan cruise! The internet was the best we have ever encountered. It was fairly quick and we didn't even consume all of our free 90 minutes each. The gym was newly refurbished with new equipment including both a Model D and a Model E Concept II rower.
The food was wonderful with the exception of no king crab. We did all dinners in the MDR as well as several breakfasts and lunches. At dinner we did our "nab a drink" trick ordering a free beer / wine at the Elite happy hour and carrying it down to the dining room. Suprisingly, this was a non-trivia cruise crowd. There were maybe 20 people max who showed up. Marjorie and I played as a team of two and sometimes one or two others would join us.
The weather was the poorest we have had in Alaska. In the past we have had many sunny, warm days (very lucky!!) but this time it was typical Alaska weather - cool and rainy. Folks doing a B2B with the previous sailing got a week of warm (70's) sunny days. We missed it by a week. This didn't dampen our spirits though.
Pre-cruise (Jul 24) - Traveling to Anchorage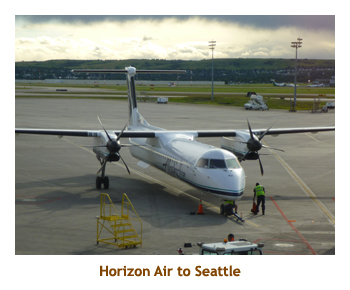 Marjorie was working today. I left home at 3:30 PM. I picked up our dinner from subway (lobster sandwiches!!) and then retreived Marjorie from the City Hall at 4:20. We were to the airport by about 4:40. We parked in Park & Jet lot and shuttled to terminal. We checked in and then ate our lobster sandwiches in the departures lobby. Afterwards we went through customs and security and on to the waiting room. Our flight was about 1/2 hour late. It was about 7:30 PM when we finally left for Seattle. We were in Seattle by 8:00. Our next flight to Anchorage was supposed to board at 8:15, but fortunately it was at a closeby gate and also delayed a bit so we made connection easily. (And so did our luggage!). We landed in Anchorage by 11:30 PM. We got our luggage, phoned the Coast Hotel for their shuttle and were in our room by 12:30 (2:30 YYC time). The hotel was right by the airport so it was only a 5 minute shuttle. We were glad to get to bed!

Day 1 (Jul 25) - Boarding in Seward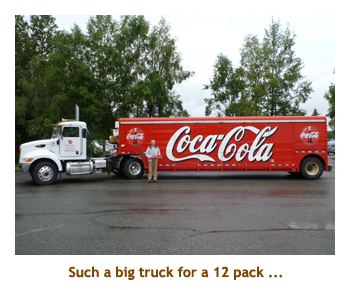 We were up at 8:30. Breakfast wasn't included, but there was an excellent breakfast served at the hotel restaurant. I had a delicious crab omelet with sausages and toast for $15. After breakfast we wandered around the local area and picked up a 12 pack of Coke at a gas station convenience store. Just minutes from the hotel was a small lake that was surrounded by float planes. We checked out at 11:00 and took cab to the Alaska Railroad Station (about 20 minutes, $17) to catch our 1:00 PM train to Seward (as instructed by Celebrity). We had prebooked the train transfer with Celebrity before the cruise. We didn't stay in the Celebrity recommended hotel (Marriot) and so we didn't qualify for the hotel luggage service and bus transfer to the station. Any way, at the station the ticket agent didn't know anything about our 1:00 PM train. (Oh, oh!) It turned out that there was a train station right in the airport terminal building and that was where we should have been! Arrrgh!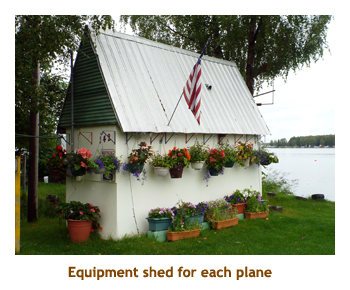 As luck would have it, though, there was a busload of Celebrity passengers milling around who had also been dropped off at this "wrong" station by an unknowing bus driver. They were waiting for a bus to transfer them back to the airport. So, we joined them and were bused back past our hotel and to the airport. Of course we were the only ones with luggage as the others had yielded theirs at their hotel. At the airport the staff took our luggage and put it in a corner. We had no idea how the luggage was being shipped to Seward. They had cruise checkin booths set up in the terminal so we got our room key right there at the airport. The train was waiting for us and we had only a short wait to board. As we boarded we looked back at our lonely bags and said good bye to them. The train ride was lovely. It was overcast and a bit rainy, but that didn't really spoil the view. We sat with a nice couple (Bob and Kathy) from Cincinatti. The train trip was about 4 hours and we arrived in Seward at 5:00 PM.

At the ship we only needed to do security as we already had our room keys, so boarding was very quick. We visited our cabin quickly (no bags had been delivered yet) and then went to dinner. Almost everyone was in their grubbies as not many bags had been delivered yet. Forgetting about the fate of our bags, I had an excellent prime rib. After dinner my small bag and Marjorie's main bag were delivered (whew!) but not my main bag. The status of our final bag was explained by our flashing cabin phone.There was a phone message that I had to report to deck one for a further exploration of my bag. Oh dear, what now. There were mobs of people there being stripped of booze and ulu knives. I think the item in my bag was the long scissors in my toiletries bag. However the security guy couldn't find anything bad in my bag so I was released unscathed. I had to drag my own bag back to the cabin. We didn't do the entertainment and went to bed early.

Day 2 (Jul 26) - Cruising Hubbard Glacier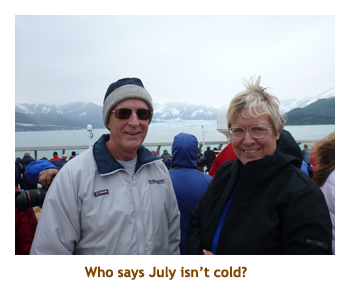 Today was a day at sea including a sailby of the Hubbard Glacier in the afternoon. We were up at 7:30 to find that there was no hot water, and the cold water was brown! The cabin steward said it was a plumbing problem and was affecting 3 decks. The problem was fixed in a couple of hours. We checked out the special Elite breakfast lounge but weren't impressed with the selection so we went to the MDR. Afterwards we went to the future cruise desk to (what else!) book a Transatlantic cruise. Then Marjorie went to a port lecture and I went to the gym. Our Cruise Critic get together was at 12:00 and we did lunch in the MDR right after.We entered Yakatuk Bay around 2:00 and arrived at the Hubbard Glacier soon after. Because there weren't many ice chunks in the water, we were able to get within 1/2 mile of the glacier - the closest they had been this season. There were several loud explosions of ice (calving) tumbling into the ocean. The temperature dropped way down and I was wearing my mitts and toque. We left the bay about 4:00 PM and entered back into the open water. It was formal night so I had rack of lamb for dinner. We skipped the entertainment..

Day 3 (Jul 27) - Whale watching in Juneau
We woke up at 7:00 to a cloudy, rainy day. We had booked a mid-morning private tour with Captain Larry who we had used before. We went up on deck to see us come into Juneau. We had breakfast in the buffet and then went ashore to shop a bit. Marj wanted some wooden "bear paw" salad servers. We were back on board by 10:30 to drop off our goodies and then headed back ashore to our 11:00 whale watching tour. We were bused about 13 miles to Auke Bay where the boat was docked. We were on the boat and leaving the harbour by 12:00. It was still cloudy with some wind and rain. Our first treat was a pod of twenty or so orcas that put on a show for us. Some of them had very large dorsal fins. Further out we came upon a group of ten or so humpback whales doing bubble feeding. We really enjoyed the trip! We were bused back to town and were back to the ship by 3:30. We were dropped off at a different dock (Island Princess) and had an enjoyable short walk back to our own dock. It was even a bit sunny! Marjorie wandered some more around the town while I went to the trivia. There were only a few people there and I played as a team of one. I finished tied for second. For dinner I had roast turkey. The entertainment was a juggler who was excellent. When we got back to our room we had a phone message waiting that we had won a tour of the engine control room on the final sea day. Woohoo!

Day 4 (Jul 28) - Dog mushing in Skagway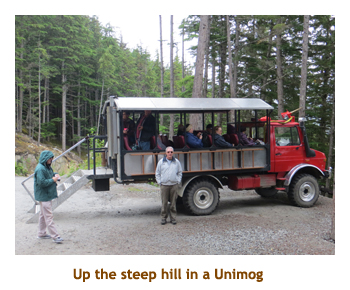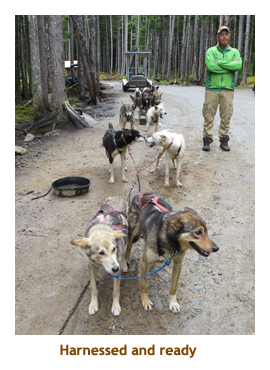 We woke up at 6:30 to another cool, cloudy, rainy day. (Back home in Calgary it was supposed to hit 37 today). The ship was already docked.We had breakfast in the buffet and then headed off to our 8:15 dog sledding excursion, booked through the ship. We drove about 15 miles out of town to a meadow at the base of a mountain. We walked across the marshy meadow and then boarded a Unimog to take us up a steep gravel road to the dog racing area high up the mountain side. There we boarded 6 passenger wheeled "sleds" and 16 dogs raced us several times around a 1/2 mile track (ie. dirt road). We drove back down the mountain to the base camp where we got a lecture on the Iditerod race, including an actual racing sled. Then we got to play with the puppies. They really encourage human interaction to socialize the puppies. Then it was back across the meadow, onto the bus and back to the ship by 12:00. We had lunch at the Bistro on 5 (crepes). Marjorie headed back into Skagway to walk around while I read for a while and then went to the gym. For dinner I had a lamb shank that was done like pulled pork. Very good! We skipped the entertainment.
Note: Having booked "anytime dining", we were seated each night with different folks in the anytime dining area. However, this evening we were seated at a table for 8 that was an overflow table from the fixed seating area. There were 6 early dining folks and 2 empty chairs. We really enjoyed this group and they asked us to join them for the rest of the evenings.

Day 5 (Jul 29) - First time to Icy Strait Point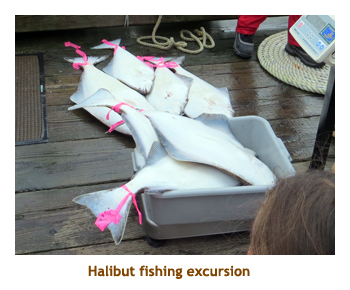 We were up at 7:00 with nothing planned for the day. Once again it was cool and rainy. This was our first visit to this port, which is really just an indian village. It was also the only tender port of the trip. The highlights are the renovated cannery, the indian village and a "one leg" zip-line that weighs in at 5300 feet (just over a mile). Considering it was $139 for 45 seconds of thrill we decided against the zip-line. After tendering over we wandered through the cannery. There were some interesting craft stores and the museum was very interesting. We walked along the beach to where the zip-liners were landing and watched then for a bit. We did not take the shuttle bus to the indian village. Some people enjoyed the village and some didn't. It depends if you enjoy other cultures or not, I guess. As it was cool and drizzling, we tendered back to the ship for lunch. We read a bit after lunch and then I headed to the gym. We attended a short Galapagos lecture at 4:00 and an Alaskan natural history lecture at 4:30. The sun was out after the lecture - nice to see it! We read for a bit and then met Bob and Kathy for dinner in the MDR (we did notify our fixed dining compatriots that we had another appointment). I had braised spare ribs which were delicious. The entertainment were a gymnastic couple (Jocka and Maria) who had done a contract with Cirque de Soleil. They did some awesome floor stuff and then some "silk" manuevers. They were excellent. Some of the accompanying music was from "Allegria", so I guess that was the C'd'S show that they had done.

Day 6 (Jul 30) - A day in Ketchikan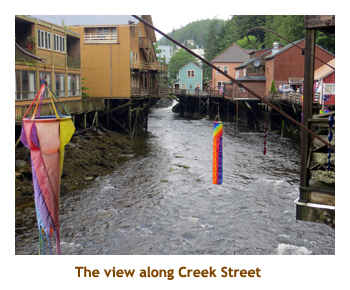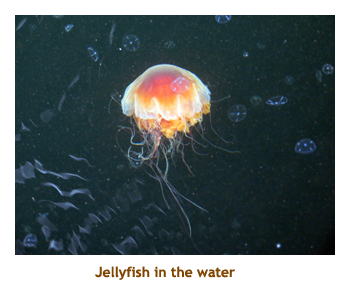 We got up at 7:00 to another cool, rainy day. That's Alaska! We had beento Ketchikan several times before so this time we had nothing planned. We had breakfast in the MDR and then headed off the ship to walk around the town. We had never walked the Creek Street area, so that's where we headed. There were lots of interesting art and souvenir shops as well as some museums. Then we walked into the main part of town and did a bit of shopping. I bought a jigsaw puzzle and Marjorie bought a 15 cent 2015 calendar. I headed back onto the ship at 10:30 while Marjorie did some more wandering around. On board, I went up to the gym. Marjorie arrived back on board and we went to the buffet for lunch. A bit of sun came out so we disembarked again to enjoy the waterfront. We walked past the famous tunnel and quite a ways along the wharfs and piers. Having "done the town" we were back on the ship by 3:00 for some read time. We went to trivia at 4:00 and won some expensive Celebrity playing cards. It was formal night and we rejoined our fixed dining table for dinner. I had lamb chops. They were very good. We skipped the entertainment. Our clocks went ahead an hour tonight in preparation for Vancouver.

Day 7 (Jul 31) - Sailing the Inside Passage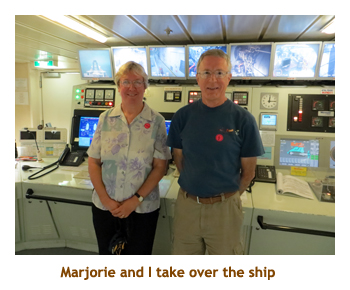 We woke up at 7:30 just as we were sailing into Canadian waters. And, just like that, out came the sun. It was sunny and warm for the rest of our trip! Today would be spent travelling across Queen Charlotte Sound and then down the length of Vancouver Island. We had breakfast in the MDR and then read a bit on our balcony. At 10:15 we attended "nautical trivia" where we won some valuable luggage tags. This was followed by general trivia where we won some exquisite Celebrity tote bags. We were on a roll! At 11:40 we headed down to deck one to meet the group doing the engine control room tour. The control room was very interesting, with video monitors showing the various diesel and gas engines and the azipod motors. The chief engineer explained how everything worked. When running at cruising speed (about 18 knots) the main engines consume 21 gallons (73 litres) of gas per minute! After the tour we had lunch in the buffet where we consumed several pounds of food per minute.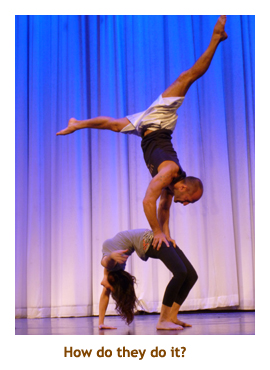 At 2:00 there was a talk / demo session with Jocka and Maria (the gymnasts - this time in their grubbies). It was really interesting to hear about their life in show business. They did a number of their "moves" for us explaining what they went through learning to do them. What a rigorous life! After the demo Marjorie headed off to who knows where and I went up to the gym. The first day that I went to the gym it was packed. Since then, I have only encountered 5 or 6 people each time. Where did they go? Being time to relax, Marjorie and I sat out on the balcony (starboard side) in the warm sun watching the east coast of Vancouver island. The scenery was gorgeous. I had forgotten just how mountainous the island was. We passed many towns / villages / settlements along the way. It was surprising how many people lived along the coast. We could only guess which towns we were passing, but Campbell River was quite obvious. Late in the afternoon Marjorie checked our email and there was a note from Christina saying that she was about to be induced today or tomorrow. Oh no! There was nothing we could do though as we weren't flying home until tomorrow afternoon. For dinner I had BBQ chicken with a side of Mac&Cheese from the kid's menu. Yummy. We skipped the entertainment and packed our bags instead. We tossed our larger bags out into the hallway and headed to bed.

Day 8 (Aug 1) - Disembarking in Vancouver and home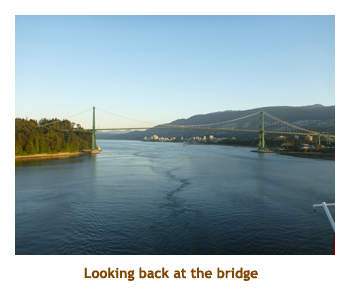 We were up at 5:30, wondering about the status of our grandson. It was a gorgeous day in Vancouver. We hustled to the upper deck to witness going under the Lion's Gate Bridge at 6:00. Stanley Park was beautiful in the morning sun. We had breakfast in the buffet as we watched the docking at Canada Place. After watching the dock activity from our balcony, we finally left tour cabin for our 8:15 departure time. We exited the ship and picked up our luggage from the terminal area. Then it was through Customs and out of the terminal. We walked the 3 blocks to the Marine Building, then downstairs to the Canada Line station. The train to the airport was quite quick (25 minutes) and we were through checkin by 9:00 AM. We wandered around the airport for a while and spent some time reading in the new observation lounge. We tried getting in to the White Spot for lunch at 10:00, but they were only serving breakfast then. At 11:00 we headed back to White Spot for lunch. After lunch we went through security and onto our 1:00 flight to Calgary. We landed at 3:30, picked up our luggage, shuttled to the parking lot and were home by 5:00 PM. It was another great cruise.
Note: We checked on the status of Christina and she was at the hospital, induced, and moving right along. The baby was born just after 7:00. Mike and Stacy brought us Minnie (to look after for a week) and Marjorie's school friend Julia (and Alex and future DIL Jenny) dropped in to stay the night. So much for cleaning up the house from 5 cats!