Rating (out of 5): Ship

Food

Service

Itinerary

We booked this cruise at the last minute as Marj received notification of a really good deal. We had already planned a short driving visit to Vancouver, so were able to work the cruise in to our schedule with just a single flight required from Vancouver to San Diego. Marj passed on the info to Dave and Joan, who decided to join us on the cruise.
The Century had been refitted since we were on her in 2005. Lots of balconies had been added and public spaces were somewhat re-arranged. We were surprised at how small the staterooms were. The previous time we had had a family suite. This time our regular ocean view cabin was very small.

Pre-Cruise (May 8, 11) - Travelling to Vancouver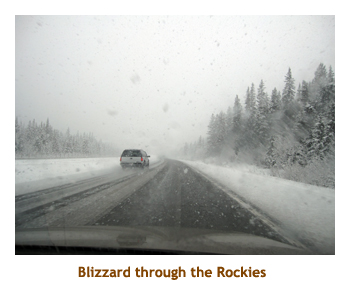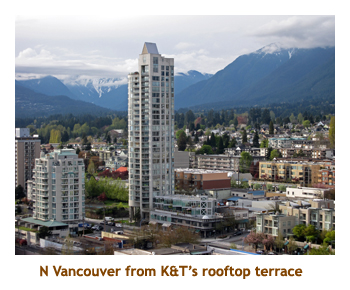 We left Calgary about 8:00 AM. As we drove through the Banff area, we were hit with a real blizzard. It wasn't until we got to Field that it started to clear up. We ate lunch in Golden and arrived at Liz and Jim's in Summerland at about 3:00 PM. Liz had arranged for dinner at the Sumac Ridge golf course. It was very good. The next morning we did a drive around Summerland to see what had changed, and stopped in at Summerland Sweets. We left Summerland about 10:30 and headed over the connector. We stopped for lunch in Merrit and then did the Coquihalla. The traffic was heavy heading into Vancouver and we arrived at the Fairmont Airport about 5:00 PM. We hopped on the Canada Line and then the Seabus and walked the two blocks to Kevin and Tricia's new penthouse condo. We had a very nice dinner with them and enjoyed seeing their new condo. What a great view. We caught the 9:45 Seabus and got back to the hotel by 10:30 PM.
The next day we drove down to Bellingham to do some shopping. We didn't buy much but enjoyed the trip. We popped back to the hotel mid-afternoon to change and then picked up Lynn from work and drove out to Jeanne's for dinner. Nice to get together again! We drove Lynn home and finally arrived back at the hotel after 10:00 again. The following morning (it rained all day), we drove around Richmond checking it out and then headed into Coquitlam to do Me'N'Ed's Pizza. Yummy! We spent the afternoon passing by our old house in Coquitlam and Liz's empty lot on Regan. We toured around Maple ridge and spent some time in a small mall. We arrived at Barb and Paul's for dinner about 5:00 PM. It was so nice to see their whole family again. It was a long drive back to the hotel, and we got back about 11:00 PM. We had to drop the car off at long term parking and then grab the shuttle to the terminal building and hotel. We would leave the car in long term until the end of our cruise.Three late nights, but we had had a really enjoyable time visiting with relatives and friends.

Pre-Cruise (May 12, 13) - Visiting San Diego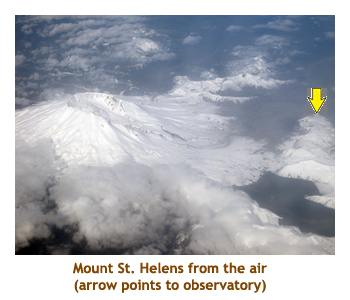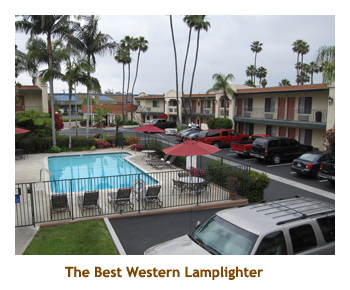 This morning was brighter out. Our flight was at 9:00 AM, so we took our time packing and checking out of the hotel. We walked to the departure checkin and did security and US customs. Our flight was on time and we landed in San Diego just after 11:00. During the flight we passed over Mount St. Helens, which is where we would be several days later on a port stop at Astoria. D&J showed up a bit later to pick us up. They had rented a Ford SUV, so we had lots of room. We went directly to the hotel to check in (D&J had already been there a day). The hotel was nice (but not fancy) and was not near to anything. After checkin we headed off to do lunch (at In'n'Out) and some shopping. We bought a few things (like Coke for the cruise) and enjoyed walking in the sunshine. That evening we dined at Pat & Oscars - chicken and ribs. We finished off with a swim in the hotel pool. There was no hot tub, but the pool was fine.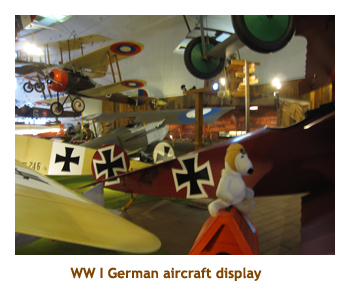 The next day we had breakfast at the hotel and then drove into town to Balboa Park. It is a huge park (1,200 acres), larger than Stanley Park (1,000 acres). We spent the morning doing the Air and Space Museum which was amazing. There was a special exhibit about the space program, including the return module from the Apollo 11 mission. We had lunch at a sandwich bar. Afterwards I headed to the model train museum while the rest went elsewhere. The HO train setups were huge. On the largest of the displays, it took a train over an hour to do a complete loop! There was a section of mountain scenery that was 8 feet tall from the river valley to the mountain tops, with some fantastic wooden trestles and tunnels. We had to leave mid-afternoon as we had a date to meet some friends (Kathie and Craig) from San Diego that we had met on our previous Beijing cruise. We drove over the bridge to Coronado Island to meet them at 4:30. We had dinner at L'i'l Piggy's - chicken and ribs. Afterwards we drove across the island to the Del Coronado hotel and spent the evening exploring the hotel grounds. Then it was good-bye to K&C and back to the hotel for the night. Marjorie did some laundry, then we packed for the cruise.

Day 1 (May 14) - Boarding in San Diego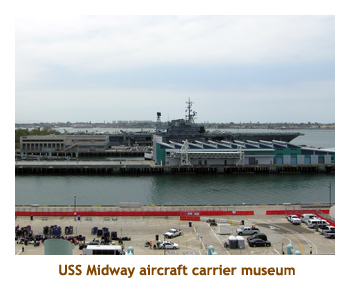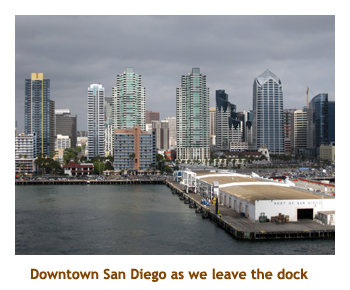 We didn't get up too early as we had lots of time to get to the cruise dock. It was a cool and partially cloudy day. We had breakfast, then Marjorie checked us out and we loaded our suitcases into Dave's SUV. We drove to the cruise dock and Dave let Marjorie and I and all the luggage off on the pier. D&J took the SUV back to the rental place (nearby) and walked back to the pier. Marjorie took the opportunity to run across the street to an ATM for some $US.
When we were all together again, we entered the terminal building and went through the checkin procedures. We were aboard by 11:30 or so, but weren't allowed to our rooms until 1:00 PM. We towed our carry-on stuff and headed to the buffet for lunch. Then we wandered the ship for a while and settled in some deck chairs on the upper deck. The announcement finally came to open the rooms so we hustled to our cabins and stowed our carry-on. Our luggage appeared later and was unloaded into drawers and closets. I sent my two formal shirts in for a "free" pressing. Yeah for being Elite! The muster drill was at 4:30 and we left the dock soon after. I had prime rib for dinner. We skipped the entertainment and went to bed early.

Days 2,3 (May 15,16) - At sea, then a day in San Francisco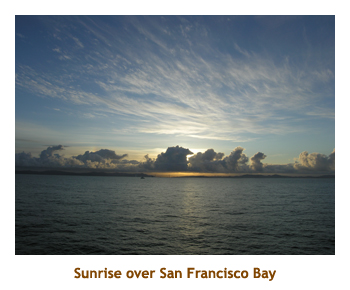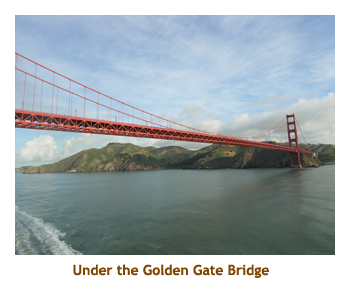 Day 2 - Today was cold and rainy. We were up early and I went directly to the gym. I discovered a spa cafe next to the gym that made wonderful yogurt / granola cups, with fresh fruit on the bottom. Also, there was an Elite-only lounge each morning that made awesome smoothies. Often I would grab a yogurt cup from the spa and then carry it down to the lounge for a smoothie accompanyment. Marj would come with me for company and then we would do the buffet breakfast (more her style). This ship hosted 6 trivia sessions each day, each one with a different theme. We certainly didn't make all of them, but we did 2 or 3 most days. Anyway, it was a typical sea day. It was dressup night tonight. For dinner I had rack of lamb. The entertainment was song and dance, so we skipped it.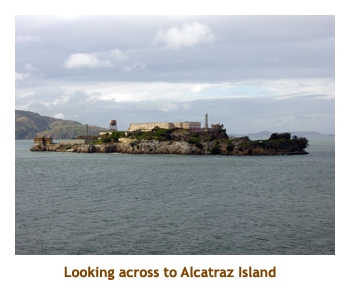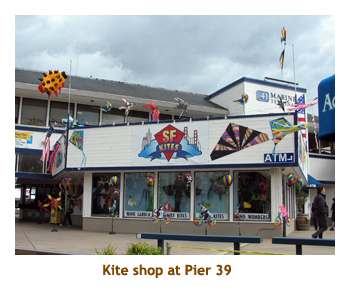 Day 3 - Today was our first port day in San Francisco. We would be there overnight and tomorrow as well. We didn't have an excursion booked for the first day, so decided to walk around the downtown. After breakfast we opted to do the early trivia and Marj and I actually won! Of course, there was only one other team so the odds were pretty good. Then we headed outside into a cloudy and cool day. We were docked at pier 27, so it was about a 20 minute walk to the famous Pier 39. We had done the pier before so didn't walk into the throngs of people milling around the stores and restaurants. From there, we headed north to Ghiradelli Square. Again this was about a 20 minute walk.We browsed the shops at the square, but they were really expensive. The Ghiradelli chocolate shop was more expensive than buying their same treats in a local grocery or drug store.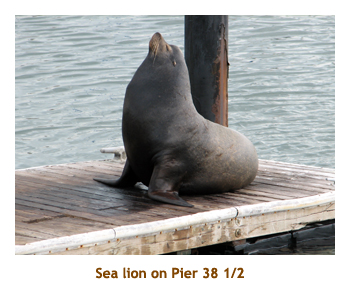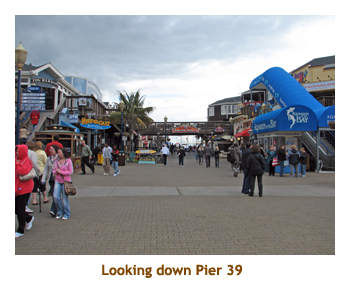 We stopped at an information stand and got directions to Union Square and then back to the ship. We caught the nearby #30 bus and were taken right to Union Square. Again we browsed around some shops and then hit John's Grill for a seafood lunch (sole stuffed with crab and shrimp). It was very good. While we were in the restaurant, it poured in rain. By the time we were done, the rain had ended, so we just had to look out for puddles. We hopped on the "F" trolley which took us back to the maritime area and we got off at Pier 23 (the closest stop to our ship). It was only a short walk back to the ship, and we arrived at about 2:30. I went up to the gym and then tried another trivia. For dinner I had shrimp and scallops on risotto - very good. The entertainment was a comedian who did wonderful impressions and sound effects.

Day 4 (May 17) - Another day in San Francisco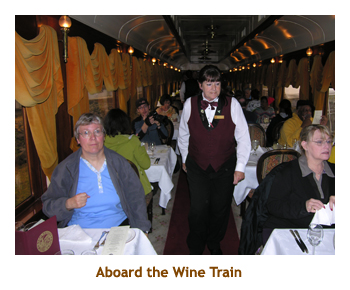 Today was another cold and rainy day. Fortunately our excursion was indoors. We were booked for the Napa Valley Heritage Train. We were up early, had breakfast and then headed out to the bus for 8:30. The bus trip to the Napa Valley was about 1.5 hours. We arrived at the train station and went inside for a wine tasting, and to browse the souvenier shop. We boarded the train about 11:30. The track was 25 miles long, from Napa village to St. Helena and the round trip would take about 2.5 hours. Our tour group were boarded directly onto a dining car, and soon after leaving the station we were served a wonderful meal. I had the prime rib (thin slice) and it was excellent. It was raining as we toured along the valley, but we were warm and dry inside. At the turning point in St. Helena, we switched train cars with another group so that they could dine on the way back. We moved into a salon car where we were served desert. It was wonderful passing by all the vinyards and chateau buildings, but it would also have been nice to actually tour some of the wineries.
We arrived back at the station for a brief last chance to browse the souvenir shop and then boarded the bus for the journey back to the ship. We arrived back about 4:00 PM. It had been a great day. For dinner I had sole stuffed with shrimp. We did the Beattles trivia with D&J, and tied with three other teams at 100%. Didn't do the entertainment.

Days 5,6 (May 18,19) - At sea, then Astoria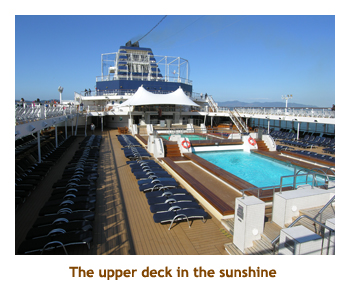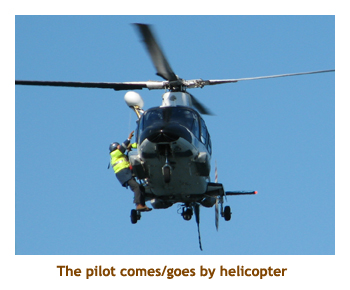 Day 5 - Our second sea day of the cruise was cold (54 degrees) but sunny. I went up to the gym right away (7:00 AM). The gym never seemed to be too busy on this cruise, and most people there were actually using the equipment. Afterwards I grabbed my favorite yogurt cup from the Spa Cafe and a smoothie from the Elite lounge. We did the various trivia sessions and then played Hand & Foot with D&J in the afternoon. For dinner I had corvina (a white fish). The entertainment was a musical couple (called Kimika) - the lady sang and the fellow played a mean rock guitar. The music was far too loud. The singer was OK, but the guitar player was excellent. He played some Eagles stuff plus even a couple of classical music tunes. Awesome!
Day 6 - The next day we arrived in Astoria about 8:00 AM. We had breakfasted ready for our tour when we watched the ship come into harbour. The channel was quite dangerous, so instead of a pilot boat, the pilot was brought onboard via helicopter. It was cool out, but with sunshine and blue skys.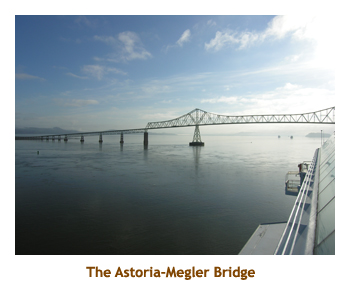 We caught our bus at 8:30 and drove along the Columbia River to Longview where we turned north, crossed the river, and headed into Washington State. Our guide on the bus was excellent and kept us informed and entertained as we drove. After about 1.5 hours we were at Mount St. Helens. Our first stop was at the Forest Learning Center. It was too early in the season for the center to be completely open, but they opened the souvenir shop and we picked up our box lunches there.
Then we continued closer to the mountain, past the Coldwater Center to the Johnston Ridge Observation Center. The view of the mountain was awesome. We were looking right into the huge crater. Some puffs of steam could be seen against the blue sky. The park ranger gave a very good talk about the history and natural history of the mountain and surrounding area. After about an hour of browsing the center we reboarded the bus and retraced our path back to the ship. We arrived at the ship by 3:30, which was good as the ship was leaving at 4:00 PM. It was formal night. I had lobster, shrimp and scallops for dinner. The entertainment was song and dance, so we skipped it.

Day 7 (May 20) - A visit to Nanaimo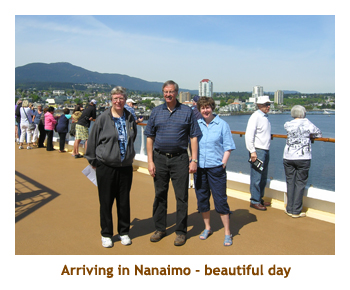 We woke up this morning to a gorgeous sunny day. The temperatures ranged from warm to hot. I was up early and did my gym workout before breakfast. We weren't due to arrive in Nanaimo until 11:00 AM, so we had time to do a trivia session. We were out in the atrium ready to disembark at 11:00 when an announcement came over the PA for several people to report to the purser's desk. Canadian customs was interviewing a small random selection of passengers in order to clear the ship. Every 10 minutes or so another announcement was given for one specific passenger who obviously didn't show up for the interview. At one point the announcer reminded the missing passenger that he was holding up the entire ship from going ashore. Finally, about an hour late, we were given permission to leave the ship. We found out later that the missing passenger was having a spa treatment where the PA system was not available. So, he had no idea that anyone was looking for him.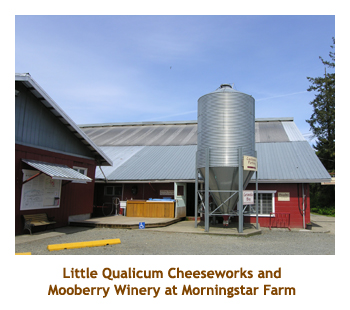 Leaving the ship, we exited onto a brand new cruise dock built by the city to attract cruise ships. Unfortunately 2011 would only see 4 ships here. We were the second and two more were expected in September and October. I hope that cruise stops catch on here as it is a beautiful area with lots of interesting places to visit. Our ship's tour took us on a drive through the city of Nanaimo, and then out into the country to a wine and cheese farm near Parksville (Morningstar Farm). It was a dairy farm where all of the milk produced was turned into cheese (Little Qualicum Cheeseworks). They had another operation on the side making fruit wines (Mooberry Winery). We were given a tour of the wine and cheese facilities and had several wines and cheeses to taste. Then we did a "hay ride" tour of the farm. Finally we went through some barns and stalls to see some of the animals. After the tours, we were served a BBQ lunch in the sunshine. Bliss!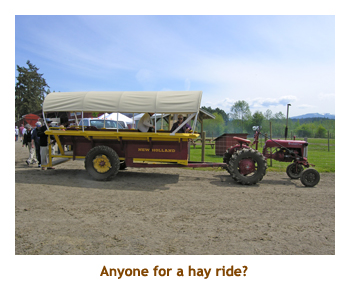 After our lunch we loaded up on the bus again and drove a short distance to the village of Coombs where we stopped at a market place. Now, this market place was huge. Coombs is a small town, but this market had permanent buildings and a real variety of items for sale. We were particularly impressed with the international food store that had grocery goods from all over the world. There was also a deli / bakery with fresh made pizzas, flatbreads, salads and bakery goods. The parking lot was full of cars, so people must come up from Victoria. Two of the large stores featured huge woodcarvings from around the world, and one even had an outdoor display of statues. It was like a sculpture market in Indonesia. One of the restaurants had a sod roof and there were three goats up on top keeping the grass trimmed.
After an hour of browsing, we boarded the bus and drove back to the ship. What a wonderful outing! We arrived at the ship about 5:00 PM. I had a petit fillet for dinner. The entertainment was a ventriloquist and he (and his dummies) was just excellent. He had an amazing talent and was very funny.

Day 8 (May 21) - Victoria and the Gardens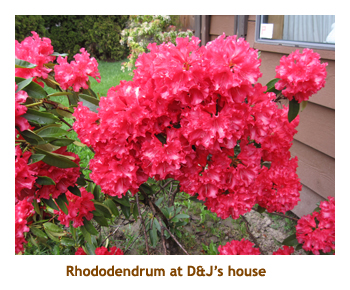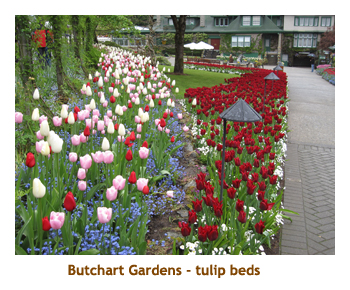 Today was Victoria, our final port for the cruise. It was cool and cloudy with showers. Dave & Joan were disembarking the cruise here rather than carrying on to Vancouver and having to find their way back to Victoria. We had breakfast and wandered off the ship about 9:00 AM. The bus that picked us up from the Ogden Point dock happened to pass by within a couple of blocks from D&J's house. We did a quick stop at their house and then Dave drove us to the Butchart Gardens. It was cheap to get in as D&J had season's passes and Marjorie was free for being a travel agent. Only I had to pay and I got a 10% discount as a guest of D&J. Can't beat that! It was tulip season and the gardens were beautiful. There were beds of every kind and colour of tulip imaginable. Their were shrubby plants like forget-me-nots and British daisies mixed in with the tulips providing a colour contrast. The rhodies and azaleas were in various stages of flowering - some almost over and some still just buds. There were also a few beds of later daffodils, but most were already done. Despite the occasional showers of rain, the gardens were amazing. We really enjoyed our walk through the park.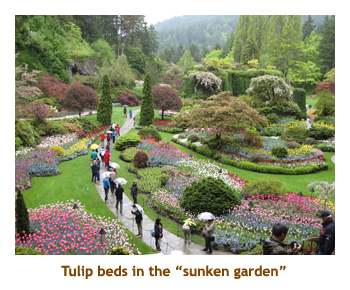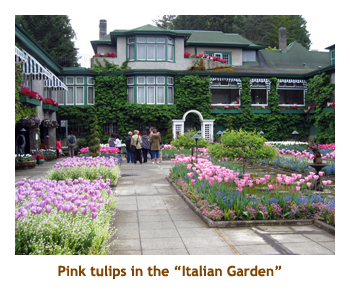 After a couple of hours in the gardens, we hopped back in Dave's car and drove back to the ship. It was about 1:00, so we all went to lunch. D&J had to have their stuff off the ship by 2:00, so after lunch we each grabbed a bag and carted D&J's stuff out to the car park. D&J did the Canada customs thing and we said goodbye to them. It was still cloudy and cool, so Marj and I went back aboard and I went up to the gym. We did a trivia session and then got ready for dinner. It was strange not sitting with D&J for dinner. I can't remember what I had. During the late afternoon and evening three other cruise ships arrived in Victoria - Norwegian Pearl, Oosterdam, and Sapphire Princess. The entertainment was a pot pouri of previous shows with the comedian and the ventriloquist that we had enjoyed before doing short acts. It was very good. We packed our stuff and put our suitcases out in the hall just before bed.

Day 9 (May 21) - Disembarking in Vancouver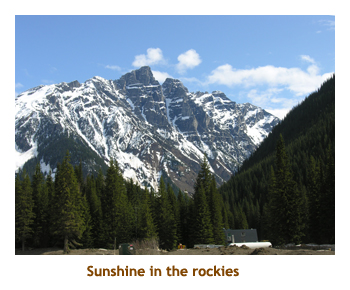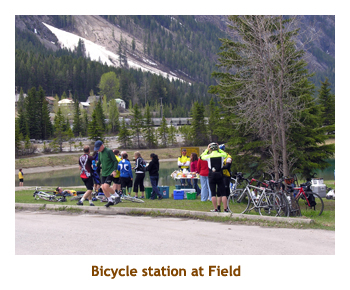 We arrived in Vancouver at the Pan Pacific about 8:00 AM. It was cool and cloudy. We had breakfast and then went to wait for our turn to leave the ship. We got the call about 9:00. Our bags were waiting in the terminal area and we went through Canadian customs. We had a short walk from the dock to the Canada Line station. The train was right there, so we were at the airport in about 1/2 an hour. There, we walked to the arrivals level and caught the van to the long term parking. We were in our car by 10:30. We stopped at the Chilliwack White Spot for lunch. Then we did the Coquihalla to Kamloops and over to Salmon Arm by mid-afternoon. It was warm and sunny by now. The Prestige Inn was very nice - right on the water where there was a wetlands area. We had a lovely walk around the lakeshore.
The next day we drove back through the Rockies to Calgary. It was cloudy with some sun early in the day, but pouring with rain when we hit Calgary. A huge contigent of bicyclists were along the roadside near Field. Must have been a special program. Anyway, we were home again after another wonderful trip.